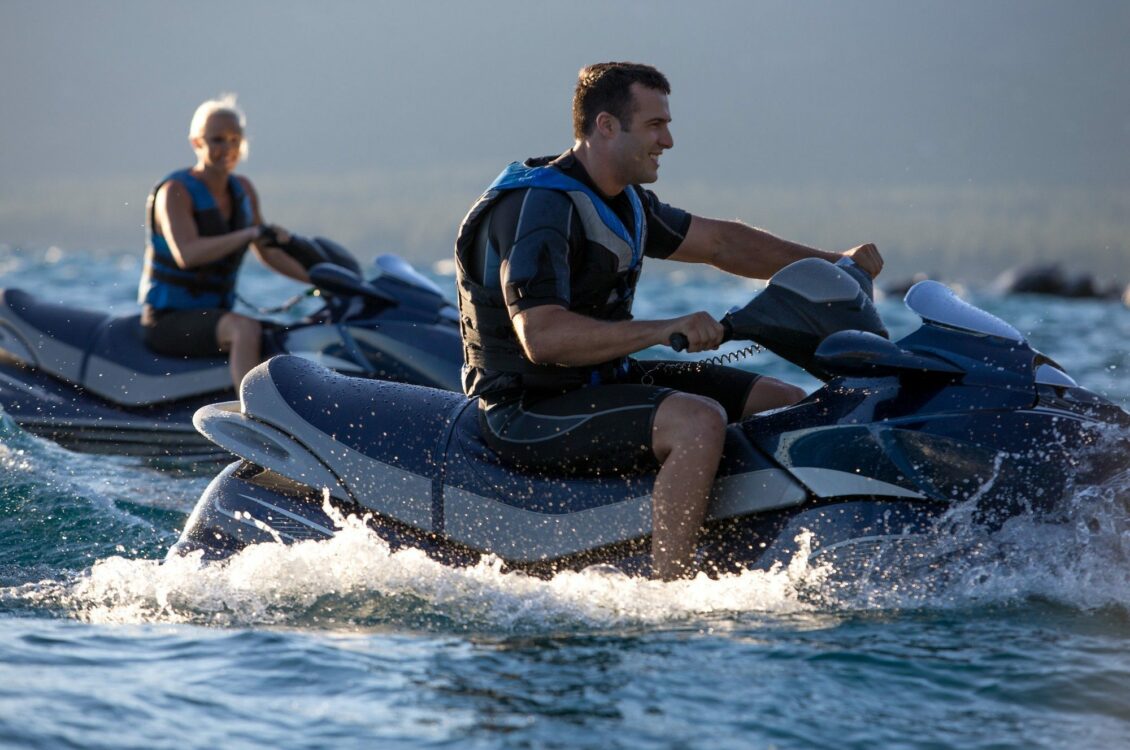 When it comes to owning a personal watercraft, or PWC, there's a lot to consider. First, you have to learn the skills, and then invest in the right safety equipment. But what about keeping your PWC running smoothly? Like any other vehicle, a personal watercraft needs regular maintenance and upkeep. Review this guide to get the most out of your PWC.
Battery Basics
To ensure your PWC is ready for a day on the water, it's important that you keep your battery fully charged, even between rides. This can extend battery life and prevent the buildup of sulfate crystals on the battery's plates which can reduce its charging capabilities.
You can help to avoid this "sulfation" by keeping your PWC battery clean with these simple steps:
Remove the battery.
Clean with a mixture of water and baking soda to get rid of any corrosion or buildup.
Rinse with water and dry. Apply waterproof grease to help protect the terminals.
Engine Essentials
Just like a car, your PWC engine needs the proper upkeep to perform efficiently. Flush the engine after each ride, regardless of whether you've been in fresh or saltwater.  A freshwater flush helps get rid of salt, sand and debris. Saltwater, for instance, can corrode the cooling system making it less effective. Similarly, debris and sediments in freshwater can build up and also obstruct cooling passages. Here are two ways to flush an engine:
Connect a garden hose to your PWC's flush fitting (found on most new PWCs).
Buy an aftermarket flush kit.
Tip for successful flushing: Start your engine before turning on the water. Once flushed, turn off the water and the engine to keep water from flowing back through the lines and into the cylinders, causing the engine to lock up.
Infinite Inspections
Pay particular attention to:
Hose clamps – Make sure they're tight to help prevent fuel line or other hose leaks.
Bilge – Check for leaking fuel, oil, cooling water or exhaust residue. (After every ride, remove the drain plug and empty water from the bilge area and engine compartment.)
Oil – Particularly on four-stroke PWC models, see that oil levels are within the proper range as specified in your owner's manual. Add small amounts of oil as needed.
Carburetor – Help avoid engine damage by cleaning dust from the carburetor.
Gas Tank – Empty the fuel tank and run fresh fuel through the engine to flush out any clogs. You might need to add fuel stabilizer.
Exhaust – Check that the exhaust is clear of debris or dust.
Washing and Waxing
Washing and waxing your PWC before the season begins will help prevent fading and damage caused by UV rays. Wash and wax the deck and hull, as well as the seats. A mixture of water and mild dishwater soap will get the job done.
Secure Storage
When you're not using your PWC, cover it and store it indoors, if possible, to avoid damage from varying temperatures.  Freezing temps can harm the engine and strong sunlight can damage paint.
Having the right personal watercraft insurance is also important. Learn about different coverage options.