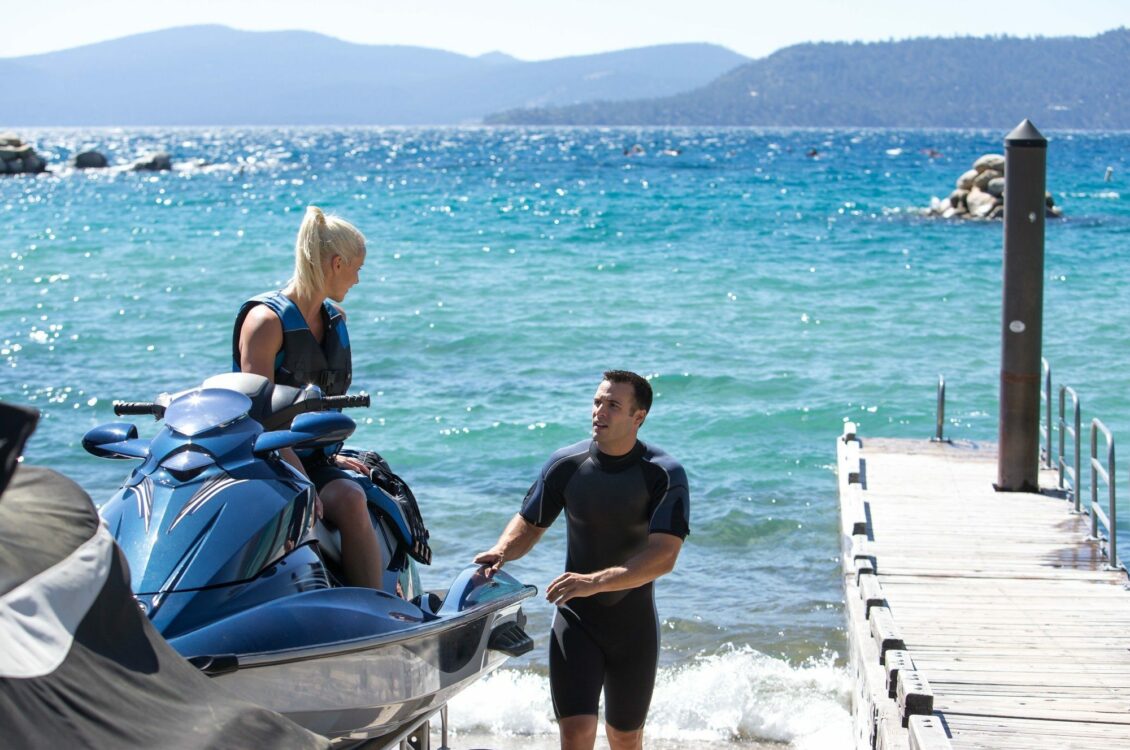 There's nothing like a day on the water – jumping waves, the wind in your hair, the sun on your face. Riding a personal watercraft (PWC) can be thrilling, but like operating any other vessel, you must know the proper techniques and safety precautions to stay safe. Whether you have a Jet Ski, Sea-Doo, WaveRunner, or other type of watercraft, your top priority should be safety. We've rounded up some of the essentials to help ensure a positive and safe experience.
1. Enroll in a boaters safety course
The U.S. Coast Guard considers personal watercraft to be Class A vessels – meaning the same federal rules that apply to boats less than 16 feet also apply to PWCs. However, in terms of steering and performance, operating a PWC is very different than boating.
More than 40 states require riders to complete formal personal watercraft training. But no matter where you live, it's still smart to take a safety class.
Once you have the basic skills, it's time to gather the items you'll need for a safe ride.
2. Keep a safety kit handy
Keep a boat safety kit designed for personal watercrafts on board. Your safety kit may include:
U.S. Coast Guard-approved life jacket for each passenger
A Coast Guard-approved B-1 fire extinguisher
Horn, whistle, bell or other sound signaling device to alert other watercraft
Flares or other visual distress signals are required for coastal waters
Backfire arrestor to help prevent gas vapors from erupting if the engine backfires
VHF radio and cell phone
Flashlight
First-aid kit (make sure it contains sunscreen, lip protection and burn cream)
Hand-operated bilge pump to remove water
Anchor for when you need to pull over and take a break
If a PWC is equipped with an engine shut-off lanyard, it should be attached to the operator.
3. Wear personal watercraft gear
Waterproof whistle attached to your life jacket
Goggles that protect your eyes from sun glare, water spray and insects
Diver booties, water socks or similar footwear to protect your feet and improve traction
Gloves to strengthen your grip
Wetsuit to help prevent injuries on the water and protect your body against the sun, wind and hypothermia
Fitted helmet
4. Consider these personal watercraft accessories
Waterproof case – even if your cellphone is waterproof, it probably won't float if dropped in the water. A floating, waterproof case can protect your keys, phone and wallet.
Folding paddle – if you run out of fuel or your PWC breaks down, you may have to paddle back to shore. A folding paddle is a wise investment.
Traction mats – if your PWC doesn't have traction mats to help grip your footwear, you may find your feet slipping and sliding.
PWC Cover – a quality cover can protect your watercraft from the elements while it's being towed and during storage in the off-season.
Riding goggles – these offer better UV protection and a more secure fit and clearer view than regular sunglasses.
5. Know how to safely ride your PWC, Jet Ski, Sea-Doo or WaveRunner
Always check the weather before heading out, so you're aware of strong wind, sun and other potential weather hazards. If you're riding and notice dark or fast-moving clouds, return to shore.
Follow speed restrictions.
Assume that others on the water can't see you, so ride defensively. If you're a beginner, it's best to avoid busy areas.
Be aware of your surroundings and keep track of the position of other vessels.
Know how to reboard your craft if you fall off. Look for a label in the back or at the bottom of your PWC showing how to roll it upright. Or check your owner's manual.
Practice reboarding with another person there in case you need assistance.
Don't let the engine idle or shut off during operation which will cause loss of steering control.
In addition to having the right gear and knowledge, it's important to have the proper insurance coverage to protect you and your ride. Check out these personal watercraft insurance tips.