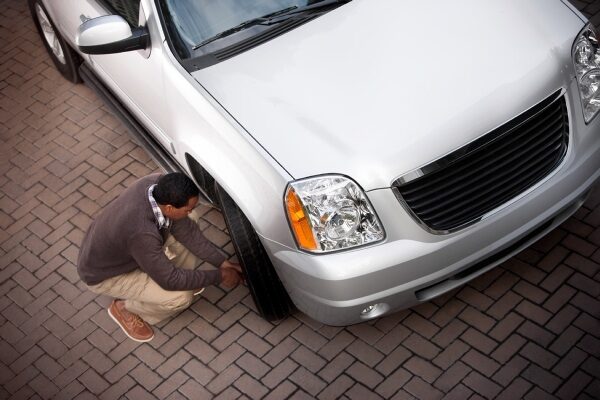 While most drivers realize the importance of taking care of their tires, there's one tire that usually gets overlooked – the one in your trunk.
But some people assume that because they haven't used a spare, that it can operate like new. Accidents resulting from faulty or poorly maintained spares happen more than most drivers think. Learn how to safely drive on a spare tire, and what precautions you can take to help keep your spare in working condition.
How to safely drive on a spare tire
When you resort to driving on your spare, it's important to know the limitations of your new tire. Remember the answers to these three questions to ensure you're using your spare correctly:
How fast can you drive on a spare tire? Spares were not designed to drive at the same speed as regular tires; never let your speed exceed 50 miles an hour when you've got a spare on your car.
How far can you drive on a spare tire? As a rule, most spare tire mileage is around 50 miles. They were built only as a substitute to get you safely to a place where you can get your tire repaired.
How does driving on a spare affect other tires? As noted, driving on a spare is not a long-term solution. It can wear out your full-sized tires faster and, if driven for too long, can throw your car out of alignment.
Spare tire maintenance
Consumer Reports and other well-regarded sources on tire safety say that although the tire doesn't have the same road wear as the four active tires on your vehicle, drivers need to inspect the spare regularly and replace it if the tire is over eight years old – that is unless a vehicle's owner's manual recommends changing the spare sooner.
Check spare tire pressure regularly
In addition to not letting your spare age in the trunk of your car, you need to make sure it's getting plenty of air. All tires lose pressure with changes in the temperature, and your spare is no exception. It's a good idea to check the tire pressure in your spare on a regular basis – and always before heading out on a road trip. It's not useful to replace a flat tire with a spare when your spare's tire pressure is also low.
One way to ensure your spare is ready to roll is to have it inspected every time you have your tires rotated. This is usually something that should be done about every 5,000 miles. Just ask your tire technician to inspect the spare and make sure it's properly inflated and in good condition.
If your spare does have damage, it's wiser to replace it rather than attempt to repair it. Space-saver or "donut" spare tires aren't intended for long-term driving and can become worn much more quickly than a standard tire – particularly if they're driven at too high a speed or for too many miles. A damaged spare isn't likely to perform well, even after being repaired, so it's much safer just to replace it.
Make sure your spare hasn't been recalled
Just like full-size tires, sometimes spare tires can be defective. You can visit the National Highway Traffic Safety website to check for recalls and make sure that your spare is safe for driving.
If you need help replacing a flat with your spare, Nationwide's 24-hour emergency assistance program can provide a quick tire change. Get back on the road faster with Roadside Assistance.