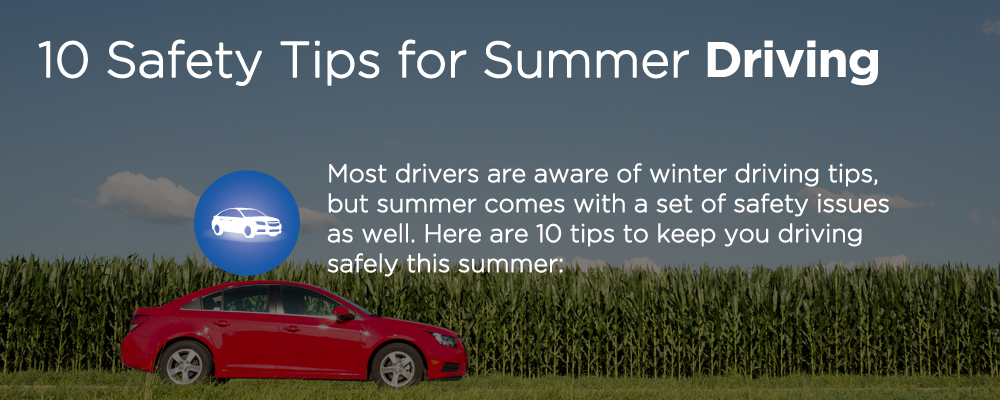 While we hear plenty about the dangers of winter driving, we often ignore the hazards that come with summertime driving. Statistics show summer is actually a riskier time to be on the road. The Insurance Information Institute shows the highest number of fatal car accidents occur in August. While summer offers some of the year's best driving and weather, it's important not to take it for granted.
Jose Alberto Ucles of the National Highway Traffic Safety Administration (NHTSA) explains that several factors can increase summer dangers. Here's a look at some common dangers of driving in the summer, and how to avoid them:
Construction: Along with more drivers on the road, there's often more work being done on the road. Nearly 700 fatalities each year occur in construction or maintenance areas, so stay alert, heed warning signs and slow down in construction zones.
Blowouts: Hot weather can wreak havoc on your tires since the hot air expands inside of them. If your tires are well worn, it poses an even more imminent threat. Check your tires for wear on a regular basis and always make sure you check them when temperatures spike.
More traffic: Summer is the time for family vacations, which means more congested roads – and everything that goes with them. That can include traffic jams that lead to impatient drivers. Do your part to avoid actions that could irritate other drivers. Keep in mind vacationing drivers are often unfamiliar with the roads and may make sudden stops, lane changes or drive slowly. Be patient!
Watch out for other people on the road
Cars aren't the only culprits in increasing congestion on the road; Ucles says warmer weather also attracts more pedestrians, motorcyclists and bicyclists.
"These road-users are more vulnerable because they do not have the protection of a car or truck," he says. "Leave more distance between your car and motorcycles, as they are much lighter and can stop in much shorter distances."
A tricky time for teens
Studies have shown that more teenage driver deaths occur during summer months than any other time of the year. Because teen drivers are less experienced, they are more likely to be involved in accidents than any other age group. They are also the group of drivers most likely to text or use a cell phone while in a moving vehicle.
Investing in a safe driving course for your teen driver is a great way to make sure that they're aware of the hazards and dangers around them. And, since the IIHS reports that most fatal accidents involving young drivers happen between 9 p.m. and midnight, it's also a good idea to limit the amount of driving they do after 9 p.m. – particularly on the weekends.
Safety to go
Finally, Ucles reminds us emergency kits aren't just for winter. Summer driving can cause a car to overheat or, as mentioned earlier, could result in blown-out tires. Rather than risk being at the mercy of strangers on the side of the road, the NHTSA recommends carrying the following items with you at all times:
Cell phone and car charger
First aid kit
Flashlight
Flares and white flag
Jumper cable
Tire pressure gauge
Jack
Work gloves and change of clothes
Nonperishable food, drinking water and medicines
Extra windshield washer fluid
Maps
Emergency blankets and towels
Pack appropriately
As temperatures rise, so does the load factor on your vehicle. That's the way it often works out, given our enthusiasm for hauling luggage, bikes and boats for that much-needed summer break. With the extra weight, be sure to keep in mind:
If you're hauling a boat or jet ski, adjust your concept of appropriate speed, and check your mirrors to ensure you can still see what's next to your vehicle and trailer with the load.
When taking bikes from place to place, find what works for you. Roof racks are safe, but they can be difficult to load and can increase wind resistance. A rear-hitch is easier to load and unload, but you will need to remove to get into your trunk. Your bikes can also succumb to damage if your car is rear-ended.
Your tires must be in tip-top shape to handle a heavier load. Changing tires before the summer hauling season will improve your vehicle's handling of the added weight. Also, check your air pressure, since proper inflation helps maintain the best contact with the road and helps avoid blowouts and tread separation.
Driving responsibly is an important part of staying safe, but in the event of an accident, the right car insurance is key. Learn more about the benefits of Nationwide car insurance today.