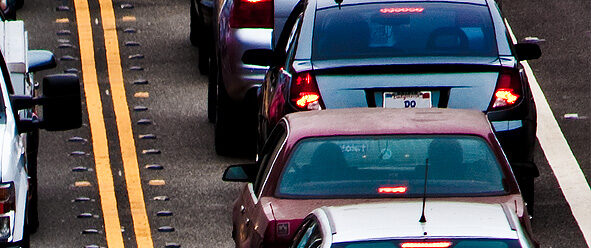 Take these steps the next time you run into a traffic jam.
Auto manufacturers are creating smart cars that initiate braking activity when you get too close to a vehicle in heavy traffic. And highway departments can report when there are dangerous conditions ahead. But when in heavy traffic, the ultimate influence on your safety is you.
One way to stay safe in traffic is to avoid it altogether. Smartphone apps such as Waze and INRIX offer real-time traffic and road information. Check apps before you get in the car to help you plot an alternate route to your destination, saving time and gas money.
But accidents happen, and sometimes, no matter how much technology is at your fingertips, you're just going to wind up sitting in a traffic jam.
"You need to understand what you can control and what you cannot control," says Patrick Barrett, a former president of the North American Professional Driver Education Association. "There are six factors that affect driving: the road, the weather, the traffic, the time of day, the vehicle and the driver. Guess which of these you have the most control over? Yes, it's you, the driver."
While road conditions are out of your control, your actions can help you stay safer on a crowded highway. Here are some tips to help guide you:
Leave enough space
Nearly all congested-highway situations can be relieved if vehicles in a blocked lane are free to move into a free-flowing one. What's stopping them? Other motorists' perception that it's dangerous to merge. "You need to kindly leave enough space to signal that it's fine to merge into your lane," says expert Daniel Gray, who produces car-review videos focused on safety and fuel efficiency at MPGomatic.com.
No lane jumping
For some, changing lanes can be seen as the best path out of a traffic jam, but this isn't necessarily the right solution. "You want to focus on the path of least resistance," says Barrett, who has authored books on driver safety and markets driver's-education tools for parents at DriverEdinaBox.com. "This is the path that lets you move and lets you see. But this doesn't mean you constantly lane-jump. Often, choosing the path of least resistance means choosing to stay in your lane."
Stay calm
Repeat to yourself: "Traffic happens. There's nothing I can do about it." Letting it get the better of you will only elevate your sense of frustration and potentially create unnecessary trouble—especially if you succumb to hostile impulses aimed at drivers around you. "Remember," Gray says, "that you're not the only one who is late for something."

Stay focused on your driving
"When traffic is backed up, we all have the tendency to let our mind wander, check our email or send a text message," says Bill Windsor, Nationwide's Associate Vice President of Consumer Safety. "Heavy traffic requires increased focus on your driving. Don't be the one others are pointing to as the cause of the backup."
It pays to be a safe driver. By signing up for Vanishing Deductible®, you can receive $100 off your deductible for every year of safe driving. It could even go down to zero.