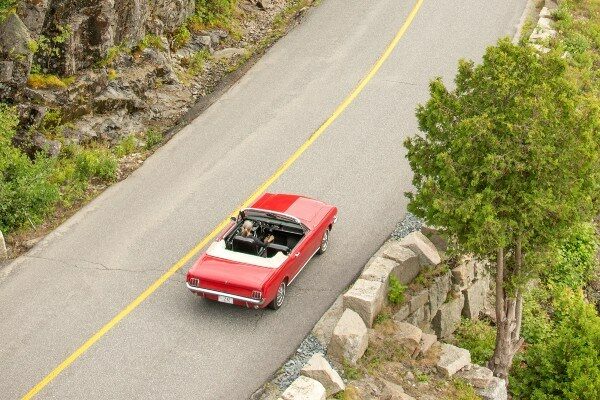 There's nothing quite like being in a new place and having the freedom to go wherever you like, whenever you like. Sure, public transportation is an option, and you can certainly call a cab in most places, but being the master of your own transportation is whole new degree of freedom. That's where having a rental car pays off, at least until you see the bill and realize this car is costing you half of what you budgeted for the whole trip.
Why are rental prices so high? Have people always had to know how to travel on a budget? Sort of, at least the savvy travelers have, but there are a number of factors making rental cars more expensive now than people are accustomed to.
Average cost to rent a car
If you had to pick anything to know about renting a car, you might want to know what it costs to rent the average car. As with many things, the answer depends upon where you're renting, what time of year it is and the kind of car you want to rent, among other things. Factors like earlier booking, renting for weekends rather than weekdays, longer booking periods and selecting a smaller, more fuel-efficient model can all drive your daily rate down when renting a car. Conversely, renting around the time of a holiday, renting from an airport location or selecting a larger model can all lead to a more expensive rental car.
With all this variability in mind, the average price to rent a car has typically been expected at between 50 to 100 dollars per day.1 However, recent events have caused an upswing in that average. According to Paula Twidale, senior vice president of AAA Travel, average rates have risen as high as 134 dollars per day.2
The post-pandemic rental car industry
Economies around the world took a major hit as a result of the COVID-19 pandemic, and the rental car industry was certainly no exception. When travel ground to a halt and demand for bookings dried up, many rental companies compensated for lost revenue by selling their stock. As economies began to bounce back from the pandemic, the travel industry bounced back with it. Demand returned fast, and rental companies scrambled to restock their depleted fleets. Here, they encountered another roadblock. Rental companies' shortages just so happened to coincide with a global shortage of semiconductors, the computer chips used to manufacture electronic devices. This chip shortage had already cut into the auto industry's expected output, thus leaving surprisingly few vehicles for rental companies to restock with.3
How the supply chain affects the car rental market
Vehicle turnover is a regular process in the rental car industry, with companies buying new cars and selling the old to keep their fleets in good working order. Rental car companies normally depend on the auto industry for this constant influx, a reliance that grew substantially in the economic bounce back following the great fleet culling companies carried out to stay afloat months prior. Now, with semiconductor chip shortages ravaging auto industry production quotas, that reliance is souring. With a greatly reduced number of cars being produced, rental companies simply can't find sufficient vehicles to replace all those they sold off.4
Is renting a car worth it?
When planning out travel on a budget, there's always a constant battle between which option will cost less. In the case of renting car vs not renting a car, it's more of a benefits vs costs discussion. Renting a car affords you a degree of freedom that public transportation simply can't: the ability to go where you want, when you want, and with more space to bring what you want with you. Alternatively, going without a rental saves you a lot of money, particularly these days. It's hard to put a price on the convenience a rental car can offer, but if the rental companies quote you high enough, you just might have to set that price.
If renting a car feels non-negotiable, there are some ways to save yourself a few bucks. As stated earlier, rental rates tend to be lower on weekends, or outside of holiday seasons. Planning your travel accordingly can help you save on your rate. You can also save by doing things like selecting a smaller, less expensive model, renting for a longer period of time and refueling your rental before you bring it back as companies charge extra for refueling.5
Do you need additional rental car insurance?
After deciding to rent, one of the last questions to cross many renters' minds is "does insurance cover rental cars?" If you have liability, comprehensive and collision coverage, then your existing policy likely covers everything you'll need. If your policy does not cover all these things, then you may need to consider purchasing additional coverage through the rental company. Always call your insurance company first to find out what your policy will cover.6
1 https://www.thebalance.com/average-cost-of-renting-a-car-4177232, Accessed October 2021.
2 https://www.marketplace.org/2021/05/27/planning-to-rent-a-car-its-going-to-cost-you/, Accessed October 2021.
3 https://qz.com/2032925/why-is-it-so-expensive-to-rent-a-car-right-now/, Accessed October 2021.
4 https://www.autoblog.com/2021/09/15/rental-car-prices-will-remain-high/, Accessed October 2021.
5 https://www.thebalance.com/average-cost-of-renting-a-car-4177232, Accessed October 2021.
6 https://www.nationwide.com/lc/resources/auto-insurance/articles/does-insurance-cover-rental-cars, Accessed October 2021.
Disclaimer:
The information included is designed for informational purposes only. It is not legal, tax, financial or any other sort of advice, nor is it a substitute for such advice. The information may not apply to your specific situation. We have tried to make sure the information is accurate, but it could be outdated or even inaccurate in parts. It is the reader's responsibility to comply with any applicable local, state, or federal regulations. Nationwide Mutual Insurance Company, its affiliates and their employees make no warranties about the information nor guarantee of results, and they assume no liability in connection with the information provided. Nationwide, Nationwide is on your side, and the Nationwide N and Eagle are services marks of Nationwide Mutual Insurance Company. © 2021 Nationwide.