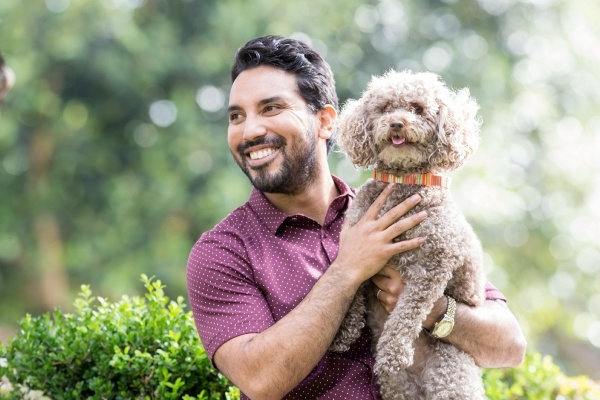 Part of being a pet owner is making sure your furry friend gets enough exercise to stay healthy. The good news is, when you keep Fido active, you'll be more likely to stay active too.
Research shows that owning a pet can promote a healthy lifestyle. Pet owners typically increase their amount of leisurely exercise, like taking walks, by 69% compared to those who don't own pets.[1]
Exercising with your dog is as easy as walking around the block, but what if you're tired of seeing the same old scenery? Find out how to exercise with your dog. Try these out-of-the-ordinary things to do with your dog to stay healthy.
1. Hit the trails
If you're tired of seeing the same houses on your block, trade the neighborhood walk for a nature trail. Search for local trails in your area that allow leashed dogs and take a stroll through a wooded park, wander alongside a river or trek up hilly terrain to get a new view. To stay healthy, aim for at least 30 minutes of exercise on the trails several times a week . If it is a hot day, learn how to keep your pet safe from overheating.
2. Create an agility course
People who compete seriously in the sport of dog agility dedicate a lot of time and money, some of it on home agility courses that provide the ultimate dog workout. For most people, though there's a cheaper way to go. You can search for YouTube videos that cover how to train for this sport that will help prevent injuries to you both. For practice at home, you make an agility course yourself with household items.
For example, set a curtain rod on top of two five-gallon buckets to create a jump. Or, set a piece of plywood up against a cinderblock to make a ramp. Encourage your dog to jump through hula-hoops. Training and running with your pet is good exercise for you, too.
3. Go for a run
Grab your sneakers and go for a run with your dog. Pop your earbuds in, listen to some tunes, and work up a sweat for a great dog workout that both of you can enjoy. Before you start, talk to your veterinarian to make sure your pet is healthy enough, and be sure to run only when the weather is cooler, such as in the early morning. Offer water at regular intervals, and don't push your pet too hard. Heavy panting and glassy eyes mean your pet is overheated and may need immediate veterinary attention.
4. Blow bubbles at the park
A walk through a neighborhood park is great way to keep your pet active. The next time you go, take a small bottle of bubbles with you. Most pets love to chase them or jump up and pop them. Bubbles are one of the simplest, active things to do with your dog.
Getting regular exercise is one of the best ways to stay fit, and that goes for both pet owners and their pets. However, as much as you commit to keeping your pet healthy, sometimes the unexpected happens.
Nationwide offers complete pet insurance coverage that covers everything from vaccination to chemotherapy. Get a pet insurance quote and rest easy knowing you've taken steps to give your pet a long, healthy and loving life.
[1] https://www.active.com/fitness/articles/are-dog-owners-healthier-people