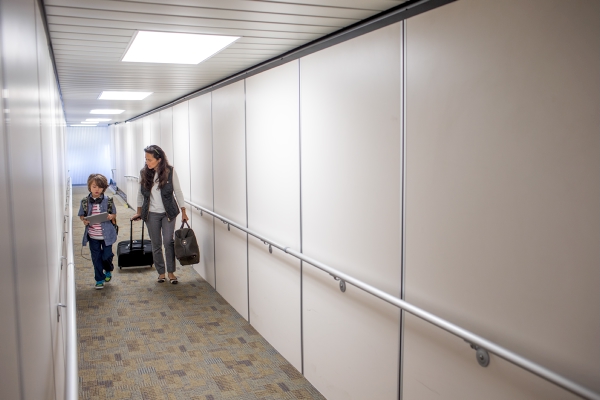 In our fast-paced world of near-constant activity, there's one place time seems to stand still: the airport security line. However, obtaining prescreening credentials can help you move smoothly and quickly through security, bypassing the longer lines and stricter rules.
The credentials allow you to keep on your shoes, belt, light jacket or hoodie. Your laptop can stay in its case and your plastic bag of 3-ounce liquids can remain in your carry-on luggage.
What is TSA Precheck?
The Transportation Security Administration's prescreening program known as TSA Precheck is an expedited security screening program for travelers deemed to be a low risk, and who are departing from airports within the U.S. The program is in place in more than 150 U.S. airports, and 12 airlines take part.
Once your application is approved, you are given a number known as your Known Traveler Number, or KTN, which is your ticket to faster lines.
How to apply for TSA Precheck
TSA Precheck enrollment
To apply for the precheck program, you must visit an enrollment center, which you can find at tsa.gov/tsa-precheck. You can choose to start the application process online or wait to do it at your on-site appointment. Walk-ins are accepted, but it will probably be faster to make an appointment.
TSA Precheck requirements
At the enrollment center, you will need to show either a passport or a driver's license and birth certificate. You will submit the rest of your paperwork and your fingerprints will be taken. You will also pay the program's $85 fee, which is good for five years.
TSA should let you know within two to three weeks whether you have been accepted into the program. If approved, you will be mailed your Known Traveler Number, which you will need to use when you reserve flights and access the TSA website.
You will not be given a card with your number on it, so it's important to keep that information handy. Many airlines will allow you to save your KTN in their system, along with your other personal information.
Participating airlines will print an indicator on your boarding pass, and TSA personnel will often direct you to the appropriate line – but look for the TSA Precheck signs.
Children age 12 and younger can travel with their parent or guardian who is in the TSA program, but older children and other family members must use the regular security line unless they have also been approved for an expedited security program.
Global Entry program
If you fly internationally a lot, an alternative prescreening program you might want to consider is Global Entry, managed by the U.S. Customs and Border Protection department. The program offers expedited clearance for pre-approved, low-risk travelers when they arrive at a U.S. customs crossing. The application process is similar to the TSA program and costs $100.
Global Entry members can also use the TSA Precheck security lines. Members are provided a membership number called a PASS ID, which they can use anytime they are asked for a KTN.
Whichever program is right for you, a small investment of time and money now might save you precious minutes later in airport security lines.