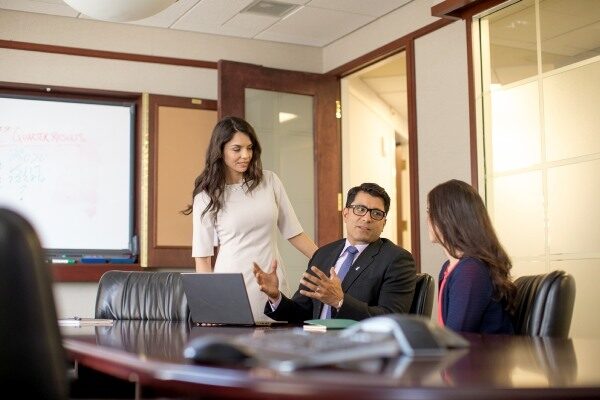 To welcome a new employee, it's important to have a plan. The last thing you want is a new hire entering the building, roaming the halls and looking for someone to help them get settled in.
It's helpful to have an employee onboarding process that introduces the employee to your company and staff, sets expectations and begins your professional relationship on the right foot.
Why employee orientation is so important
A job orientation might sound like an unnecessary process, especially for time-strapped small business owners who need employees to acclimate quickly. However, training a new employee is vital to your success. Here's why:[1]
Research shows that 58% of employees are more likely to be at the company three years later if there is a solid employee orientation
54% of companies with an orientation program have higher employee engagement
83% of the highest-performing companies start their employee orientation process before the employee's first day
Your employee orientation checklist
After you've found the right person for the job, use this handy checklist to make sure a new employee starts in their position on a solid foundation. Keep in mind that some of these steps may not apply to your company — for example, you might not have an IT department. Try to apply as many of these steps as possible, keeping in mind what's relevant to your business.
One week before arrival:
Ready a workspace: Clear a desk, empty drawers and give the computer a quick cleaning if your new hire is getting their own workspace. This is where your new employee spends a significant amount of time, so make sure it's clean and prepared.
Create and send a welcome email: Send an email to the new employee with relevant first-day information like their arrival time, where to park and who to ask for upon arrival. Let them know if they need to bring any documentation to handle paperwork.
Send an email to staff: Let everyone know a new employee is coming on board. Provide their name, role and a date of arrival.
Prepare handouts: An employee's first day is full of new information, so it's nice to put some of the most important details in writing. Create handouts that the employee can reference later. Handouts might cover points of contact or a to-do list to enroll in company benefits.
On their first day:[2]
Greet the new employee at the door: You want to make a good first impression. Greet the employee as they enter the office with a friendly smile and handshake.
Explain the day's agenda: Tell the recruit what they're doing that day. It may include a lot of administrative work.
Give a tour: Make it easy for your new hire to get around by explaining the building layout and pointing out common areas and bathrooms.
Make introductions: As you go on the tour, introduce the employee to staff members. Explain any hierarchy and roles that might not be clear. Introduce the employee to senior executives if you have them.
Stop at HR:
Give out an employee handbook, discuss employee benefits and fill out payroll paperwork
Discuss company policies, culture and any frequently asked questions
Print the employee a badge and provide access codes
Explain basic processes for getting paid, requesting time off and calling in sick
Meet with IT: Your employee may need system login credentials. Get a username and password set up for main systems and test it to make sure it works.
Explain training schedule: A new employee may need several days of training. Explain what the training process is and who provides that guidance.
Collect feedback: Ask every new employee to answer a survey and provide feedback so you can continue to improve your employee orientation process.
Two weeks after their first day:
Follow up on benefits: Make sure the employee has completed all the necessary paperwork to be enrolled in your benefits program. If not, provide the forms needed with clear direction and deadline for completion.
Set up a 15-minute meeting: Set up a quick check-in with the new employee. Take a few minutes to sit down and ask them how everything is going and if they have any questions.
Set up a three-month review: Schedule the employee's first informal review and let them know what the meeting will consists of.
By using this checklist, you can onboard new employees with ease and start focusing on retention from day one. Learn more about defining and streamlining employee roles, making improvements with feedback and building workplace trust to create a company culture that everyone values.
[1] https://www.shrm.org/resourcesandtools/hr-topics/talent-acquisition/pages/onboarding-key-retaining-engaging-talent.aspx 
[2] https://blog.capterra.com/new-employee-orientation-checklist/