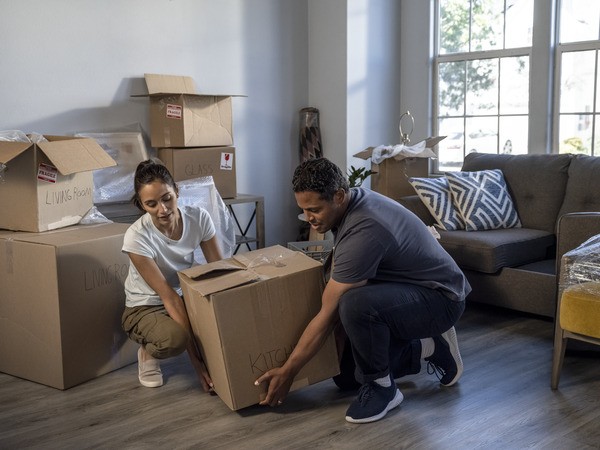 Nothing stresses people out like having to uproot their lives, transporting their belongings tens, hundreds, even thousands of miles away. While the endless boxes and hours of packing and unpacking involved in moving can certainly take a toll, one of the worst parts of moving, especially for first-time movers, is the uncertainty. How do you switch your utilities? How do you pack your belongings? How much does it cost to move across the country as opposed to moving down the street?
These questions alone can be enough to make your head spin before you've even gotten started, but the short answer is most of it depends upon your unique situation. Let's start with the base level of expenses you can expect.
Typical moving expenses
The simplest moving expense metrics are how far you have to go and how much there is to move. Most movers charge an hourly rate, so the more boxes and furniture they have to move, the more it's going to cost you. That number will go up or down depending on the size of the place you're moving into since a larger home will take more time to move into and vice versa. You'll also pay more the further movers take your stuff. That means moving out of state is almost always going to be more expensive.
Because of the variability of moving distance and volume, average costs can be hard to pin down, however, the average hourly rate of most movers can go anywhere from $75 to $350, depending on the type of move you require.1
Typical moving costs include the container you're renting to move your belongings, whether truck or portable storage container, moving supplies, and the hourly rates of any professional movers you use. Here's a quick breakdown of the average costs each of these will add to your bill:
Renting a truck – A large truck can cost around $40 plus extra charges per mile, while a smaller truck or cargo van will cost less, usually around $20 plus mileage fees.2
Renting a portable storage container – If you decide to get a storage container, depending on the size of your home the cost can range from ~$1,000 to $3,000.3
Moving supplies – In most cases, moving supplies means a lot of boxes and packing tape. Boxes can cost anywhere from $1 – $4 depending on size, while tape can cost between $2 – $8. Bubble wrap for cushioning can run you from $6 – $30 depending on how big of a roll you buy.4
Hiring professional movers – Hiring local movers costs an average of $109 per hour, while long-distance movers average $120 per hour.5
Average costs of moving by apartment size
Since the size of your home is an indicator of what you'll be paying to move into or out of, the number of bedrooms in the home is a highly influential factor. But how much do movers cost for a 2-bedroom apartment compared to a 3-bedroom? Or for a 1-bedroom? Let's break it down:
Costs of moving to a 1-bedroom – $240 – $500
Costs of moving to a 2-bedroom – $400 – $700
Costs of moving to a 3-bedroom – $560 – $1,0006
Additional costs to consider
So, you've got your belongings boxed up in the truck, your furniture is tucked in with it, and you've already paid for movers to take it into your new digs. What other moving costs might there be? If you have any kind of time between moving out and moving in, you'll need somewhere to put your stuff in the meantime, usually a storage unit of some kind. Movers will also usually charge extra for unique and heavy items like pianos and during particularly busy moving seasons like the summer.
One last expense you should consider is moving insurance. Find out if your move is covered by your homeowners insurance.
How to save on moving
As expensive as moving can be, there are ways to mitigate some costs. Local moving companies charge less on average, so hiring them for your professional moving needs can help drive net costs down. On top of that, simply doing everything you can to manage the move on your own is the best way to spend less. Cut down on the volume that needs to be moved by selling or donating items you don't need, pack everything you can manage on your own, and use your own packing supplies wherever possible.
The amount you move on your own and the amount you can get rid of pre-move are both within your control. Learn how you can financially plan for your move. As much of a hassle as moving can be, a fresh start awaits you in a new home with new opportunities to learn and grow.
---
1 https://www.thumbtack.com/p/moving-companies-prices, Accessed August 2021.
2 https://www.movinglabor.com/blog/how-much-does-it-cost-to-rent-a-moving-truck, Accessed August 2021.
3 https://www.move.org/best-moving-container-companies/, Accessed August 2021.
4 https://movingwaldo.com/moving-supplies/how-much-do-moving-supplies-cost-2/, Accessed August 2021.
5 https://www.thumbtack.com/p/moving-companies-prices, Accessed August 2021.
6 https://www.consumeraffairs.com/movers/how-much-do-movers-cost.html, Accessed August 2021.