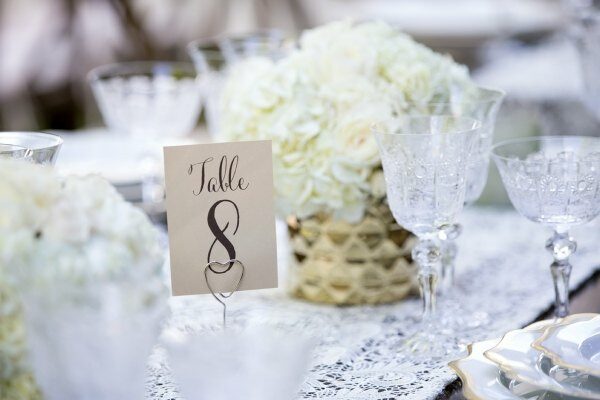 Summertime: the absolute peak of wedding season, when bright colors are in, and events can be held outside in the splendor of a warm sunny day. From the many-colored beauty of summer wedding decorations to the unique outdoor venues available during this time of the year, there are many reasons to have a summer wedding.
Sun-drenched summer days require a plan to provide cover for your guests to escape the heat and UV rays for at least part of the day. Outdoor wedding venues mean planning for the possibility of rain too, and if you're planning a destination wedding, you'll need to consider travel and guests' accommodations. If you start to check boxes off your wedding to-do list early, you'll have plenty of time to enjoy the fun parts of wedding planning. From food to themes, here are eight ideas for summer weddings.
1. Provide light and fresh snacks
If you have the wedding on a hot summer day, you'll want to make sure the food fare you're offering guests doesn't compound the heat! Think light and cooling. Cold sandwich sliders, lettuce wraps, salads, seafood, and seasonal fruits and vegetables are all excellent ways to satiate your guests and help them beat the heat.
2. Offer refreshing summer cocktails
Cocktails are a great way to play into any summer theme. Think about the cocktail offerings and signature drinks that would fit the backdrop of a summer day. Particularly refreshing options such as margaritas, frosé, prosecco, sangria, mojitos, and spritzes are all excellent options.
3. Set up a hydration station
Everyone knows hydration is important, but it's still easy to forget about amongst the many details of a wedding. Nevertheless, it's one of the most crucial things to remember for a wedding on a hot day, particularly since many guests may also be consuming alcohol. Set up a hydration station that offers guests cold water and other beverages such as iced tea or lemonade. You can even add fresh cucumber or mint to the water.
4. Set up a shaded lounge area
Shade is another obvious need on a hot day, but again, one that can be easily forgotten when more interesting things like food and décor are being discussed. Shade is essential on a hot summer's day, especially for any babies or elderly people who may be in attendance.
5. Provide cooling-off accessories
In order to keep your guests comfortable, you can provide accessories to keep them cool. Fans are always a great way to do this, but you can also go for things like cool towels or even parasols. There are plenty of ways to play into any theme you've picked and keep guests cool at the same time.
6. Wear light and airy fabrics
Staying cool in the summer heat also extends to clothing. Some weddings will hold guests to particular dress codes to match the theme or otherwise compliment the wedding party. For summer wedding attire, light breathable materials like chiffon, silk, and cotton, particularly in lighter colors, will help keep everyone cool.
7. Set up a photo booth
Besides being a fun activity, they give both you and your guests physical copies of photos that you can take home. They're also a great way to play into any theme you may have chosen since photo booth props can be so varied.
8. Create custom beach towels
Pictures are great, but having custom memorabilia made gives your guests a piece of the celebration to bring home with them! If you host your wedding at a waterside venue custom beach towels are an excellent way to provide those memories, while also giving guests something they may need during your wedding celebration.
Summer wedding themes
Wedding themes are a fun and memorable way to play into the beautiful weather and iconic scenes of the season. You can always check on current trends for inspiration, but there are also a handful of evergreen choices.
Beach theme
It doesn't get much more summery than the beach, and you can pull this theme off without being too heavy-handed. It always helps to have planned for a venue that is on or near a beach, but you can also evoke that sand and surf vibe without waves crashing in the background. Classic summer wedding colors like pastels or tropical colors, tropical florals, and other décor such as seashells, woven basket lanterns, and driftwood signs can all help to pull off that perfect beach atmosphere.
Nautical theme
Want to get a little further offshore? How about a nautical theme? Again, it always helps to select a venue that reflects the theme, but not everyone wants to get married on a boat. You can create that same scenery with blue and white colors and nautical décor such as boats, mermaids, sailors, and anchors. If you go for this theme, it's also a great idea to reflect it on your menu. Go for seafood, even a raw bar if it's to your taste.
Retro Tropics theme
Feeling the beach, but also nostalgia? You can always compromise and go for the retro tropics themed wedding. Muted reds, greens and yellows, palm trees, tropical flowers, retro fonts, and vintage style all work together to transport you and your guests to a classic, ritzy tropical resort of old.1
Garden theme
Gardens are lush and beautiful symbols of life and renewal and make for a very fitting wedding theme. Decorate your venue with native summer flowers, from the surrounding area if possible. Consider using things like antique serving ware for that garden party-like vibe. Pastels or a monochrome color palette can help you pull off the effect as well.
Planning your wedding theme and getting other logistics out of the way early allows you to relax and enjoy the weeks leading up to your big day, as well as the ceremony and celebration itself. If you've done it right, you'll be ready to start checking things off your after-marriage checklist. As you plan your wedding, you should also plan for the possibility of anything that could possibly go wrong. Learn more about wedding insurance, including what it protects and why it might be a wise choice for you.
1 https://www.theknot.com/content/summer-wedding-ideas, Accessed July 2021.
Disclaimer:
The information included is designed for informational purposes only. It is not legal, tax, financial or any other sort of advice, nor is it a substitute for such advice. The information may not apply to your specific situation. We have tried to make sure the information is accurate, but it could be outdated or even inaccurate in parts. It is the reader's responsibility to comply with any applicable local, state, or federal regulations. Nationwide Mutual Insurance Company, its affiliates and their employees make no warranties about the information nor guarantee of results, and they assume no liability in connection with the information provided. Nationwide, Nationwide is on your side, and the Nationwide N and Eagle are services marks of Nationwide Mutual Insurance Company. © 2021 Nationwide.