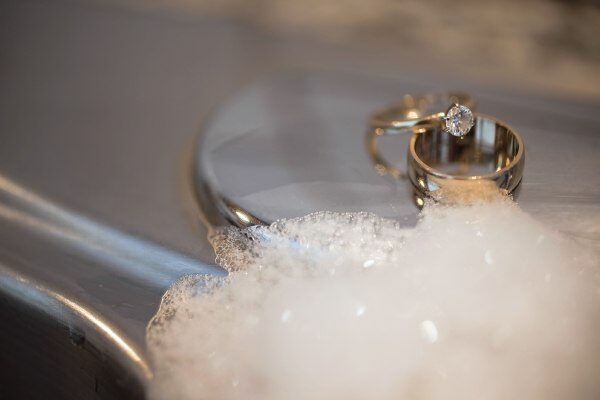 There can be many factors that influence how much someone spends on an engagement ring. Though traditional standards suggest spending two to three months' salary on a ring, many couples are now challenging the old rules and taking more personalized approaches.
A recent study estimates the average price of an engagement ring is $5,855. Still, there are no set rules. How much you should spend on an engagement ring will largely be dictated by your financial situation and what kind of ring your partner wants.
How Many Carats Should an Engagement Ring Be?
If you find yourself part of the average that can afford a $6,000 ring, then you will likely be looking for rings that meet certain standards of quality when it comes to the cut, color, clarity and carat weight, often referred to as the 4Cs grading system. At this price point, you will also be looking at a ring that has a carat weight of about 0.9 carats, the average carat weight for a purchased engagement ring in 2015.
Engagement rings with higher diamond grades usually have a greater carat weight and they are flawless. These rings have a tendency to be of rare quality and more expensive. In fact, rings of this quality can be the most expensive engagement rings you can buy, selling for between $500,000 and $8 million dollars.
Figuring Out How Much to Spend on an Engagement Ring
Staying within your budget and purchasing something that can be treasured for years to come can be tricky, but there are different strategies available to you. Jewelry specialists often recommend buying a ring that's just under the pricing plateau that's higher than you want to go. So instead of a full carat ring, which sells at a premium rate, buy a 0.9 carat ring. These types of non-standard weights can reduce the cost of a ring significantly and with little noticeable difference in appearance.
Finally, if you are looking for something inexpensive but still stylish, a cubic zirconia engagement ring is a good option. For many it can be hard to distinguish between fake and real diamonds, and the difference in price is significant.
How much you spend on an engagement ring, whether it's in a store or from an online retailer, will obviously be based on your personal financial situation. But with so many classes of rings out there, it's possible to find something that you and your beloved really like that suits your budget, too.
Protect Your Investment with Wedding Insurance
Buying an engagement ring is the first of many decisions you'll make when planning a wedding. Make sure to protect your special day with wedding insurance, which provides liability coverage and helps protect you from financial loss if you have to cancel or reschedule.