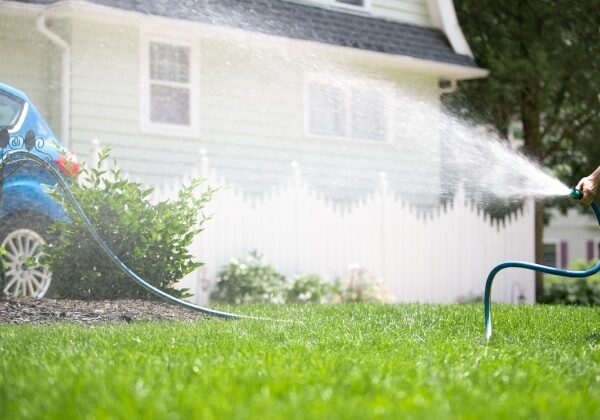 Low-budget landscaping needn't be bare-bones. A little money and effort can create a big impact regardless of how much space you have.
Before starting your backyard renovation, have a design in mind. It's easy to be wooed by beautiful blooms at nurseries. If you have a plan, you're more likely to purchase the right plants and know where they should go. Here are some backyard ideas on a budget that can transform your yard.
1. Invest in soil
"Soil amendments and preparation – raking, tilling and grading – are the most important aspects of budget gardening," says landscape architect Eric King. Plants grow better in improved soil, so you can start with smaller, cheaper plants rather than larger, more expensive ones.
To stretch your plant budget further, shop wholesale nurseries and end-of-blooming-season sales. Focus on perennials that can overwinter in your climate zone (so you don't have the cost of planting each year) and that provide year-round interest through color or texture. You can add bright pops of color throughout the year with a few potted annuals.
2. Employ dimensional design
Even budget-friendly backyard landscaping ideas should include plants of various heights and textures for visual depth. Designing vertically, for instance, makes a small space seem larger and more interesting, so you get more style and function for your money. Ensure plants aren't all one height, though.
Maintaining a healthy lawn is also an important factor that goes into making a backyard look its best. Have your soil tested to find out what chemicals it needs to maintain healthy grass. A professional can use fertilizers and certain insect repellants to treat your lawn to help it thrive.
3. Pick low-maintenance foliage
Include bushes and ornamental trees in your landscape design, too. These options add interest for decades, without the need to replant, thus saving money long-term. Slow-growing Japanese maples, for instance, add height, color and, in winter, architectural interest. Ornamental grasses add low-maintenance texture and eliminate the need to replant seasonally with flowers. Non-woody vines, like jasmine on fences or walls, add dimension and draw the eye upward. Woody vines like bougainvillea, in contrast, are best suited for pergolas and other well-ventilated structures, because they trap moisture beneath their leaves, which contributes to wood rot. Vines can quickly fill in barren areas, providing extensive coverage at relatively little expense.
4. Create a destination point in your yard
Even if you have a tiny yard, you can create a destination point. A seating area and a garden feature, like a reflecting ball that's separated from the rest of the lawn, are two examples. Budget-friendly options include refurbished and repurposed garage sale finds like retro-aluminum chairs and construction elements like salvaged windows or newel posts. If you're handy, build your own seating after a trip to the home-supply store. Access your special area with a winding path that invites walkers to slow down and enjoy the changing views.
5. Use greenery to set up a "secret room"
Mobile plantings can make the garden room multifunctional. Says landscape designer Chris Lambton, host of HGTV's "Going Yard" series: "Using planters on casters lets you create a secret room with plenty of greenery but gives you the flexibility to easily move plants out of the way to repurpose the area for dining or entertaining."
6. Consider pea gravel, stone, or pavers
For paths or patios, natural stone or pavers are a good investment if you plan to stay in the home a while. On the other hand, "pea gravel or crushed stone can make a fabulous surface for much less money than mortared flagstone or pavers," King says. If you choose stone or pavers, however, you can still save money by not mortaring them in place.
To install pea gravel, stone or pavers, remove any existing turf from the area and put down a layer of landscaping fabric to minimize weeds and to prevent the gravel from being pressed into the soil. You can add the pea gravel on top of the fabric. For stone or pavers, cover the fabric with sand for easy leveling. Soften the look by planting grass or creeping plants like elfin thyme or Irish moss in the spaces between the stones.
7. Get crafty
Improvisation is integral to low-cost landscaping ideas. If, for instance, replacing an unsightly fence isn't feasible, screen it with reed or rolled bamboo. Repaint faded plastic planters using plastics paint from any home store. If your patio slab is broken, cover it with a layer of pea gravel.
Low-cost backyard renovations can be exciting and fun. Using your ingenuity to find the best deals and your creativity to employ a variety of materials can transform your yard from dreary to dynamic – even on a tiny budget.
Renovating your backyard can increase your home's property value, too. Make sure you have the right coverage for your home and backyard, get a home insurance quote today.