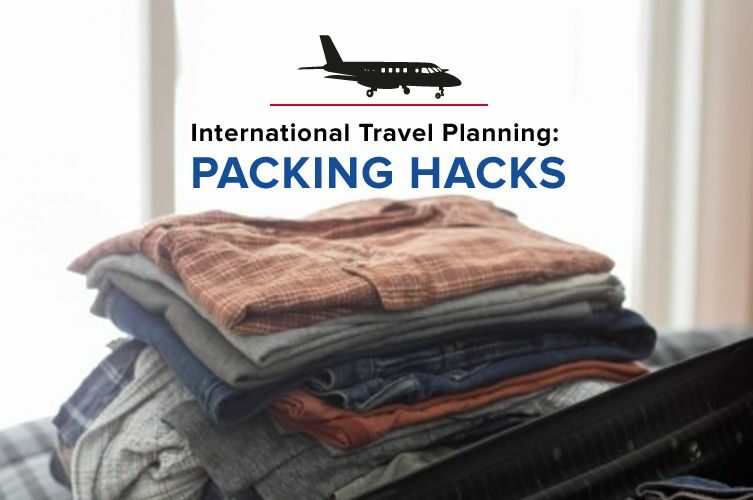 Packing truly is an art form, so prepare to tap into your inner-Picasso. Being a smart packer takes creativity, patience, organization and attention to detail.
Lacking these characteristics? In this edition of our international travel planning series, we provide you with creative packing tips to save space, protect your belongings and avoid overweight luggage fees.
Maximize suitcase space
1. Consolidate all your travel guides onto your smartphone, using Kindle or an app like Trip Advisor
2. Roll up clothes, such as T-shirts, cotton pants and jeans, rather than folding them (they'll be less wrinkled, too)
3. Buy vacuum-seal bags or make your own for stiffer garments like blazers
4. Wear a travel vest or jacket with several pockets to carry extra items
5. Stuff socks and items that won't burst inside your shoes
6. Use an inflatable neck rest for the plane ride
7. Use packing cubes to keep belongings organized
8. Leave extra room in your bag for purchases on your trip
Avoid luggage fees
9. Luggage weight and size limits vary by airline. Check your carrier's guidelines here
10. Weigh your luggage at home
11. If you're a frequent traveler, consider an airline credit card; baggage fees are often waived
Protect your possessions
12. Store your shoes in shower caps to keeps your clothes clean
13. Stick rolled up belts inside your collared shirts to keep them stiff
14. Pack your liquids in plastic bags (liquids in your carry-on must be must be 3.4 oz. (100 ml) or less per container)
15. Pack jewelry between two sheets of clear plastic wrap to prevent it from moving around and tangling
16. Use a pill organizer to keep track of smaller items, such as rings, earrings and cufflinks
17. Put glass perfume/cologne bottles and other breakables in socks or bubble wrap
18. Use a binder clip to cover razors
19. Store chargers, cords, headphones and other small electronics together in sunglasses cases
20. Consider purchasing anti-pickpocket devices from companies that sell anti-theft technology
21. Make your bag easy to identify with a ribbon or bright marker
Pack the not-so-obvious items
You're organized, you're protected and you're almost there. Just don't forget these items:
22. International charger converter/outlet adapter
23. Multiple camera cards for extra storage
24. Use a portable backup device for photos if internet access isn't available
25. Empty bags for purchases you make on your trip
Now that you're a master in the packing department, getting your luggage ready for your return home will be a piece of cake.
Want more preparation tips before you head overseas? Take a look at our other international travel planning articles for the guidance you need to ensure a relaxing and wonderful trip.
International Travel Tips: How to Stay Connected While You're Abroad
7 Items to Go Over Before Heading Overseas