We know that creating a will can be confusing and maybe even a little overwhelming. But having one in place is the only way to ensure that your wishes will be carried out after you're gone, including who will care for your children, pets and dependents.
To help simplify this topic, we've created a list of the key roles you should consider before creating your will. Having them selected upfront will make completing your will a lot easier later.
Who should be a beneficiary of a will?
A beneficiary (or heir) is any person who receives something from your will. You can list a class of beneficiaries (e.g., your assets should be divided equally among your three children).
But if you know you want your daughter to have your Aunt Sally's ring and your son to have your grandfather's pocket watch, you have to clearly spell that out in your will.
Who should be an executor of a will?
An executor (or personal representative) is the person you appoint to be responsible for carrying out the legal and financial wishes stated in your will.
This job is a very important one. It includes paying off your debts, selling your assets and making distributions to your beneficiaries. So, selecting someone who is responsible is crucial.
You may also want to consider someone who's younger than you, in case it's many years before their services are needed.
Who should be a guardian?
A guardian (or conservator) is the person or people you choose to care for your minor children or legal dependents in the event of your death. At the very least, this would include caring for their health and living affairs. And if you don't have a separate financial guardian appointed, this would also include financial affairs.
For parents of young children, this is the most important role in your will. There are many things you'll want to consider about who you select, including their relationship with your children, their values and morals, their location and their age.
It's also smart to have a successor guardian named in case your first choice doesn't work out.
Get started writing your will
Once you have these three key roles decided, writing your will can take as little as 20 minutes. And our personal info organizer is a great tool to help you gather the rest of the information you'll need to get started.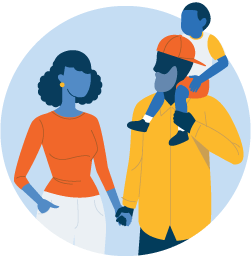 Get your will done for free
Nationwide® has partnered with FreeWill to offer you a fast, easy way to get a will that's 100% free and 100% legal.
NFW-9929AO