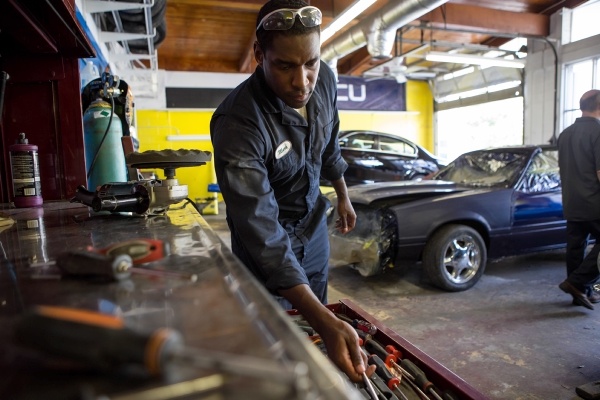 For car owners, a visit to an auto repair shop can cause as much anxiety as a trip to the dentist. Who knows what unforeseen problems will turn up? It's the reason finding a reliable, honest mechanic – someone with your best interests in mind – is so important to car owners, especially those with little knowledge of the workings of a car.
So how can car owners find such a car repair shop and ensure they won't be taken advantage of? Fortunately there are a number of things you can do to find a mechanic who will provide reliable advice and honest quotes.
Research auto shops
Before you even leave the driveway, you first need to do some research. Ask friends or family to recommend a car repair shop in your area. Query friends who own similar autos on their experiences with mechanics. Friends typically like to offer advice, and they are more trustworthy sources than any claims of "best shop in town" by a repair shop.
You can also conduct searches online on review sites such as Yelp and the Better Business Bureau, which offers an accredited list of businesses. You can also explore car-specific sites, such as Car Talk, which has a listing of mechanics reviewed by the NPR show's online community. Google offers ratings of shops as well. Of course, it's important to take online reviews with a grain of salt because issues and expectations can differ with each individual.
Check for credentials
There are other concrete things you can look for that will help you decide which repair shop to visit. "The first thing we like consumers to do is determine whether it's a licensed repair facility," says Joseph Henmueller, president of the Automotive Maintenance Repair Association. He cautions motorists to avoid mobile operators and individuals found on Craigslist who offer bargain rates. "If anything goes wrong, they're not licensed by the state, and consumers have no recourse."
Also, look for certifications and accreditations with auto repair licensing organizations. Besides Henmueller's association, others include ASE (Automotive Service Excellence) and iATN (International Automotive Technicians Network). "Look to see if they have an AAA association, and have ASE technicians in their shop," Henmueller says
Make sure the technician assigned to work on your car is certified for your specific problem. ASE certifications require separate tests for different parts of a car, such as brakes or transmissions. "You want to know if the guy working on your brakes is ASE certified in brakes," Henmueller says.
Ask for documentation
It's also important for a shop to have a process in place to provide written documentation for each step of the transaction. Your initial concern should be documented, and customers should get written reports of any inspections and estimates before any work is started, with separate line items for parts, labor, taxes and fees. And parts should always be identified as new, rebuilt, remanufactured or used. At the same time, whatever warranty is offered should be printed on or attached to the invoice. A typical minimum warranty is three months or 3,000 miles.
Another sign of a reputable shop, Henmueller says, is a policy that offers to return any replaced parts to the consumer, or at least to make them available for inspection. "If you replace four tires, you want to be able to see the tires before they send them to recycling," he says. "It gives you some assurance that parts were taken off and new parts put on."
Do an in-person visit
Before committing to a mechanic, you should visit in person to get a look at the shop itself. If the shop appears to be unprofessional or in disarray, that may be an indication of how your car will be treated. "If there are indiscriminate cars pulling up delivering parts, they could be coming from a junkyard," Henmueller says. "Professional organizations look, sound, smell and feel professional. If it smells funny, it is funny."
Your car may be in need of immediate repairs by a good mechanic, but don't forget to do regular maintenance to keep your car in top shape. Check out our ultimate car maintenance checklist before you head to the auto shop.