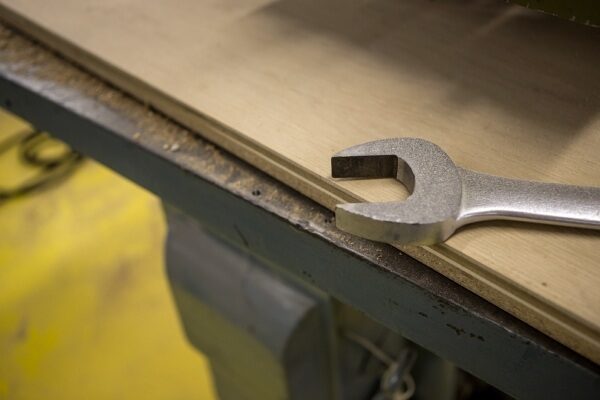 Owning the right basic tools makes life easier, whether it's having the right screwdriver to assemble new furniture, a wrench to tighten faucets and training wheels or a hammer that will last a lifetime. Here's a look at what you should have in your basic tool set to help you tackle virtually any home improvement project.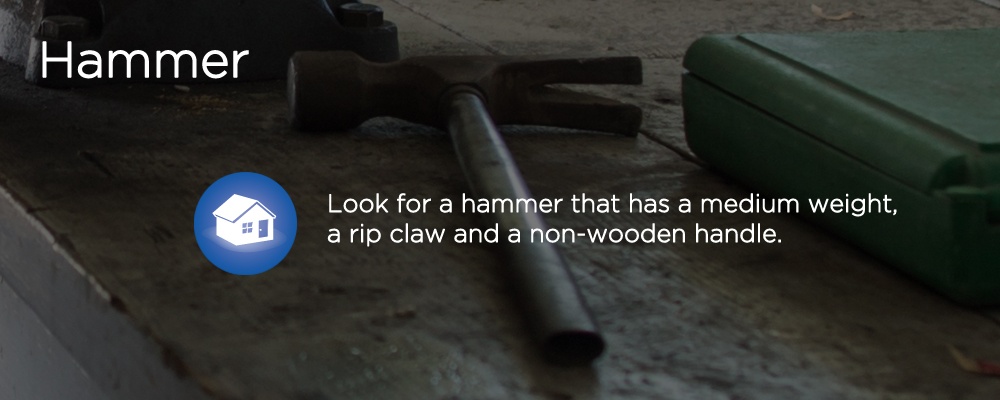 At the least, homeowners should have a hammer, a tape measure, a screw driver and wrench. "If you have those, you can accomplish almost anything," Charlotte Gooding, Home Depot's senior merchant for hand tools, storage and automotive, says.
Hammer: A lightweight, 16- to-20-ounce traditional finishing hammer is ideal for hanging pictures and pulling out nails. The handle can be wood or fiberglass, depending on personal preference.
Wrench: An 8-inch adjustable wrench, also called a crescent wrench, lets you adjust almost anything. The only option when things go wrong with kitchen or bathroom pipes, a wrench helps you loosen or tighten pipe fittings and valves. It can also come in handy putting together furniture sets. Go for an adjustable crescent wrench that can be tailored to handle different sizes of pipes, nuts, bolts and other fasteners.
Screw drivers: A 10- to-14-piece screw driver set that includes both slotted and Phillips heads is invaluable. In addition, a precision screwdriver set is helpful for smaller projects, such as adjusting tiny set screws on towel racks and eyeglasses. Magnetized tips help you hold the screws.
Tape measure: If you need to arrange furniture, hang drapes or picture frames, or paint a room, a tape measure that's at least 25 feet long is a big help. More ambitious do-it-yourselfers will find it useful for bigger jobs, such as flooring or tile work. Look for a wide tape that can extend far without losing its rigidity.
Starter Tool kits
Basic tools kits are a great way to save money and begin to invest in a tool collection. "Kits are comprised of the most-needed tools in the most popular sizes," Gooding says. They generally cost less than buying the same tools separately. "For entry-level tools, private-label tool sets are a good investment," Gooding says.
Multi-tools are another option. "These combine multiple layers of functionality in one device, so you don't have to carry as many," Gooding explains. Examples include the Leatherman 13-Tool REV Multipurpose Tool, the Crescent adjustable pass-through wrench set, the Milwaukee 6-in-1 diagonal cutters and the Crescent Flip-and-Grip Wrench-Multi-tool.
Add-ons
"As people gain more experience, they may have specific requirements for certain projects and will look for individual tools to expand their toolbox," Gooding says. Worthwhile additions include:
Pliers. Slip-joint, needle-nosed and lineman's pliers are among the most common. They are handy for gripping, bending or compressing objects and cutting and twisting wire. Homeowners may use them when mounting pictures and in many other household projects.
Cordless drill. Look for an 18-volt drill for increased power, and be sure to find one with a lithium-ion battery, because the alternative nickel-cadmium (NiCad) batteries are being phased out.
Allen wrench. Also called a hex key, this fits hexagonal bolts and screws and is useful when assembling manufactured furniture.
Level. Horizontal bubble levels are the most common. Use one to ensure your towel racks or picture hooks are perfectly aligned.
Utility knife. Also called a box cutter, this is easier to grip than a kitchen knife or scissors when opening packages and breaking down cardboard for recycling. Utility knives come in a variety of colors to make finding them easier on a cluttered workbench or job site.
How Can You Recognize Quality Tools?
"It's particularly important to invest in high-quality mechanics tools, like ratchets and ratchet wrenches, which perform under extreme stress," Gooding says.
"In hand tools, the 'forged steel' mark is one of the key indicators of quality," she explains. This means the tool is made of a single piece of steel. Forged steel has the strength to withstand the high torque exerted by wrenches, making them last longer. That's true for hammers, too. Steel shafts are more durable than fiberglass.
Lifetime warranties also indicate better tools. Many competing brands offer warranties of one to five years.
For power tools, look for a good lithium ion battery platform, so batteries can be swapped among a variety of tools. "This is extremely important if you're using them every day in high-intensity situations," Gooding says.
Owning a basic tool set and adding to it as you take on larger projects is a good investment. Having the tools you need when you need them is invaluable in maintaining and improving your home in big ways and small.