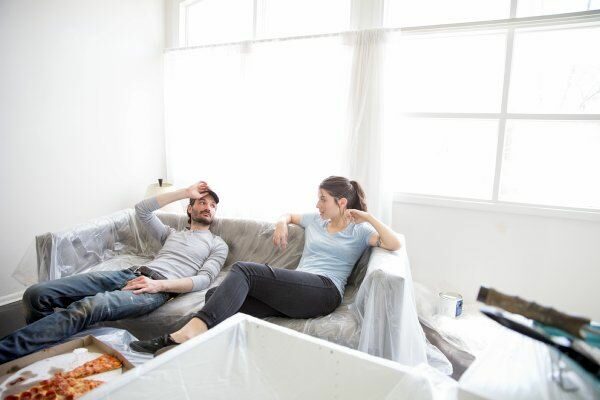 Have you outgrown your home? If you crave more space but can't afford to move—or love your neighborhood too much to leave—consider putting on an addition. Imagine your home with a new, fully remodeled kitchen – or a carpeted recreation room in the basement for the kids. Home improvements and upgrades not only make a space more pleasant to live in, they can also add value to your house. This can be especially helpful before you begin the appraisal process of your home.
Here are 10 improvements to increase home value, and the estimated return on investment* of each project:
1. Adding a home office | 43%
Working remotely from home is becoming increasingly popular, and many shoppers are looking for a dedicated home office. Upgrades could include cabinets, a built-in desk, ample power outlets and wired high-speed internet access. Read more about designing a home office.
2. Upgrading kitchen | 70%
New cabinets, countertops, appliances and tile can add significant value to your kitchen, which is often the most scrutinized room in a house. . If needed, buy a new faucet set, add new cabinet-door handles and replace dated light fixtures. While refinishing or replacing cabinet doors can get expensive, paint can add a fresh look for little money
3. Renovating or adding a bathroom | 78%
Adding an additional full or half bath can make your home more attractive to buyers with larger families. A new faucet set in the shower and at the sink can make the whole bathroom look refreshed. So can updating the light fixtures. Re-grout the tub and shower if needed. New towels and bath rugs are a nice touch when showing your home.
4. Finished basement | 70%
A finished basement not only can boost the value of your home, it increases the usable square footage as well. A finished basement can be used as a rec room, workout room or even a small apartment, with the appropriate permits and insurance for landlord and tenant.
5. Finished attic | 60%
Don't stop with the basement; finishing the attic can add the same benefits and give your home more livable space. Making sure your attic is properly insulated will keep heating costs low and add value to your home.
6. Insulating windows | 70%
Heating and cooling costs can really add up if your home has old, drafty windows. New insulated windows are a great investment, since they can add value to your home while paying for themselves through energy savings. Learn more about how to stop a draft in your home.
7. Adding vinyl siding | 88%
Popular because of its low maintenance needs and durability, new vinyl siding can rejuvenate the look of an older house and protect it from the elements. It can also significantly improve home value.
8. Adding a new roof | 60-65%
If you're due for a new roof, consider replacing it before putting your home on the market. While some home buyers are looking for a fixer-upper, most would rather find a house that's move-in ready. Learn more about the signs of roof damage and if you're due for a new roof.
9. Building a deck | 80-90%
Investing in outdoor upgrades is a great way to make your home more attractive to buyers.
10. Interior painting | 75%
A fresh coat of paint can freshen up any room. When getting ready to sell, paint the rooms of your house with neutral tones; some bold colors can be off-putting to buyers. Got wallpaper? Remove it and paint.
The money you put into an addition can boost the selling price of your home, or it could all add up to living in your dream house without having to budge. Whatever improvements you make to increase the value of your home, be sure to protect your investment with homeowners insurance. Have other home improvement ideas? Let us know your home improvement strategy in the comments below.
*ROI estimates from U.S. News and qualitysmith.com.