Are you prepared for hurricane season? In an average season, about 18 named storms occur. Of those storms, 3 are typically major hurricanes and another 6 vary in intensity, according to the National Oceanic and Atmospheric Administration (NOAA).[1]
The time to prepare for a hurricane is before it hits. By knowing how to prepare for a hurricane, you can concentrate on safeguarding your home and belongings as best as possible. Preparing for a hurricane could prevent thousands of dollars in damages.
Hurricane preparation tips
Following tips from the Insurance Institute for Business & Home Safety and Nationwide can help protect your home from high-speed winds, hail, driven rain and flying debris. Here are some hurricane preparedness tips to keep you safe.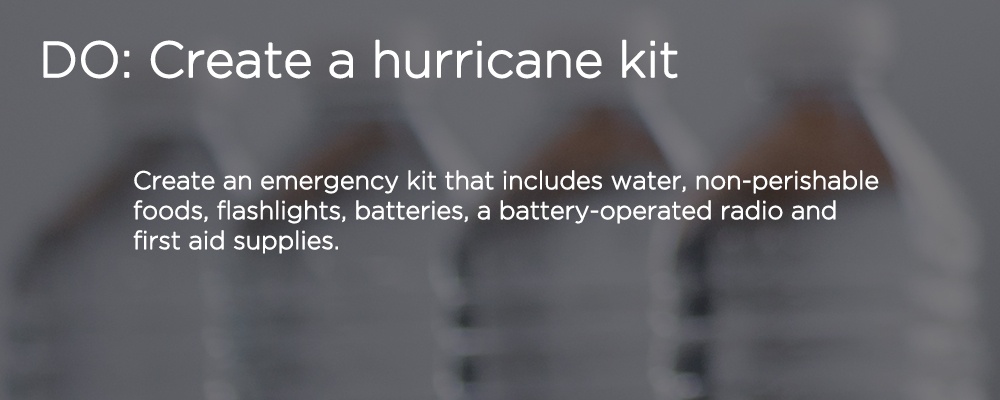 Create a hurricane emergency kit
Create an emergency kit that includes essentials needed to survive if you and your family are stranded in a storm. Here's a look at some of the things your kit should have, as suggested by The Department of Homeland Security[2]:
Water: One gallon per person per day for three days
Food: Three-day supply of non-perishable food
Batteries
Flashlight
Battery-operated radio
First aid kit
Cell phone
Seal your home
Caulk windows and doorjambs, install impact-resistant windows and pre-install shutter hinges to install emergency storm shutters quickly.
Take the time to seal every point of your home. Seal entry points like vents or cable access points. Consider installing impact-resistant windows, and pre-install shutter hinges that let you mount shutters before you evacuate. Learn more about storm-proofing your house.
Clear your gutters
Remove debris from gutters to allow proper drainage during a storm. Make sure they're free of leaves, pine cones and trash so heavy rains can flow through them freely.
Elevate your belongings
Get everything you can off the floor and to higher ground, like a second level or high shelves. Hurricanes often cause flooding or water damage. To prepare, try to move your belongings off the floor Even moving items to closet shelves can keep your belongings out of water.
Don't leave loose items outside
Make sure your patio furniture, grill, lawn mower, bikes and all other items that are stored outside are brought in.
Take some time to round up all of your outdoor items and move them inside. Anything that's loose is easily picked up by high winds. Put these items inside your garage or basement before a storm hits.[3]
Pay attention to weather alerts and warnings
If local authorities issue an evacuation warning, listen to it. Even the most well-built homes aren't hurricane-proof. If a storm is strong enough, authorities will likely initiate a mandatory evacuation to keep residents safe. Ignoring an evacuation order puts you and your family in danger. The National Hurricane Center provides a list of hurricane warnings and the NOAA Weather Radio All Hazards broadcasts local weather alerts.
Hurricane watch vs. warning
The terms "hurricane watch" and "hurricane warning" sound alike, but they actually carry two different meanings. A hurricane watch means that hurricane conditions are possible somewhere within a particular area and they are issued 48 hours before the possible tropical storm. However, a hurricane warning means hurricane conditions are expected within a certain area and are issued 36 hours in advance of an expected storm. [5]
Know how to safely run a portable generator
Portable generators give off carbon monoxide, an odorless gas that can be deadly. Keep generators outside under a canopied structure.
Some homeowners buy portable generators to provide electricity if there's an outage during a storm. If you have one, figure out where you'll put it during the storm. Don't keep it in your house or even in your garage with the door cracked. Put the generator at least five feet away from your home, on a dry surface and under a canopied roof.[4] There are special generator shelters you can purchase for this purpose.
Discuss a family hurricane preparedness plan
Locate your nearest shelter and identify various routes you can take from your home to get there. Keep emergency numbers on the fridge where they're visible to all family members and prepare an emergency supply kit. If you are a pet owner, you may also want to consider making plans with relatives or a pet-friendly hotel to take care of your animal. Also, create and share an emergency plan with your family. You can divide up tasks among each other such as cleaning the yard, covering windows and filling clean water containers. [6]
Review your homeowners insurance policy
You can take steps to safeguard your family and your home. Make sure to contact your insurance provider to review your policy. Some insurance policies do not cover flood damage, so you may need flood insurance to protect your home.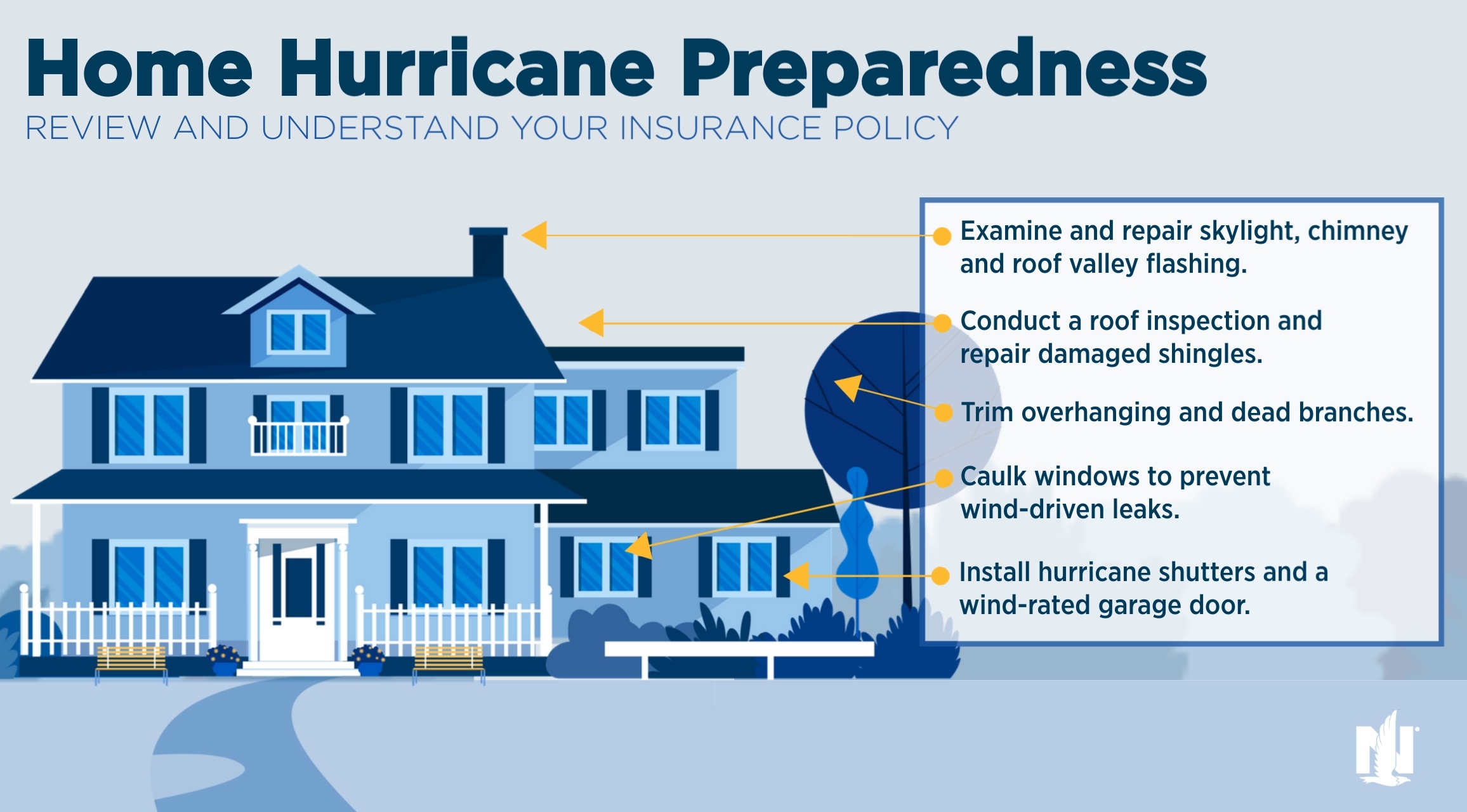 [1] https://www.ncdc.noaa.gov/sotc/tropical-cyclones/ (Accessed April 29, 2022)
[2] https://www.ready.gov/kit (Accessed April 29, 2022)
[3] https://www.consumerreports.org (Accessed April 29, 2022)
[4] https://disastersafety.org/hurricane/ (Accessed April 29, 2022)
[5] www.oceanservice.noaa.gov/facts/watch-warning.html (Accessed April 29, 2022)
[6] www.cdc.gov/disasters/hurricanes/before.html (Accessed April 29, 2022)