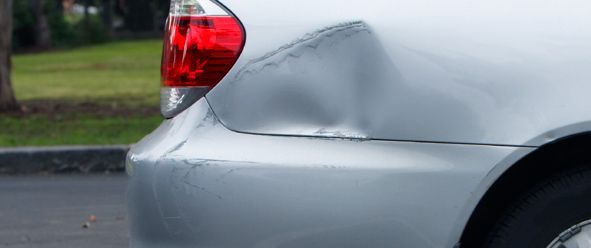 When is an accident not an accident at all? When a scam is involved.
Accidents happen. Yet a significant number of collisions aren't accidental—they're intentionally caused by criminals committing auto-insurance fraud. The perpetrators seek an innocent party to ram into and then they make inflated or phony claims to insurers about property damage and personal injury. These bogus claims add up to $6.8 billion annually in excess payments made by the insurance industry, according to the Coalition Against Insurance Fraud. They account for 11 to 15 percent of total payments now.
Learn how to best protect yourself and what to do if you do end up in a one of these situations.

Think ahead. Assemble an accident kit with an insurance card, registration, notepad, body-shop number, towing service and insurance-agent number, advises Dan Young, senior vice president of insurance relations for CARSTAR Auto Body Repair Experts, a national repair chain. "And have a camera with you," he says. "If you don't have a camera phone, keep a disposable camera in the glove compartment. In case of a collision, take pictures of both cars and the other driver's license plate, registration and insurance information. Also, get a photo of all occupants in the other automobile at the time of the accident, to prevent uninvolved people from claiming to have been in the accident." (This is a popular tactic for piling on injury claims.)

Stay alert. Insurance crooks will target distracted drivers, so put your mobile device away, focus on the road and leave a safe distance between you and the vehicle ahead. Many schemes involve what's called the "panic stop" to trigger a rear-ender. "The driver ahead will wait until he sees you take your eyes off the road, like when you change a radio station or answer your phone," says Shannon Tulloss, a Santa Clarita, Calif.-based private investigator and former insurance claims adjuster. "Then he'll slam on the brakes. Often, that car will be filled with passengers so they can all lie about suffering bodily damage. This is why you should never tailgate."
Contact authorities. Always call police as soon as the accident happens, while you're still inside the car. Otherwise, a scammer may try to talk you out of it. (For obvious reasons, these guys don't like to get law enforcement involved.)
Zip it. Don't say too much to the other motorist—especially if you have doubts about his or her integrity—until the police arrive. "You want to avoid statements such as, 'I never saw you until we hit,'" Young says.
Get a clue. A fraudster will exhibit certain behaviors, such as evasiveness about their address or a reluctance to provide driver's license and registration information. "If something doesn't seem right," Young says, "you're probably correct."