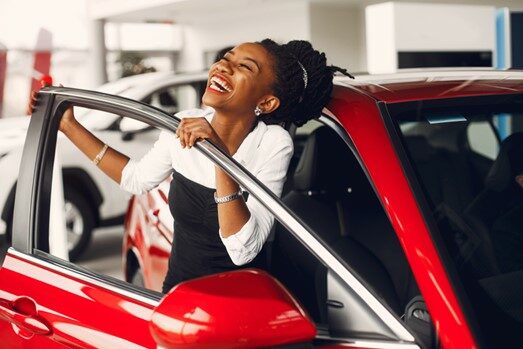 A car is a major purchase, and if you're a first-time car buyer, there are a few helpful things to know before heading to the dealership. Fortunately, buying your first car is easier than ever, thanks to online resources and tools that can help you calculate your car payments.
Knowing how to buy your first car can help you get a deal that you feel good about. Get started on your path to vehicle ownership with these tips for first-time car buyers.
What to research before buying a car
Setting a budget
The budget you set ultimately helps you determine which car you purchase. As a general guideline, your car payment, including the principal, interest and insurance, should be 10% or less of your gross monthly income. This helps you make sure you have enough money in your budget to cover rent or mortgage payments, utilities, groceries and all of life's other essentials.
Down payments
Typically, people also make down payments equal to about 20% of the cost of the car. It isn't essential that you pay that much for your first vehicle, but the more you can afford to put down on the car, the lower your monthly payments will be if you choose to get a loan to pay for your new car.
Maintenance costs
It's smart to also factor maintenance needs into your decision. Larger vehicles, such as SUVs and pickup trucks, often get fewer miles to the gallon than compact sedans and it can cost more to fuel them up. These larger vehicles also have more expensive parts to purchase when repairs are necessary.
Financing
Financing a car with an auto loan is something that people often feel unsure about because they hope to get a good deal on interest rates from the car dealership. One way to come out ahead is to have your financing in place before you start shopping. This helps ensure that you are comfortable with your loan's interest rate.
Unless you have excellent credit and are buying a new car with special interest offers, you likely won't get a better financing deal from the car dealership than you can from your bank. Having your financing in hand helps you avoid being sold extra services and "add-ons" that you don't need.
First-time car-buyer programs
Make it easier to qualify for your first auto loan with a first-time car-buyer program from a lender, a credit union or an auto manufacturer. While some programs can be more flexible on credit requirements, they can also be more restrictive in other ways, such as requiring that you have graduated from college recently or that you buy a certain vehicle make to be eligible. Not all lenders offer first-time car-buyer programs, so do your research online or ask around to find one. [1]
The cost of owning a car
This goes beyond what you're paying for the car. Factor in gas mileage and potential repairs. One simple way to add up all your costs is by using an online calculator. [2]
Important Auto Terms
Don't be overwhelmed by jargon when you're looking for a deal. Here are a few key terms to be familiar with before heading over to the dealership.
Annual Percentage Rate (APR): A disclosure of all costs (interest rate, loan fees, discount rates, etc.) involved with a loan to show the actual percentage paid annually
Balloon Loan: A loan that pays off only a portion of a vehicle during its term and demands a large sum, the "balloon", at the end of the loan
Cabriolet: A car with a convertible top
Classic: A vehicle over 25 years old
Coupe: A vehicle with two doors and a hard top
Dealer Invoice: The amount a manufacturer charges a dealer for a car
Dealer Prep Fees: Charges, usually negotiable, added to the purchase price of a new car to cover the cost of preparing the car for sale after its transport to the dealership
Destination Charge: The amount charged for transporting a new car from the factory to the dealership
Documentation Fee: Charges intended to cover the cost of processing the paperwork involved in the sale of a car; many fees charged by dealers are negotiable, and this one should be challenged if it's more than $100
Finance Charge: The amount of interest paid over the term of an auto loan
MSRP: Manufacturer's suggested retail price; the base price and all options on the window sticker
Prepayment Penalties: Charges for paying off a loan early
Prequalify: To have a lender confirm you are eligible for a loan before you commit to accepting it
Principal: The amount borrowed
Residual Value: The estimated value of a car when it is returned from a lease
Term: The length of a lease or loan
Title: Also known as the "certificate of ownership" or "pink slip," etc. this is a paper document presented by the state government (in the U.S.) that records all identifying information, such as the make, model, year, VIN, odometer reading, owner's name and address shown throughout your car paperwork
Up-Front Costs: The total of all costs that must be paid at the signing of the contract; the down payment plus any fees.
VIN: Vehicle Identification Number; a unique 17-digit number assigned to your car and used for identification as well as obtaining insurance coverage
How to find the right car
Shopping for a car can be a lot of fun. You get to pick the color and think about what features you want. Do your homework online to find cars that you're interested in. You can also read reviews about them and learn more about what to expect before you do a test drive.
Safety considerations
Safety in a car is essential, so look for features like electronic stability control. "ESC is so crucial because it helps a driver keep control when they're doing things like going around a curve too fast or driving on slippery roads," explains Russ Rader, a senior vice president at the Insurance Institute for Highway Safety (IIHS). "It helps prevent the loss-of-control crashes that teens are more likely to get into." ESC has been required in cars only since 2012, but many automakers were including it before then. If parents are considering a car built prior to 2012, Rader therefore recommends researching which cars have ESC.
Other important safety features include antilock brakes, airbags and, if possible, backup cameras. Some of these come standard in newer cars; check to see which features are included in the cars you're considering.
Check out the history of the models you're interested in. You can find and compare ratings for virtually any car. Look for cars that score well. Since inexperienced drivers are more likely to have accidents, they'll benefit from having greater protection in the event of an accident.
Before you narrow down your decision, it's best to:
Review and understand the latest safety ratings
Consider which safety features are important to you
Compare prices from dealers or sellers that have the vehicle you want to buy
Car Size
When it comes to novice drivers, you don't want a car that's too small. Small cars often don't fare well in collisions and novice drivers are more likely to get into accidents. A larger car has a slower reaction time when it comes to braking and turning, which can be a recipe for disaster when combined with a new driver's response to unexpected situations. Look for a midsize car that's big enough to provide necessary protection but not so large that it might be hard for an inexperienced driver to handle.
New vs. used
An older car is likely to cost less upfront, but it might also come with unexpected repair bills later. An older car won't necessarily have some of the safety features you're looking for and may not handle as well. A new car is generally going to be pricier to insure, in part because of repair and replacement costs. So, a middle-aged car (5 to 7 years old) could be a good bet.
Look at reviews on sites that are not influenced by the auto industry, such as Consumer Reports, to find out what kind of track record the vehicle has for common problems or breakdowns. Then, if you're thinking about buying, have a trusted mechanic inspect the vehicle. This helps you make sure that it's in good driving condition.
Ease of driving
Novice drivers and muscle cars aren't a good combination. Stick to a vehicle with a lower-powered 4-cylinder engine that's easier to control. This might invite less temptation to speed or to participate in other unsafe driving behaviors. [3]
Buying your first car
When you've found the car or cars that you're interested in buying, head to the dealership. Take along a friend or family member — preferably someone who's been through the car-buying process before and who isn't afraid to offer their opinion. It's a good idea to have a sounding board and someone who knows your situation in case the salesman tries to change your mind or upsell you to a pricier vehicle.
Once you're at the dealership and find the car you're interested in, you can:
Take the vehicle for a test drive that lets you experience real-world traffic situations and get a better idea how the car handles on the road
Negotiate a fair price based on your research
Before you buy your first car, it's also a good idea to write down which questions you want to ask the seller before you strike a deal. Consider asking about things like how many people have owned the vehicle and whether it has service records.
Use this checklist to make sure the car is in good running condition. Arriving prepared at the dealership doesn't only help you get a better deal; it can also make the process go much faster.
Insuring your first car
Prior to signing any financial documents and finalizing your purchase, you need to get your new vehicle insured. At this point in the process, you are not financially obligated to buy the car, so it's the perfect time to find out whether the car insurance premium fits within your budget. If the numbers don't fall within your budget, don't hesitate to continue car shopping.
Getting your new-to-you car insured is easy. Simply call a local auto insurance agent and be ready to provide:
Driver's license number
Car year, make and model
Financing information
Vehicle identification number (VIN) if available
If you're purchasing a car for a teen, talk with your insurance agent to find out what your insurance premiums may be for your teen driver.
Buying your first car is an exciting and big first step in your financial life. Learn more about getting your car insured with Nationwide today.
Sources:
[1] "What is a First-Time Car Buyer Program?" https://www.nerdwallet.com/article/loans/auto-loans/first-time-car-buyer-program (July 8, 2022).
[2] "Calculate Automobile Operating Costs," Car Operating Cost Calculator (carpaymentcalculator.net) (accessed Nov. 22, 2022).
[3] "Collecting muscle cars: What to know," Collecting Muscle Cars – Nationwide (accessed Nov. 22, 2022).

Disclaimer:
The information included here is designed for informational purposes only. It is not legal, tax, financial or any other sort of advice, nor is it a substitute for such advice. The information may not apply to your specific situation. We have tried to make sure the information is accurate, but it could be outdated or even inaccurate in parts. It is the reader's responsibility to comply with any applicable local, state or federal regulations. Nationwide Mutual Insurance Company, its affiliates and their employees make no warranties about the information nor guarantee of results, and they assume no liability in connection with the information provided. Nationwide and the Nationwide N and Eagle are service marks of Nationwide Mutual Insurance Company. © 2022 Nationwide