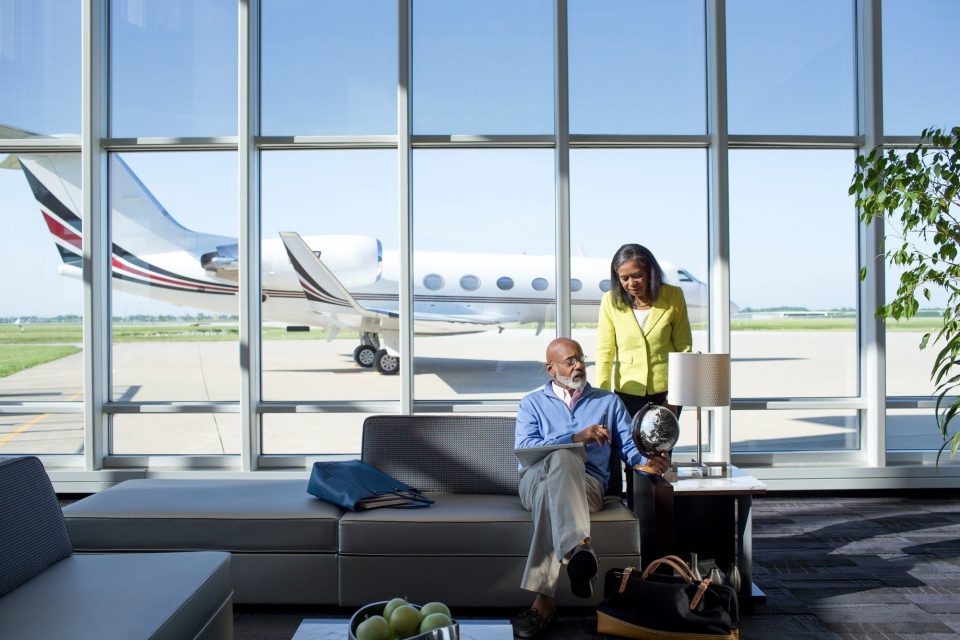 No amount of upscale shops, fine dining and modern amenities can make enduring a long layover preferable to flying direct. But a handful of airports offer a more enjoyable flight connection than others. If flying direct isn't an option, consider choosing one of these airports for a long layover if it fits into your travel plans.
San Francisco International Airport
Home to the only accredited art museum in a U.S. airport, San Francisco International Airport is a destination itself. With a broad range of exhibitions, SFO's free museum attracts more than 44 million visitors a year. The airport is also ranked first in the country for unique amenities by Airport Revenue News – with such features as showers, spas, a yoga studio and on-site medical clinic. It's easy to find a great bite to eat; its 67 restaurants include branches of popular local eateries. SFO is only 13 miles from downtown San Francisco, but with so much to do, there's no need to venture out.
Chicago O'Hare International Airport
Fancy a quick tour of a major city on your layover? Downtown Chicago is easily accessible from ORD Airport by metro in less than an hour. But if you don't have the time, O'Hare is the perfect place to kill time and sample some of the local staples – the fully-loaded Chicago-style hot dog at America's Dog and Uno's famous deep dish pizza, for instance. Or tour the airport itself, home to a myriad of sculptures, paintings, murals and exhibits, part of ORD's Airport Public Art Program. Catch a quick preview of the city's famous Field Museum on Concourse B, where you'll find a full-scale, 72-foot model of a Brachiofsaurus dinosaur.
Dallas/Ft. Worth International Airport
Winner of USA Today's reader's choice for Best Airport for a Layover, DFW features a mix of entertainment options to keep you busy in between flights. Sculptures and installations by local artists are scattered inside and outside of the airport, part of DFW's multimillion-dollar Public Art Program. Feeling cramped after sitting for hours on a long flight? Take a break at the free yoga studio, LiveWell Walking Path or one of the kids' play areas. There's also free, unlimited Wi-Fi, several lounges and more than 120 restaurants.
Hartsfield-Jackson Atlanta International Airport
Connecting the U.S. to more than 60 international cities in 50 countries, chances are ATL airport is a layover option if you're flying abroad. Fortunately, this major hub is not short on amenities. If you have a lengthy layover, you can opt to rent a private room, equipped with a day bed, TV and desk at Minute Suites. For a shorter layover, the numerous shops, free Wi-Fi and highly rated restaurants can help pass a few hours. For premier dining, head to One Flew South – one of the top-rated airport restaurants in the country.
Minneapolis-St Paul International Airport
Ranking No. 1 for shopping and dining options, as well as No. 2 for cleanliness and baggage handling by Travel and Leisure Magazine, MSP airport is a great option for breaking up your flight. Crucial to a long layover, Wi-Fi is free and charging stations are abundant. The airport even has a 24-hour pet hotel where you can check your furry friend in for a stay.
The next time mother nature decides to interfere with your flight plans, you can take comfort in knowing these airport hubs will help you pass the time doing something you enjoy.
No matter where you lay over, lost luggage and flight delays are facts of air travel. Minimize the financial risks of traveling with travel insurance coverage.