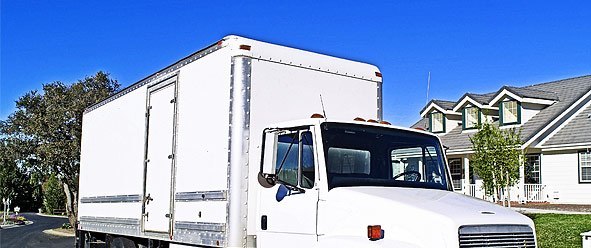 Pack and drive safely to your new home with these tips.
Renting a truck to haul your stuff can involve all kinds of complications—from choosing the right size of van or truck to packing it properly and making adjustments to drive it safely. Brandon Scivolette, president of Elite Moving Labor, a national moving company, shares what he knows to make your move go smoothly.
1. Moving right along. Truck rentals range in size from 10 to 26 feet. Clearly, you need to prepare for this new experience behind the wheel. If you have the opportunity, give the truck a trial spin in the parking lot, testing its overall visibility as well as how it handles and turns.
"You need to realize that these trucks don't have rear-view mirrors, so you have to get used to that," Scivolette says. "Using a car carrier will change how you reverse. If you want to reverse to the left, you turn the wheel right. This can confuse people."
2. Check it out. Rental trucks will have maintenance issues from time to time, especially if they have a lot of miles on them.
"The most important things to look at are the condition of the tires and the total miles," Scivolette says. "The more miles the truck has, the more likely it will break down. So if it has a lot, ask if you can exchange it for a more recent model."
3. Choose your size. The general standard says that a 14-foot truck will move one to two bedrooms. Or that a 12-foot truck will haul 450 cubic feet worth of home "stuff." Scivolette recommends 12 feet or less for small, one-person moves; up to 17 feet for a small home or one to two-bedroom apartment; and no less than 20 feet for single family or town homes.
"If you're ever unsure," he says, "you should always defer to a larger truck size. Especially if you're relocating a long distance and multiple trips aren't an option."
4. Pack correctly. Establish a foundation with heaviest items first. Build in tiers from left to right, floor to ceiling and heaviest to lightest.
"Stacking items is fine as long as they're of comparable size and weight," Scivolette says. "After completing a first row from left to right, place fillers—nonbreakable items like clothes, blankets and pillows that can be shaped into a space—into the gaps. Use mattresses and box springs to wall off and secure tiers. Place mirrors and paintings between mattresses and box springs."
5. Pick a good time. If you can, schedule your move to make sure you don't run into prime season.
"The most expensive time to move is between March and October," Scivolette says. "Throughout the year, it's more costly in the beginning and end of every month, especially on weekends. Also, Memorial Day weekend and the last weekend in July are the two busiest ones of the year."