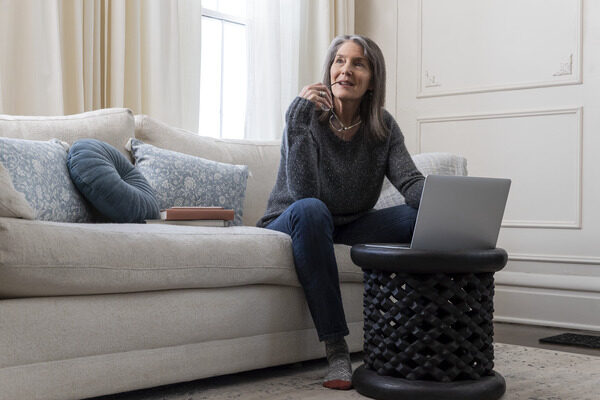 What is group life insurance?
If you have life insurance through your job, that's technically called "group life insurance." It's offered to employees as part of a benefits package, usually along with things such as health insurance and short-term disability.[i] One of the biggest advantages of a group life insurance policy is that it's low-cost to employees or group members, so you can get coverage at a much lower rate — sometimes even at no cost — than if you were purchasing an individual policy.[ii] However, it's important to look at what type of coverage you're getting in return and make sure that it's enough to meet your needs.
Is group life insurance through work enough?
"Something that we see very often is that people don't know what's an appropriate amount of coverage to have when it comes to life insurance," says Scott Limes, life product manager at Nationwide®. "One person may be married with seven kids, someone else might be single and not have any dependents. Everyone on the policy is at a different stage in their life, but there's not a lot of time or education set aside to look at what is provided."
Adding to the challenge is the fact that, typically, employees are choosing their group insurance coverage on an annual basis during an enrollment period. They're making multiple decisions about what kind of health insurance, vision plan and long-term disability insurance they want to include, often without much time or outside information.
"At that point, there's not a lot of education about how the policy works and what they're actually getting," Limes says. "For example, what happens beyond this enrollment time? Are they getting a competitive rate? In some cases, they may be able to get that same amount of coverage for less money."
When does group life insurance end for an employee?
"A group policy is not going to have the same benefits and support as an individual life insurance policy," explains Limes. "The biggest thing that we see is that people have a lack of understanding about what that policy offers. If something happens, how much will go to their family? Will it be enough? What happens if they lose their job? These are things that are really important in the long run but oftentimes aren't discussed."
Like everything in life, there are pros and cons you should weigh when considering a group life insurance purchase. Most importantly, your group life insurance policy doesn't move with you if you leave your job for any reason, including if you're laid off. So if you change employers later in life, it can be harder to get the coverage needed —especially if you develop a health condition.
Pros and cons of group life insurance:
| | |
| --- | --- |
| Pros | Cons |
| Easy to qualify[iii] (usually doesn't require a health exam)[iv] | The coverage may not be enough for your family's needs[v] |
| Inexpensive or free | Difficult to understand what the plan offers (how does it pay out) |
| Sometimes additional coverage can be purchased (above and beyond the standard plan) | Isn't portable (usually doesn't follow you if you leave your job) |
Steps to take before you enroll
Step 1: Get an estimate of how much coverage you and your family need.
You can use an online calculator to get an estimate of the coverage amount you need. This will help you understand how the money from the policy claim could be used (children's education, payoff of a mortgage, payoff of high-interest debt, etc.), which affects the amount of the policy you purchase.
"A lot of times, people really underestimate how much life insurance they need," Limes says. "But the time to learn how much life insurance is really required is always before you need it."
Step 2: Find out the details for your group plan from your employer. This not only includes the payout amount, but how a claim is filed and how the policy amount is paid out.
Step 3: See if there is a gap in coverage amount based on how much protection your loved ones need versus what the group plan pays for.
Step 4: If there's a gap in coverage, get an online quote to find out how much a personal policy would cost — either to supplement your group life policy or in place of it.[vi]
Step 5: Work with an insurance professional to review your information and purchase a policy, if needed.
There's an advantage to working with an agent for your life insurance needs. Not only can they make recommendations, they can also help adjust your coverage as you move into different life stages. In addition, they can help empower you with the right questions to ask your employer about your group life coverage.
If you don't have an agent, reach out to Nationwide's life insurance specialists at 1-866-207-9160, or schedule a time to talk that's convenient for you here. They're here to answer questions and help you select the best life insurance coverage and type for your needs, even if you aren't a current Nationwide member.
"It comes down to being able to know that if something happens to you, the things that are important to you are taken care of. This is about being able to find something that provides a level of coverage that gives you peace of mind about the future," Limes says.

NFW-9603AO (06/20)
[i]https://www.investopedia.com/terms/g/group-life-insurance.asp
[ii]https://www.investopedia.com/terms/g/group-life-insurance.asp
[iii]https://www.investopedia.com/terms/g/group-life-insurance.asp
[iv]https://law.freeadvice.com/insurance_law/life_insurance_law/1group_life_insurance.htm
[v]https://www.investopedia.com/articles/personal-finance/022014/your-employerprovided-life-insurance-coverage-enough.asp
[vi]https://www.investopedia.com/articles/personal-finance/022014/your-employerprovided-life-insurance-coverage-enough.asp
As your personal situations change (i.e., marriage, birth of a child or job promotion), so will your life insurance needs. Care should be taken to ensure this product is suitable for your long-term life insurance needs. You should weigh any associated costs before making a purchase. Life insurance has fees and charges associated with it that include costs of insurance that vary with such characteristics of the insured as gender, health and age, and has additional charges for riders that customize a policy to fit your individual needs.