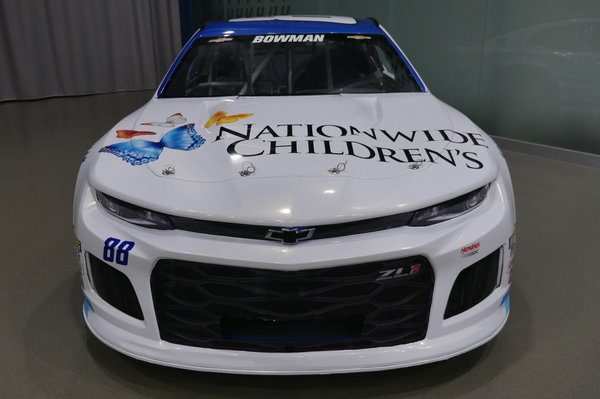 Every year, Nationwide Children's Hospital treats thousands of young patients. And during the first weekend in August this year, one of those young patients will get to experience the full VIP treatment at a NASCAR weekend.
Bricen Thall of West Winfield, New York, will be joined by his family for a weekend at Watkins Glen International that will let them get up-close and behind the scenes at the storied track. Bricen, who was born with a condition known as Hirschsprung's Disease, had his first surgery at just one week old. The next two years of his life included many procedures, surgeries and hospitalizations. Unfortunately, success from each surgery only lasted for a short period of time.
Doctors referred him to the Center for Colorectal and Pelvic Reconstruction at Nationwide Children's Hospital and, after more surgeries and many health challenges, he is now enjoying the world around him in a way that doctors could not promise when his journey first began. For the first time in his life, he has gone an entire year without any hospital stays.
"Nationwide Children's has a very special place in our hearts for everything they have done for Bricen," said his mother, Colby Thall. They have given him a better quality of life and the chance to experience all that a 5-year-old should. He recently finished Pre-Kindergarten and is thriving."
One in a million, but one of many
While Bricen's condition is not common, it illustrates the kind of care that Nationwide Children's Hospital is committed to providing. Bricen was selected as this year's Patient Champion, which is why he and his family will receive the red-carpet treatment at Watkins Glen. Each year, Nationwide chooses a patient to represent all of the many patients who are treated at Nationwide Children's Hospital. The Patient Champion Program was created as a way to tell the story of the work that is being done at the hospital.
In addition to hosting the Thall family at the track, Nationwide will trade out the blue and white paint scheme on Alex Bowman's No. 88 Chevrolet Camaro ZL1 for a butterfly-themed car that represents Nationwide Children's Hospital. Tyler Reddick's No. 9 Chevrolet Camaro will also feature the Nationwide Children's Hospital logo, thanks to a donation from Dale Earnhardt Jr.'s XFINITY team, JR Motorsports. Alex visited the hospital on May 31st of this year and is committed to helping to raise awareness and funds to support the hospital's mission of helping kids everywhere.  Alex will race the No. 88 Nationwide Children's Hospital Camaro ZL1 on Sunday August 5th and the race will be aired on NBC.
Colby Thall says that the butterfly motif is a familiar and fitting one for any family that has experienced the care of NCH.
"Throughout the hospital, butterflies adorn the halls, the doors and the Nationwide Children's logo," she says. "A butterfly signifies change and hope; this symbol so simply represents our experience at Nationwide Children's Hospital. It has given us hope and has changed our lives for the better."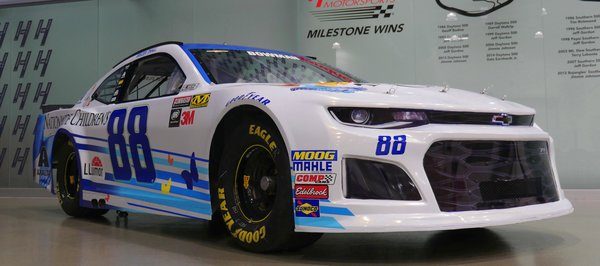 Dale Jr.'s Driven to Give Glove Program is back on track
The butterfly motif paint scheme will be just one of the ways that Nationwide Children's Hospital will be recognized during the Watkins Glen race weekend.
For the past two seasons, Dale Earnhardt Jr. brought additional attention to Nationwide Children's Hospital by wearing his signature skeleton-patterned racing gloves in different colors for select races throughout the season and then auctioning them off on eBay. All of the money raised from the auctions over the past two years went to Nationwide Children's Hospital. Since its inception in 2014, the Driven to Give Gloves program has raised more than $100,000.
Each glove color represented a specific NCH patient champion and was designed to bring attention both to the conditions faced by brave young patients and to spotlight the work being done by the hospital.
This year, Dale Jr. has asked his former teammates and competitors to wear his skeleton-patterned gloves for this race to once again raise awareness and funds for Nationwide Children's Hospital.  All of the money raised from the gloves will directed to the Dale and Amy Earnhardt Fund which was established at the hospital last year to champion the cause of pediatric injury rehabilitation, research and prevention.
The gloves will feature the colors of the hospital's signature butterflies, then signed by the driver that wore them and by Dale Jr. and auctioned off on Wednesday, August 8.  In total 32 drivers will wear the gloves during the Cup race on Sunday and all four JR Motorsports drivers will wear them on Saturday during the Xfinity Race.
"We've done a lot with the Gloves program through the years at The Dale Jr. Foundation, but this year we wanted to open it up to more people," said Dale Earnhardt Jr. of the program. "To have 36 of my former competitors sign on to this to help the Nationwide Children's Hospital continue the life-saving work they do there is impressive, and I can't thank them all enough. Nationwide Children's is a huge part of the work we do at The Foundation."
Visit the NASCAR Foundation website to learn more.