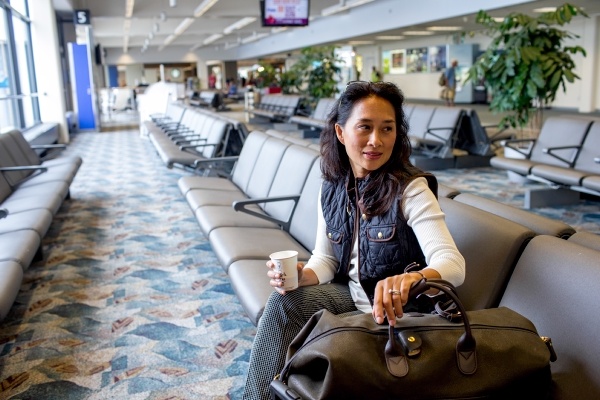 Many people prefer traveling alone. They enjoy the fact that that solo vacations allow them to determine their itinerary and change plans without consulting others. They also like the speed with which they can make travel decisions, and they find that traveling alone gives them opportunities for more personal, enriching experiences than they might have traveling with a companion or group. That includes meeting locals, who may be more likely to engage someone traveling  alone.
Taking a vacation alone may seem daunting to some. But once you start planning a solo trip, you'll find that the travel industry offers lots of vacation options to fit your preferences and budget, including accommodations.
Here are some things to consider as you begin to plan your solo vacation:
Itinerary and travel plans
The easiest part of taking a vacation alone may be the planning; you don't need to coordinate schedules with anyone. You're free to pick the destination for your solo vacation, map out a schedule and decide how much you want to spend. You can also make impromptu changes at any point of the trip.
For example, if you're weary of sightseeing, you can cut an excursion short to lounge on a beach for an extra day, make a detour to a place that unexpectedly grabs your attention, try an interesting restaurant or linger in a café with new acquaintances. Traveling alone enables you to act quickly and decisively.
Solo but not alone
One reason people prefer to join a group over traveling alone is their fear of being lonely. But taking a vacation alone can also be one of the best ways to meet locals or other travelers. Traveling alone tends to make you more aware of the people around you and more open to speaking with those you meet along the way.
At the same time, traveling alone can often make you seem more approachable to friendly locals or fellow vacationers. Don't be surprised if a random encounter with a local leads to a memorable adventure or even a lifelong friend. For solo vacation ideas, sharing a European train compartment in which seats face each other can make for easy conversation and unique opportunities to get to know someone. You may even snag an invitation to visit a local in their town.
Traveling alone safety tips
You should take a few extra precautions while traveling alone.. That's particularly true for women travelers. Researching the country beforehand and following smart travel practices can help you stay safe and secure.
For anyone taking a vacation alone, online travel forums or an up-to-date guide will inform you about current trends, neighborhoods to visit, places to avoid and the safest ways to get around. They can also provide reviews of prospective hotels, including their safety situations.
There are a few common-sense safety tips to remember when traveling alone:
Blend in and avoid wearing expensive jewelry or flashy clothes that stand out
Keep valuables like your wallet and passport with you at all times
Use a hotel safe for electronics and other valuables if you don't need while away from your room
Make copies of important travel documents and save them to an online cloud storage account that you can easily access from a smartphone or computer if needed
Get before your trip that can protect you in the case of an accident requiring medical attention or lost belongings
Other traveling alone safety tips include checking in with the U.S. embassy at your destination and enrolling in its to receive information on safety conditions. You should also share your itinerary with a friend or family member, and contact them regularly to let them know that all is well.
What are some of the best places to travel alone?
The best places to travel alone are those destinations that spur your imagination and meet practical safety requirements. Here are several solo vacation ideas:
Europe
For those new to traveling alone, some places offer an easier transition and a well-trod path. Europe, for example, remains one of the top destinations for Americans, and it has a travel sector that can accommodate all types of people and travel budgets. As a tourist taking a vacation alone, you're also more likely to meet other travelers. And with English the most common second language on the continent, it's easier to converse with locals. Consider taking regional trains, which are a great way to see the countryside and customize an itinerary.
Down under
It's a long flight to get there, but Australia and New Zealand are two of the best places to travel alone. These popular, English-speaking destinations are generally safe, easy to get around, and offer beautiful nature and lots of outdoor activities. Traveling alone here should give you the chance to meet plenty of backpacking travelers, while locals in both countries have a reputation for being friendly and approachable.
East Asia
Other top solo vacation ideas include Japan, South Korea and Taiwan, which offer travelers unique cultural and culinary experiences. The advanced infrastructure and travel industries in these destinations make getting around easy for anyone traveling alone, and there is a bounty of safe, fascinating sights along the way. Language can be more of a barrier, but don't be surprised to meet locals eager to practice their English with you.
Taking a vacation alone can be rewarding and memorable. While traveling, protect yourself against a wide variety of travel issues with Nationwide Travel Insurance.