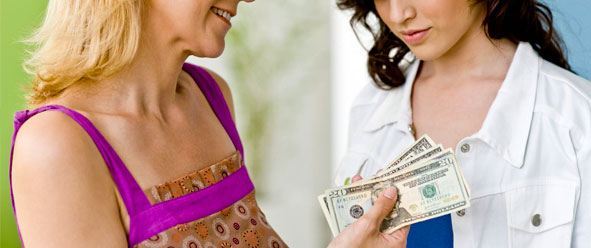 The Nationwide Bank Visa Buxx card helps teens learn to manage money.
Teaching financial skills to teens can be tricky. You want to give them freedom, but you don't want them to make costly mistakes. Nationwide Bank®offers an option that is like training wheels for smart spending—the Nationwide Bank Buxx Card.
Your teen can use the Buxx Card anywhere Visa debit cards are accepted. It works like a debit card, but without a link to a checking account. This can give them the freedom to practice spending responsibly. You fund the card from your account, and you add money to it anytime just by going online.
You can keep an eye on your teen's spending with email, text alerts and online access to the Buxx Card account. You can also set up parental controls, such as weekly cash limits.
Why use the Buxx Card?
Here are just a few reasons to use a Nationwide Bank Buxx Card:
Your teens learn good spending habits.
It's safer than a joint checking account or credit card.
You're not liable if the card is lost or stolen.
You can monitor spending 24/7 with email, text alerts and online access.
You can easily add cash to the card online.
This card is a proprietary form of a Visa stored value card, and accesses a special account you have opened on behalf of the teen, who is authorized to use the card to access the funds in the account. This card is not a credit card. This card is loaded with a specific claim on goods and services redeemable anywhere Visa debit cards are accepted. This card is not connected in any way to any other account, and the value associated with your card is not FDIC insured. The unused balance on your card does not earn interest.

Nationwide Bank, Member FDIC. 
Nationwide, Nationwide Bank, the Nationwide framework and On Your Side registered service marks of Nationwide Mutual Insurance.  © 2011 Nationwide Mutual Insurance Company.  All rights reserved.