Shopping for a used car can be daunting. No one wants to mistakenly purchase a "lemon" car, rife with defects that aren't apparent at first sight. Thankfully, there are many resources and tools that can help you make an educated buying decision. Knowing what to look for can turn buying a used car from an intimidating experience to an exciting one. Take the guesswork out of car shopping by following these used car buying tips and reviewing our used car inspection checklist.
Used car checklist
Looking to learn how to avoid buying a lemon? Take a look at our used car inspection checklist below. Print it out and take it with you next time you go car shopping so you always know what to look for in a used car.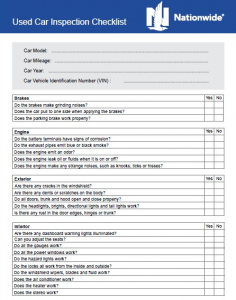 1. Do some general used car research
Before you go to the dealer and start looking at cars, make a list of the car models you're targeting. Once you have your list, do research on each car model to find out common defects, repair costs and price points when they begin to age. With your research in hand, you'll enter the market with some bargaining power and a keen eye for the weak points in each car model.
2. Find the going rate
Mileage and added features can affect a car's value, so cars of the same model and year may have different price tags. Kelley Blue Book's pricing tool can help you get a price quote.
3. Ask plenty of questions
When contacting a dealer or an individual seller, get as much information about the used car as possible. Here's a list of recommended questions to ask the seller during your search:
Why is the car being sold?
How many previous owners have there been?
Can you describe the condition of the car?
What is the mileage on the odometer?
Was the car involved in any collisions?
Has the car had any electrical damage?
4. Do a physical assessment
Before taking it for a spin, make sure to carefully inspect it and check for any signs of body repair, flood damage, or rust that could potentially lead to headaches in the future. If possible, take the car to a mechanic for a more detailed diagnosis.
5. Always take a test drive in the used car
After giving the car a thorough examination, it's time to get behind the wheel. Test the car both in a large parking lot and on a road where you can drive the vehicle above 60 mph. To properly assess the used car, take your time when doing a test drive, testing out all of the components, including:
Steering-wheel alignment
Brakes
Windshield wipers
Air conditioning/heating
Power windows
Headlights, directional lights, taillights
When you've tested everything else, turn off the radio and pay attention for any odd sounds that could indicate problems. For a more comprehensive, printable used car checklist to bring with you, download our PDF.
6. Get a history report
Some sellers may not disclose major problems to the buyer. To avoid purchasing a lemon, write down the vehicle's Vehicle Identification Number (VIN) – a 17-digit code found at the dashboard – and look up the number on sites like CARFAX or Autocheck to get a detailed vehicle history report.
7. Negotiate the price
Car salesmen will almost always counteroffer with a higher price, so start with a realistic low offer. Remember to stick to your budget and price limitations. If the final asking price is unreasonable, you can always walk away from the deal.
8. Research financing options
While most dealerships offer financing options for auto loans, you're likely able to check several sources to find better rates, starting with your personal bank. It never hurts to compare.
9. Find the best deals
Aside from dealerships, you can find great deals on used cars at local public auctions and on used car websites. Each source has its merits:
Dealerships:  Dealerships will have the widest selection of used cars available. They also often offer extras like new tires, a second key, and floor mats.
Online: Websites like autotrader.com have listings from private sellers all over the country. Search locally and you might even find a gem in your own area. Private sellers also give you the best chance to get a bargain since they're less likely to know the car's true value than a professional car salesman.
Auctions: Steep discounts can be had at auctions, but vehicles are sold without any warranties.
10. Use your instincts
A little common sense can go a long way when purchasing a used car.  Ask yourself if the dealer seems trustworthy. Know about techniques that are used to hide flaws, such as using air fresheners to mask strange odors and tampering with odometers. Avoid making an impulse buy just because you finally found a car that looks nice from an outward appearance, and don't give in to high-pressure sales tactics. Finally, as the adage goes, if it's too good to be true, it probably is!
Be sure to utilize the used car inspection checklist when looking for a car. Do you have any used car buying tips to add to the list? Let us know in the comments!