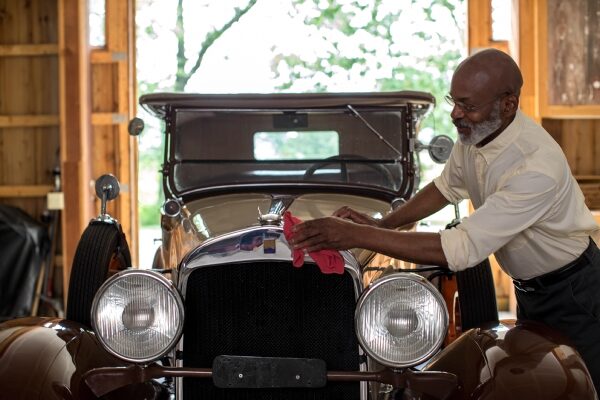 Maybe you've seen them gathered in your local shopping center parking lot. Maybe you've attended a major event at the fairgrounds. If you're like many other car enthusiasts, you've found yourself wanting to show off a ride of your own.
Getting involved with car shows is easier than you might think.
"If you see a gathering of classic or vintage cars, just ask them," says William "Skeeter" Rader, co-founder of the Coachmen Car Club of Ventura County, Calif. "We're always looking for people to get involved."
Start with cruise nights
Cruise nights are usually casual gatherings of car enthusiasts, involving a car club or two. A car show is an event, usually with entry fees for participants and sometimes spectators, where vehicles are judged and prizes are awarded.
If you think you might have a vehicle worth showing off, start with a local cruise event and talk to the participants there. They should be able to point you in the right direction for your vehicle, Rader says. Find out the registration information for the show, including key deadlines and who to contact with questions.
If you don't know where to find cruise nights or car shows in your area, Rader suggests checking local publications or the Internet for events in your area. With Collector Car Appreciation Day set for July 8, you should have no trouble finding an event around that date. This annual celebration, organized in part with the help of the Specialty Equipment Market Association, helps to raise awareness of automotive restoration and collecting in the United States. Events are held nationwide, and the SEMA Action Network has compiled a list of them.
Finding a vintage car to buy
If you're looking to purchase a vehicle to show, do some Internet research to find a price range for a vehicle you want, including checking out Auto Trader's Classics site. The buying options are almost as numerous as the end products.
"There are so many makes of cars because there are so many attitudes," said Rader.
Not only are there a wide range of classic cars, there are also a number of ways to actually present them.
Get creative with your presentation
Attendees often appreciate creativity, and unorthodox presentation can create some serious buzz.
Radar tells the story of a man who approached him at a cruise night. The man's creased slacks and custom shirt didn't seem like the outfit of someone who worked on cars. What vehicle did he want to show? He pointed to an ordinary-looking 1992 Volvo 940 station wagon.
But when he lifted the hood, a crowd gathered. "It was all Corvette under the hood," Rader said. One can only imagine the reactions of other motorists when this family car with the under-the hood enhancements barreled past laggards on the road.
Rader, who works as a parts specialist for Vista Ford Racing, is into any fix-up that rolls into view, but he especially loves seeing young people bring their vehicles to cruises and shows. "They're out and about and socializing with people with a similar interest," he says.
It's democracy at work here. If you have a 2016 Ford Mustang, Chevrolet Camaro or Dodge Challenger, Rader says, you can hang with guy who has a 1932 Ford. "My feeling is, whether you're 19 or 90, a car guy is a car guy," he says.
Before you go show off at the car show, make sure your classic ride is covered. Learn more about classic car insurance.