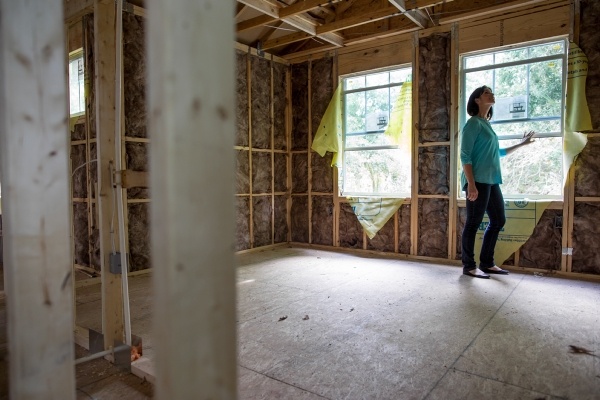 If you're considering building a new home but construction time and costs are a concern, you may want to look into an option that can save on both: prefab construction.
Prefab is not the same as manufactured housing. Let's look at the difference, as defined by ModularHomeowners.com, an online community of current owners of modular homes.
What is a prefab home?
Prefab: Any home that has sections built in a factory and then assembled on site can be considered prefab. Both modular and panel-built homes are prefab, but they differ a bit.
With panel building, the floor is created and then each section of wall is put into place. Prefab commercial buildings are often built this way, as this allows builders to easily create high ceilings and wide-open spaces, according to ModularHomeowners.com. With modular building, a house is constructed in separate box-like modules that are then attached to form a whole.
Manufactured housing: While these homes are built in a factory, no construction happens on site. Manufactured homes are constructed on a steel frame and then transported to the site, either on their own wheels or on a flatbed truck.
Currently, about 3% of new homes and new commercial buildings in the U.S. are modular, according to Tom Hardiman, executive director of the Modular Home Builders Association, which represents companies involved in the manufacturing and distribution of residential modular homes. The percentage increases to as high as 6% in the Northeast, and below 3% in the Southeast and Western U.S.
"There is a higher concentration of modular manufacturers serving the Mid-Atlantic and Northeast regions of the U.S., which explains some of this regional difference," Hardiman adds.
Prefab homes are considered real estate. Market fluctuations aside, they generally maintain their value or increase in value over time, just like site-built homes. If you're considering buying a modular home, it's important to know that manufactured homes are considered personal property. They lose value as soon as they are driven off the lot, just like a car. Their value will continue to decrease for the life of the home.
Why buy a prefab home?
"We feel that prefab and other forms of offsite construction are becoming more popular as owners, developers and end users demand more from the construction industry [including] shorter construction schedules, higher quality and cost savings," says Hardiman. "The economic downturn may ultimately benefit the offsite-construction sector, as it forced many people to say 'there has to be a better way to do this.'"
The big advantage for the homeowner: a much shorter construction schedule. This is because the construction of the home is actually occurring at the same time that the site work is being done.
"Another key advantage is quality control," says Hardiman. "Construction in a factory-controlled setting allows for testing to be conducted before the home arrives at the final site." A third advantage for homeowners is the fact that much less material is wasted when constructing a home in this manner. "That typically results in lower costs and much less waste in our landfills," Hardiman notes.
How significant are the cost savings? It really depends on the region, style of home and contractor, says Hardiman. "I think it is fair to say, generally speaking, that a homeowner could save about 5 percent overall with less material waste, shorter construction loans and greater efficiencies."
Sticking to the codes
A prefab home is built to the exact same state and local building codes as a conventionally constructed home, says Hardiman, and a prefab home builder typically works with one or more home manufacturers. A manufactured home, on the other hand, is built to the U.S. Department of Housing and Urban Development code.
Hardiman suggests potential home buyers ask their builder these questions:
To what code(s) will my home be built?
Which manufacturer(s) do you use?
Where can I go to see existing homes you have built?
To find a local builder, visit www.modularhome.org and click on "Find a Builder."
Whether your house is prefab, modular, or a traditional home you still need homeowners insurance. Learn about the different types of home insurance and get a quote for coverage that you can depend on.