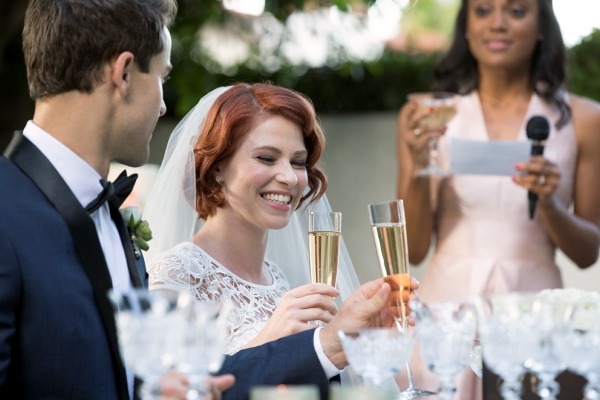 Are you planning a wedding? You've likely seen (or been shown) tons of family photos of brides covered in lace, big hair, powder blue tuxes, spaghetti strap crepe-satin bridesmaids gowns and every other wedding trend imaginable. How do you tackle your long to-do list while avoiding faux pas that can make you look back and cringe?
Review this list on considering both trends and tradition, and at the end of the day, choose what makes you and your future spouse happiest.
1. Creative invitations
Invitations have gone from a simple wedding necessity to a significant opportunity to for couples to give guests a taste of the wedding's personality. From traditional calligraphy to budget-friendly digital RSVPs, wedding invitation creativity knows no bounds. Recent options include invitations that are stamped on wood, printed on handkerchiefs, made to resemble passports or decorated with intricate hand-drawn illustrations.
All these options can get expensive, however. It's wise to keep in mind that at the end of the day, no matter how amazing your invitations are, they're still likely to be tossed away after the event. If you're trying to stick to a budget, it might be a better option to spend money elsewhere, like on a more memorable part of the wedding day.
2. Engagement photo sessions
Before saying "I do," couples are getting engagement photos taken. The photos aren't just great keepsakes; many couples use them for save-the-date cards or magnets. Wearing neutral clothes in classic silhouettes can help prevent these photos from looking dated.
Some couples even capture the actual proposal by coordinating a fantasy proposal complete with a photographer who is secretly waiting to snap a photo at the right moment. While this can be an unforgettable memory, don't let this trend pressure you into making your proposal a production if that's not your style. A simple, intimate moment between you and your future spouse can be just as memorable.
3. Photo booths
It's hard to go wrong with this one when the point is to create funny memories with your guests. Photo booths are a great excuse for your guests to dress up, act a little silly and take home a great souvenir from your wedding—and you can keep a copy in a memory book.
Photo booths are also a great way to keep guests entertained during cocktail hour or when the bridal party is taking photos.
4. Plant-infused outdoor venues
Flowers and greenery will always have a part to play in weddings. From slim stems and minimalist blooms in recently popular industrial venues to lush vines in outdoor weddings, greenery makes a statement.
It's important to remember that you don't always need traditional floral centerpieces complete with the "it" flower of this particular wedding season. In fact, if you choose an outdoor or greenhouse venue, you may not really even need flowers at all. Rather than spending money on fresh cut flowers, couples are relying more on vines and potted plants for outdoor décor. Vines might line the walkway or wrap around an archway, while potted plants can provide a boundary for the seating area.[i]
5. Choreographed first dance
Lately, many a first dance has made viral status because of really good—or really bad—dancing. Nowadays, your first dance likely won't be something you only watch when you decide to break out your wedding video. Chances are high that someone will be recording it on their phone, and that it will end up on social media, for better or for worse.
If you and your spouse are the type of couple who can dance like nobody is watching, then take full advantage of this trend. If you're not, it may be better to stick to a simple slow dance.
6. DIY food stations
You're not tied to table service and fine china. Good food is always a smart move, and the traditional, formal three-course meal is not your only option. Enter DIY food stations. Everything from entrées, like build-your-own-burger stations, to desserts like DIY ice cream sundaes have become popular.
Before dismissing this movement as a fad, remember: it's hard to accommodate the tastes of every guest, so rather than have your friends and family all eat the same thing, food stations let everyone make a meal they'll enjoy.[ii] Hospitality is always the right choice.
7. Mismatched colors
Couples are becoming less concerned about a perfectly matched wedding. From mismatched vintage plates to bridesmaids in assorted dresses, weddings today are centered around a cohesive theme rather than a rigid style.
Mismatching can be budget friendly, as mixing in expensive pieces with affordable ones can elevate the look overall. Dollar store milk glass and expensive sterling candlesticks on the table, folding chairs for the guests and sturdy Chiavari seats for the bridal party table, and colorful napkins and table linens are all part of these latest wedding trends. If you're worried about the decor looking too busy or trendy, try to create a fluid look by keeping within a certain color scheme or style.
8. Statement pieces
Being stylish is always on trend. If it fits your personality, don't hesitate to wear a bow tie, a top hat, pink high heels or a colored train. One option is to add a pop of color to your wedding-day attire. Whether it's a prop you use for pictures or an accessory you wear all day, these statement pieces let couples tailor their looks. You can even coordinate it with your bridal party.
9. Embracing culture
One beautiful trend features couples adding personal, cultural touches to their ceremonies. A wedding in New Orleans might have a jazz band playing at the reception, or a Greek couple might break plates as part of tradition.
The best way to follow this trend tastefully is to be respectful and choose a culture you have a personal connection to. Whether the tradition is inspired by location or your heritage, these additions are always memorable for you and your guests.
Using these nine wedding trends, you can start putting different elements of your wedding day together for a day you can always look back on with a smile, not a wince. As you plan, don't forget to get wedding day insurance. You're putting a lot of time and money into your big day, so protect your investment with wedding insurance from Nationwide.
[i] "13 Wedding Traditions to Watch for in 2018," Martha Stewart Weddings.
[ii] "40 Must See Real Wedding Trends for 2018," Wedding Ideas Magazine.