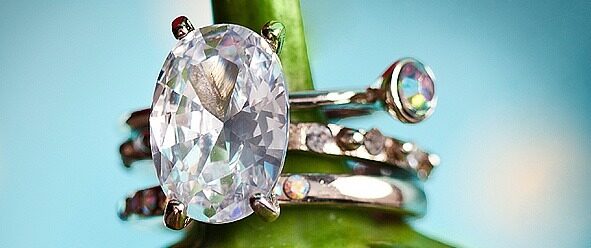 With a little education, you'll find a rock you can roll with.
When it comes to buying a diamond engagement ring, bargain hunting is futile. A too-good-to-be-true deal could easily turn into a rip-off. Arm yourself with a bit of information, and you can get more value for your money and find a beautiful ring to fit any budget. Here are five ways to save.
1. Take a lesson
Diamonds are graded according to four Cs: color, clarity, cut and carat. Visit the finest jewelry store in town, and get to know what diamonds look like at different price points. "The quality differences that dramatically affect price are not immediately visible to the naked eye," says Antoinette Matlins, author of Engagement & Wedding Rings: The Definitive Buying Guide for People in Love. A well-cut diamond can make up for a lack of clarity, for example. Colorless diamonds are the ideal, but even those with slight tints in clarity can look whiter in the right setting. However, nothing can compensate for a poorly cut diamond.
2. Slip into a smaller size
Diamonds are measured in carats, each containing 100 points. Prices rise exponentially at each carat level. Instead of a full carat, opt for a 90-point stone. Most people can't tell the size difference, but you'll notice the drop in price. If you want the stone to appear larger, avoid round-cut stones. Marquis, pear-, oval- and heart-shape diamonds all appear larger than round cuts.
3. Go for more than one stone
Rings with three or more smaller diamonds are known as cluster-head rings. Clusters can provide a much more brilliant sparkle than a single solitaire diamond, and the savings are substantial, Matlins says. If a one-carat diamond in a classic Tiffany setting costs $7,500, a ring containing three stones of similar quality weighing a combined one carat would be about $3,250.
4. Band together
If you're pretty sure the answer will be yes, add the wedding bands to your purchase. You may get a bigger discount if you buy a set of rings from the same jeweler. Your bride-to-be will have rings that match, and you can cross an item off your wedding to-do list.
5. Think vintage or unique
They don't make them like they used to. You may save money with an elegant one-of-a-kind vintage or antique design. Or choose a completely different gemstone—a sapphire for her birthstone, an emerald to match her eyes. The right statement ring can have more of an impact than a typical diamond solitaire.
Remember to shop around, but when it's time to buy, look for a ring with a certified diamond-grading report from the Gemological Institute of America (GIA) or the American Gemological Society (AGS). All of the jeweler's claims about the diamond should be stated in the receipt. Most important, make sure the store allows full refunds (not store credit) within 30 days of purchase.
Getting hitched? Take a look at these wedding planning tips on a budget and find out how Nationwide meets the needs of married couples with discounts and more.