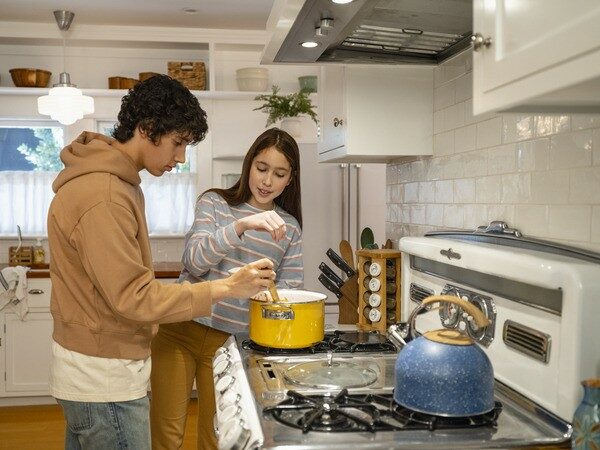 Building a connected kitchen is getting easier, thanks to new appliances and the ability to connect these appliances to phone apps. With Wi-Fi, you can start cooking dinner while you're still at the office or at soccer practice, or at least warm the oven on your way home. Even finding your grocery list can be easier because it's synced to the phone and anyone can add to it even if the phone isn't there.
Here are some ways you can create a high-tech kitchen that can help simplify your busy life:
Turn your kitchen into a control center
An increasing number of companies are manufacturing smart devices that you can control using a smartphone or a tablet. Through voice command or a touch of an app, you can adjust the temperature on a thermostat, reset a smoke alarm, unlock a door, dim lights or see who's outside via outdoor camera or video systems.
As an example of what home-assistant devices are capable of, Amazon Echo and Google Home smart speakers enable you to control a variety of devices from the kitchen or other location. What's more, they respond to your verbal commands and can help you access information quickly. Ask these devices to feed you recipes or convert measurements, such as how many teaspoons are in a tablespoon.
Smart home appliances
Kitchen appliances have become increasingly high tech. Some of the latest developments in kitchen tech include; some refrigerators feature built-in tablets that can hold grocery and to-do lists and sync to your phone. Tap the app and you can change the interface to the family calendar or photo album, or use it to find recipes. Other smart fridge models even incorporate interior cameras that take photos each time you close the doors. If you forget your grocery list when you head to the store, simply check the refrigerator's smartphone app to see what's inside — and what you'll need to pick up.
Some connected ovens allow you to turn them on or off and monitor your food as it cooks using your phone app. Set a timer through the app and you'll know immediately when your roast or holiday turkey are done. The same app can also give you feedback about cooking temperature. Coffee machine timers aren't new, but the more advanced models let you set the timer further in advance.
Even smaller kitchen tools are getting smarter. You can equip your kitchen with a smart espresso machine that allows you to brew drinks via controls on your smartphone, letting you select temperatures, strength levels and foam amounts. Some models can also store various user profiles with customized drink recipes. With these smaller accessories, it's even easier to create a well-rounded smart kitchen.
You don't have to turn your kitchen into a smart kitchen in one fell swoop. Adding appliances and devices one at a time lets you decide what's most helpful to incorporate and allows you to adopt newer technologies as they become available. Once you're ready to get started enhancing your kitchen with smart appliances, learn how to protect your connected kitchen with homeowners insurance from Nationwide.