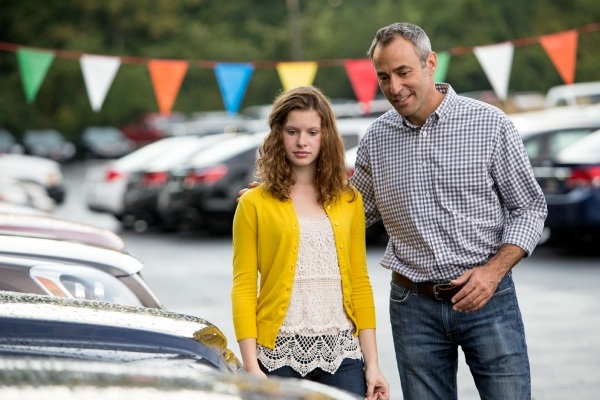 Buying a car is a major purchase, and if you're a first-time car buyer, there are a few helpful things to know, before heading to the dealership. Fortunately, buying your first car is easier than ever thanks to online resources that can help you determine what price you can expect to pay and tools that let you calculate your payments.
Knowing how to buy your first car can help you get a deal that you feel good about. Get started on your path to vehicle ownership with these tips for first-time car buyers.
What to research before buying
Setting a budget
The budget you set ultimately helps you determine which car you get. As a general guideline, your car payment — including the principal, interest and insurance — should be 10% or less of your gross monthly income. That helps you make sure you have enough money in your budget to cover rent or mortgage payments, utilities, groceries and all of life's other essentials.
Down payments
Typically, people also make down payments equal to about 20% of the cost of the car. It isn't essential that you pay that much for your first vehicle, but the more you can afford to put down on the car, the lower your monthly payments will be if you choose to get a loan to pay for your new car.
Maintenance costs
Factor maintenance needs into your decision, too. Larger vehicles, such as SUVs and pickup trucks, often get fewer miles to the gallon than compact sedans, and it can cost more to fuel up these vehicles. These larger autos also have costlier parts to purchase when repairs are necessary.
Financing
Financing a car with an auto loan is something that people often feel unsure about because they hope to get a good deal on interest rates from the car dealership. One way to come out ahead is to have your financing in place before you start shopping. This helps you make sure your loan has an interest rate you're comfortable with.
Unless you have excellent credit and are buying a brand-new car with special interest offers, you likely won't get a better financing deal from the car dealership than you can from your bank. Having your financing in hand helps you avoid being sold extra services and "add-ons" that are you don't actually need.
How to find the right car
Shopping for a car can be a lot of fun. You get to think about what you want and pick the color and features you like. Do your homework online to find cars that you're interested in. You can also read reviews about them and learn more about what to expect before you do a test drive.
Safety considerations
While you're shopping for that first set of wheels, safety should also be top of mind. Today's cars have features that help protect you and your passengers, so think about safety, not just looks. Cars with better safety ratings may also save you money when it's time to buy insurance.
Before you narrow down your decision, it's best to:
Review and understand the latest safety ratings
Consider which safety features are important to you
Compare prices from dealers or sellers that have the vehicle you want to buy
Before you buy your first car, it's also a good idea to write down which questions you want to ask the seller before you strike a deal. Consider asking about things like how many people have owned the vehicle and whether it has service records.
Buying your first car
When you've found the car or cars that you're interested in buying, head to the dealership. Take along a friend or family member — preferably someone who's been through the car-buying process before and who isn't afraid to offer their opinion. It's a good idea to have a sounding board and someone who knows your situation in case the salesman tries to change your mind or upsell you to a pricier vehicle.
Once you're at the dealership and find the car you're interested, you can:
Take the vehicle for a test drive that lets you experience real-world traffic situations and get a better idea how the car handles on the road
Negotiate a fair price based on your research
Use this checklist to make sure the car is in good running condition. Arriving prepared at the dealership doesn't only help you get a better deal. It can also make the process go much faster.
Insuring your first car
Prior to signing any financial documents and finalizing your purchase, you need to get your new vehicle insured.  At this point in the process, you are not financially obligated to buy the car so it's the perfect time to find out if the car insurance premium fits within your budget. If the numbers don't fall within your budget, don't hesitate to continue car shopping.
Getting your new-to-you car insured is easy. Simply call a local auto insurance agent and be ready to provide:
Driver's license number
Car year, make and model
Financing information
Vehicle identification number (VIN) if available
Buying your first car is an exciting step — and a big first step in your financial life. Learn more about some important considerations to think about before you begin shopping for your new vehicle.
BKM-3150AO