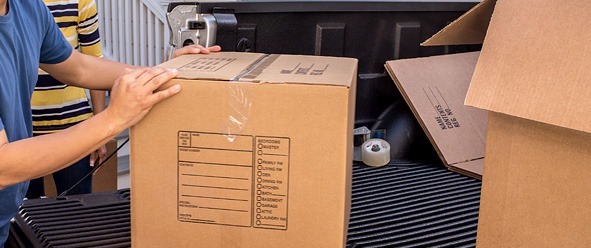 Packing and driving tips to help you transport your budding scholar.
Making the transition from live-at-home high school student to college-bound dorm resident is no easy feat. There will be a lot for your young adult to get used to. Help reduce their anxiety and uncertainty when it comes to packing for college and, if needed, renting a moving van by following these tips.
Keep it simple. Typically, your college freshman will live in a fairly small dorm with a roommate, leaving little space to work with. It's best to narrow items down to the key essentials. If possible, contact the roommate in advance to avoid overlap of items being brought, especially appliances that can be shared, such as microwaves. "Also check with the college because it will often supply a list of what to bring and what not to bring," says Chris Mosier, assistant director of residence life at Marymount Manhattan College in New York. "Many residence halls have policies about items that you can't have. We prohibit furniture and certain appliances, for example. If you check ahead of time, you can avoid buying and packing things you don't need."

Be multifunctional. Pack items for college in bins or storage containers that can be used in the dorm. Use storage bags for clothes. "Storage bags allow students to pack more and also are great for out-of-season clothing," Mosier says.
Tag it. Make sure each box is marked with your college freshman's name and room number. "In the excitement of getting keys, getting checked in and figuring out where to go, boxes may get lost in the shuffle," Mosier says.
Follow pointers from the pros. Atlas Van Lines offers the following packing tips: Don't leave all of the packing for the morning of the move. Instead, pack boxes gradually a week ahead. Always use plenty of filling material to protect contents; when in doubt, use more. Pack heavier items on the bottom and lighter ones on top, and never exceed 50 pounds per box (because it's easier to carry them this way). Use wardrobe boxes for dress clothes. If the original boxes aren't available, wrap DVD/Blu-Ray players, game consoles, music players, etc. in old blankets and place them upright in boxes marked fragile.
Make moving van adjustments. If you rent a moving van, make sure you're ready to drive it safely. They don't come with standard rearview mirrors, so you will have to get comfortable with using side view mirrors only. "You'll also need a larger turning area, so flip your signal earlier than you normally would, and don't make last-minute lane changes," says Gregg Zegras, general manager of MyMove.com. "Taking curves at high speeds is dangerous in these trucks because they're more likely to tip over than a standard family vehicle."
Give the truck a "brake." Always be conservative with speed because it takes more time and distance to bring the moving van to a stop. "Get accustomed to driving slower and braking sooner," Zegras says. "Besides, abrupt braking will cause packed belongings to move and possibly get damaged."
Don't overdo it. Take a complete inventory of the items that have to go, so you can figure out the size of truck to rent. You may be surprised how much you can squeeze in there. A 15-footer, for example, is typically recommended for three rooms or fewer. This is more than you will need, especially when you consider your college freshman can't bring much to begin with. Given this, you may be better off with a cargo van or even a trailer.
Keep your students protected, even when they're not at home. Nationwide renters insurance can help replace their valuables if they become the victim of theft. It's peace of mind for the whole family.