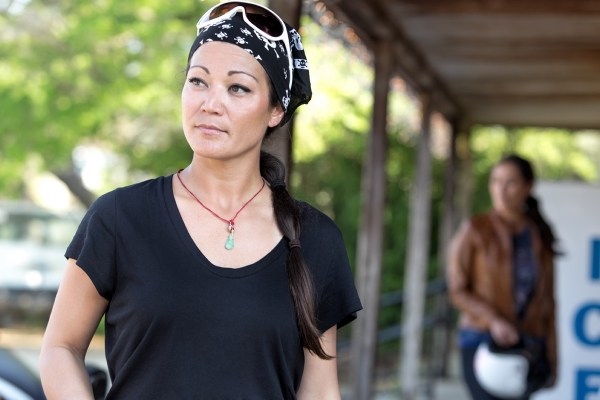 With 8.6 million motorcycles on the road, hitting the open highway on a bike is becoming increasingly popular. While popularity rises, so do safety concerns.
In 2015, 88,000 motorcyclists were injured in crashes, according to the National Highway Traffic Safety Administration.
To help keep motorcyclists safe on the road, here are six driving tips – from veteran motorcyclists – to improve safety.
Practice emergency braking
You never know when you're going to hit the brakes in an emergency, so it's important to practice the skill.
Veterans say it's best to go to an empty parking lot and start by walking your bike and applying the front brakes. Slowly, increase your speed and get used to how the bike reacts as you apply the brakes.
This skill takes time to master, so don't expect to master it in an afternoon.[1]
Wear a helmet
Depending on the state you live in, wearing a motorcycle helmet may be optional, but many veterans say wearing a helmet just makes sense. Plus, crash data from the Centers for Disease Control and Prevention show helmets reduce the risk of death by 37% and head injury by 69%.[2]
Wear appropriate gear
Hopping on a bike in a t-shirt, jeans and flip-flops is a recipe for disaster, veterans say. You need the right gear to protect yourself from the unpredictable nature of the climate and the road. From bugs and bone-chilling rain to debris coming off vehicles, if you're not dressed for these conditions you could find yourself in a dangerous spot.
You need a reinforced jacket, gloves, full paints, eyeglasses and over-the-ankle boots – even during the summer – for maximum protection.
Watch the weather
Wet road conditions are dangerous. Tires have less contact with the road, your vision could be impaired and potholes can disappear beneath water, making it more likely for a driver to dump the bike.
Veterans say you should always watch the weather and avoid these conditions when possible. If a storm hits while you're on the road, pull over at the nearest gas station and wait it out.
Plan escape routes
An experienced rider is always scanning the situation for an escape route. Examine the roadways and the traffic patterns so you have a plan in place if you need one. It's a habit drivers must constantly remind themselves to do.
Don't get arrogant
Experienced riders know they aren't immortal. They know their own limits and don't put themselves in situations that are dangerous just to show off. Veteran drivers know that riding is a privilege, and not one that's worth endangering their life over.
Using these six tips, you can ride with confidence knowing that you take your safety seriously. Learn about the latest motorcycle technology that is improving safety and performance.