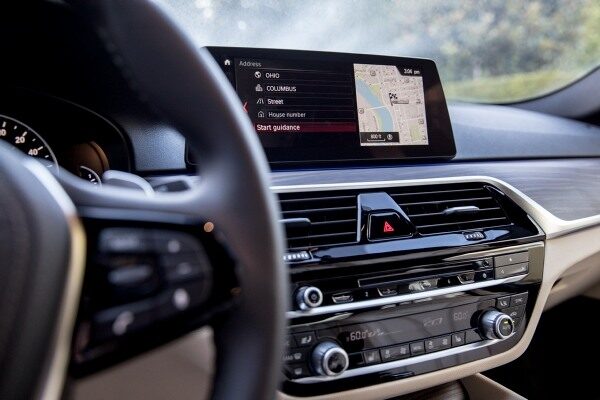 If you're always looking for a Wi-Fi connection to link to when you're away from home, installing car Wi-Fi may make sense. From factory options to aftermarket devices, there are many ways to get Wi-Fi connectivity in your car. Learn more about what these systems do before making your decision.
What is Wi-Fi in your car?
Wi-Fi in your car is like your wireless network in your home. Some newer-model cars are now equipped with Wi-Fi built in with their tech features, bringing the convenience of a wireless network to your automobile with a built-in modem and router. You can use your smartphone's hotspot option or use a portable Wi-Fi hotspot device in your car, but for the better connectivity, a built in Wi-Fi option typically provides consistent, reliable service.[1]
How to use a Wi-Fi hotspot device
If your car didn't come with a Wi-Fi system pre-installed, you still have choices. Aftermarket options include USB devices and portable Wi-Fi hotspots. Some plug into your car's OBD-II port. For more reliable aftermarket options, you can choose a wireless modem and router. This option replicates the experience of a factory-installed option and typically offers the strongest signal.[2]
How does car Wi-Fi work?
Built-in Wi-Fi works much like your home network. When you purchase the car, you set up your Wi-Fi system with a password that users need to access the network. Once this is activated, the Wi-Fi network can show up on your devices. Everyone in the car can access the connection by using the password.
With factory-installed options, your plans will most likely link to a provider associated with the car, such as OnStar or Uconnect.[3] Most offer monthly service plans.[4]
Why have Wi-Fi in your car?
With the right plan, it can make sense to use your car's Wi-Fi to stay connected. During road trips, you may use a lot of roaming data through your cell connection, and trying to use it to connect other devices may not offer the easiest experience. Some phones also drop connections when a call comes through. Even more, devices don't need to have a cellular connection at all to access Wi-Fi in the car. This means you can use tablets and other devices that previously would've needed a cellphone with hotspot access to serve as a router. Kids can stay entertained when they access the Wi-Fi to stream movies or music and even download apps, games and books.
Wi-Fi in cars tends to deliver better connectivity than using your phone as a hotspot and offers a similar experience to home Wi-Fi connections. Most systems support connections to multiple devices, which can come in handy on road trips with the family. The connection works outside of the car for a short distance, too, making it a great option on camping trips or when you need to do a few minutes of work while you're parked away from the office.
Staying safe when using Wi-Fi
While in-car Wi-Fi provides ample opportunities for entertainment and connectivity, it can also create distractions for drivers.[5] It's important that you never use your smartphone or other connected device while you're driving, so think carefully about adding Wi-Fi to your car if it might tempt you to divert your focus off the road. Nationwide supports legislation banning the use of hand held cell phones while driving as a practical way to allow drivers to leverage technology while keeping both hands on the wheel and both eyes on the road.
Although it may be difficult for hackers, there's also the potential that your car's Wi-Fi network could be breached.[6] Download any security patches for the Wi-Fi program as soon as you can to keep your system protected.[7] Learn more about how cars get hacked.
Whether your car comes equipped with factory installed Wi-Fi or you add an aftermarket device, if you spend a bit of time in your car for work or when traveling, this option is one to consider. You have the potential to experience a better connection, seamless streaming and downloads and maybe even some happier passengers. Before you decide to activate in-car Wi-Fi, learn more about the future of cars and what technology is appearing in vehicles — you might find even more features for a smoother ride.
[1] https://cartelligent.com/blog/should-you-opt-for-a-wifi-hotspot-in-your-new-car/
[2] https://cartelligent.com/blog/should-you-opt-for-a-wifi-hotspot-in-your-new-car/
[3] https://cartelligent.com/blog/should-you-opt-for-a-wifi-hotspot-in-your-new-car/
[4] https://cartelligent.com/blog/should-you-opt-for-a-wifi-hotspot-in-your-new-car/
[5] https://www.lifewire.com/intro-to-mobile-wifi-for-cars-4036128
[6] https://www.lifewire.com/intro-to-mobile-wifi-for-cars-4036128
[7] https://purplegriffon.com/blog/carhacked-9-terrifying-ways-hackers-can-control-your-car