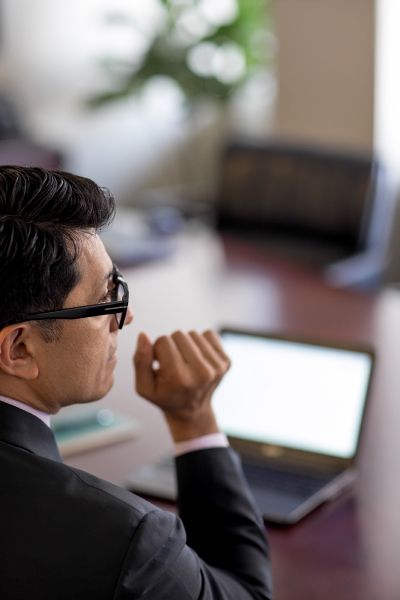 It's not enough nowadays to throw open the doors of your brick-and-mortar location. It's important to have a website as well. Too many small businesses neglect this aspect of their marketing. The Service Corp of Retired Executives (Score) reports that a mere 51%  of such companies have their own websites. Meanwhile, customers are busy scouring the Internet for goods and services, with over 97% performing online searches for what they need.
Where's a business owner to start? The process doesn't need to be daunting. Here are nine easy steps to making a small business website:
1. Play the name game
Like parents choosing a lifetime moniker for their child, be selective in choosing a domain name. You want customers to remember it easily and even to think it's clever. But you don't want to be inappropriate. Do not use words or word combinations that might be deemed vulgar, insulting or mean-spirited. If you have doubts, tone down the name or change. A domain name is a key part of branding. You want to get it right.
2. Kiss website clutter goodbye
This is not the time to show off your computer acumen, with lots of distracting sounds and lights on the site and every icon known to web-kind. You want to keep it simple and make it easy for customers to discover what you're all about while navigating the site.
3. Introduce yourself in your "about us" page
Metaphorically look potential customers in the eye, tell them how you came to start your business and what it means to you. Let them become invested in your story and want to reach out to you for what they need.
4. Make contact easy
Let customers know where you're located and how they can get in touch. Put your business 'contact information some place customers can't miss, such as the top left or right corner on each page. You may also want to include a Google map to your location to put your locale in context.
5. Broadcast business hours
Before people run out to pick something up, they want to know that you will be there. Just as you would have your hours posted on your door, have it on the site as well.
6. Be mobile friendly
This means making sure your webpage loads easily onto smart phones. While customers rely on these more and more, 90% of small business websites don't keep the smaller mobile device's screen size in mind when they create their sites, making it difficult for some customers to view.
7. Build trust
Include testimonials and reviews from customers. Many customers feel more comfortable purchasing a product that others like. Even if you have just one testimonial, shine a spotlight on it. You may also want to link to other review sites where your product has been featured.
8. Ask for the business
This is not a time to be coy. Explain what you want people to do. Use terms such as, "Make your reservation now" or "Call us for a free quote today."
9. Keep people coming back
Include information that changes on a regular basis such as a blog or newsletter on which customers come to rely.
Building a successful small business website is a huge step towards launching your small business. If you're trying to get a small business off the ground, make sure you don't make these 5 common small business mistakes.