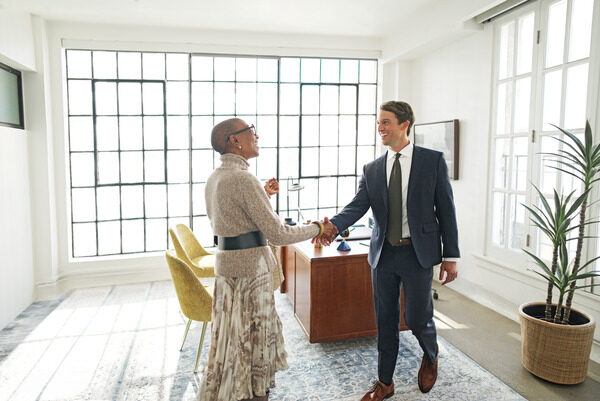 If you want to expand your business, finding employees with specific skills, such as accounting, sales or IT, should be a top priority. Searching for new talent is a good problem to have because it means your company is growing.
But finding the right people in the timeframe you require can be challenging. Because the Internet allows anyone to send in a resume, even if they're not qualified for a position, you may need to spend extra time sifting through resumes submitted online.
Fortunately, there are alternatives to online applications, and there are a number of ways to encourage promising jobseekers to consider your company. If you want to learn how to hire the right talent for your company, consider the tips below.
Look beyond online applicants for new hires
Network
Ask your friends and acquaintances if they know someone who would be a good fit for a job. A neighbor may know just the right person who's looking for work. Use social media to get the word out to your friends. If you're active in a local charitable or business-networking group, network there as well.
Hire from a Great Experience
Did you see someone with amazing customer service skills at the fast food restaurant? Were you impressed with someone's attitude and initiative at the bank? It doesn't hurt to mention to that person that you're looking for someone with their skills or enthusiasm. Give them your card. They may want to make a change and call you.
Hire Interns
Local colleges have students looking for job experience. Can you provide them with cash and job training? Internships can help you find extra help without the major financial obligations of salary and benefits. They can also serve as an opportunity to test and train someone for a full-time position. You'll see first-hand how someone functions in the workplace and whether they can learn the skills needed for a job. Meanwhile, interns will gather valuable work experience, and with paid internships, can earn a little in the process.
College or Other Job Fair
Try visiting a college or local job fair to meet people who are looking for work. You can let jobseekers know more about your company. You also have an opportunity to meet people on the spot and see their personalities. Take notes on their resumes so you can remember who they are when you start interviewing.
Use a Recruiter
When hiring employees for specialty positions, you might want to use a recruiter. It can be expensive in the short run because recruiters often charge a fee and/or percentage of the person's first year salary. However, it can save you and your staff time if the recruiter can quickly identify the best candidates for your position.
Offer a Referral Bonus
Motivate your employees to help recruit for you. Offering a bonus to employees who refer someone who gets hired increases the incentive for those employees to find quality people. Make it easy for them to post the ad on social media by giving them the text and links. You can also offer a referral fee to your entire network, not just employees.
Make it Easy for Jobseekers
Make job openings easy to find and apply for on your website. Ensure the application process is user friendly, and use a simple online form if possible to help prospective employees see all the information they need to submit.
Provide a Detailed Job Description
Whether you're posting a job listing online or advertising at a job fair, give a detailed description of the position and skills needed. Not only will the applicant have a better understanding of whether it's a good match, but they can also effectively tell you why they're a good fit. In addition, be clear about what makes your company a great employer. Do you offer paid education or benefits? Do you have low turnover? Tout your advantages to encourage more people to apply.
Experiment with Advertising
Try running ads on social media sites and online resume sites. You can tailor these ads to run in certain locations, and you can further detail the type of person you're looking for so the ad targets the right people on the network. Depending on the position, you might post flyers at the grocery store or library. If you're a retailer, hang a "now hiring" sign in your window.
Consider a Telecommuter
Does the person you're hiring have to come into the office? If not, broaden your options and consider hiring someone who works from home. An increasing number of job seekers are weighing quality of life issues more heavily as they consider positions. They want to reduce or eliminate travel times to work and see telecommuting as an important option.
Be Patient When Hiring New Employees
As you're determining how to hire the best employees, it pays to ask around and try a range of methods. Don't forget that offering great benefits, including life insurance and retirement plan options, have the potential to attract high-quality employees.
Your employees are the engine that drives the success of your company. But finding the perfect hire for your expanding business can be a challenge, leading some managers to make hasty decisions. Here's more to consider when hiring a new employee, from the job posting to the offer.

Once you set up an interview with a potential candidate, make sure you're asking the right questions with these job interviewing tips.