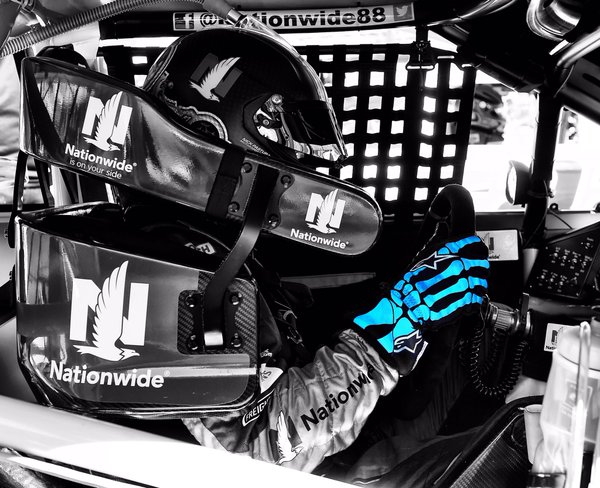 Dale Earnhardt Jr. is known for many things – including his driving gloves. When NASCAR's most popular driver climbs behind the wheel of his No. 88 Nationwide Chevrolet SS, one of the things fans look for are his signature skeleton gloves. Last year, he found a way to turn those bony fingers into helping hands, with the launch of the Driven to Give Gloves program.
As part of an initiative by The Dale Jr. Foundation (TDJF), this year Dale Jr. is teaming up with Nationwide Children's Hospital. During NASCAR's 10-month season, he will change colors of the gloves four times, and each set of gloves will be auctioned off – after being worn while racing, of course.
The colors will each represent a different cause and "Patient Champion" from Nationwide Children's Hospital, and the money raised from each auction will be used to fund clinical and research programs through the hospital – in addition to raising awareness. The four Patient Champions will appear in person at the Kentucky Speedway race in July.
"Nationwide's commitment to our team and our Foundation is very gratifying and means a lot to everyone involved," says Dale Jr. This year's campaign kicks off in April, when Dale Jr. takes to the track wearing gloves accented in blue, which is often used to bring attention to Autism.
In May, the gloves go lavender in honor of pediatric cancer, and then turn to gold in July to raise awareness about hearing impairments. The final set of Dale Jr.'s familiar skeleton gloves, which he will don in November, will be gray as a nod to diabetes awareness.
Faces behind the gloves
One way this campaign raises awareness is by making it personal – which is done with the help of the Patient Champions. Each cause has a real person as its face, and each Patient Champion has received care from the hospital. All of them have been involved in other NASCAR and Nationwide events, and they're all racing fans as well.
Here's a closer look at the brave champions who are the driving forces behind this year's auction:
Autism. Aiden VanWagner was diagnosed with autism at an early age, but today the 7-year-old has received comprehensive interventions and individualized treatments from Nationwide Children's Hospital's Center for Autism Spectrum Disorders. This allows him to enjoy school in a mainstream classroom.
Pediatric cancer. Four years ago, Grant Reed was diagnosed with a brain tumor in the back of his head near the brain stem called Medullablastoma. Although the tumor was removed, the then-11-year-old suffered severe complications. After being admitted to the hospital's inpatient rehabilitation unit, he was able to regain control of his speech and physical movement. Today, at 15, he is a huge NASCAR fan.
Hearing impairment. For Tarissa Suchecki, Nationwide Children's Hospital was the first home she ever knew. After being born more than two months premature, she spent the first seven months of her life in the hospital and among the complications of her premature birth was profound hearing loss. Today, the fourth grader has overcome many challenges and enjoys pageant competitions.
Diabetes. Although he was diagnosed with Type I diabetes three years ago, 11-year-old Dalton Miller continues to enjoy an active life. His work with the clinical team at the hospital has taught him how to monitor his food and beverages to manage his illness.
After driving with each set of gloves, Dale Jr. will sign the gloves at the end of each designated month and TDJF will auction them off on its official eBay store.  Find out more about The Dale Jr. Foundation here.