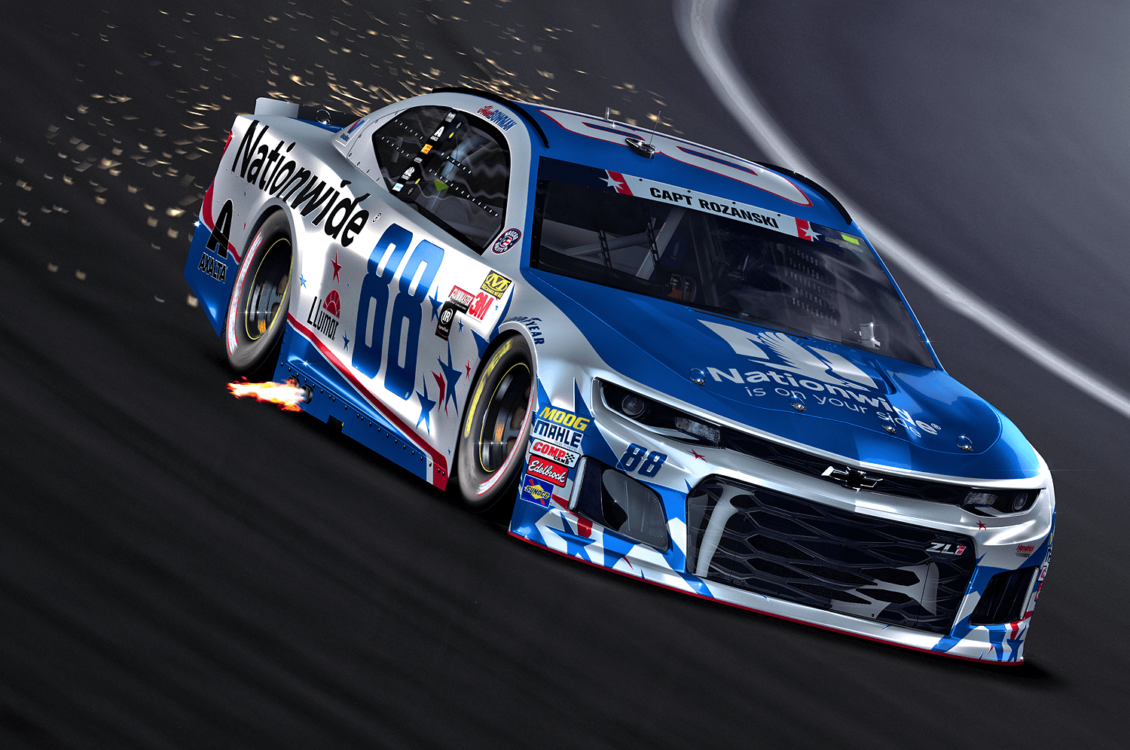 When Alex Bowman's No. 88 Nationwide Chevrolet Camaro ZL1 circles the track in Charlotte on Memorial Day weekend, the first thing fans will probably notice will be its special red, white and blue star-themed design. The scheme will help kick off the 58th annual NASCAR: An American Salute initiative which starts during the Memorial Day Weekend at the Charlotte Motor Speedway and runs through July 4th.
The "600 Miles of Remembrance" salute has become a tradition to help NASCAR honor those who have given their lives in service for their country. As with the other cars participating, the most distinguishing feature of the No. 88's patriotic paint scheme is the name on the windshield header.
Captain Nick Rozanski, a native of Dublin, Ohio, and a graduate of The Ohio State University, was killed in combat in Afghanistan in 2012. Nationwide has a long history of supporting the military and helping raise awareness of military service in the community; honoring Rozanski hits particularly close to home because his widow, Jennifer, worked in Nationwide's Staff Sales Organization at the time of his death. She will attend the race with her mother and two daughters, 10-year-old Emma and 7-year-old Anna.
A hero in more ways than one
Nick was a lifelong NASCAR fan says Jennifer, who met Nick in 2001. They were married five years later, and when she was pregnant with their first child, Jennifer discovered just how deep her husband's passion for NASCAR was.
"Nick bought her three racecar outfits before she was even born," Jennifer says. "Who knew that race gear came in pink?! She was saying 'Come on, Dale!' by the age of two."
He even wanted to dress one daughter as a racecar driver and the other as a pit crew member for Halloween.
"He loved that NASCAR celebrates true Americana and patriotism. The fans are a cross-section of the American culture, and he liked to have a good time, so I think he always wanted to go to a race to experience what it was like."
Answering the call of duty
Nick was 27 when he enlisted in the military, and he did it without telling family or friends.
"I don't think we were surprised that he joined the military, but we were all surprised he enlisted so quickly," she says. "He knew the option to join was running out based on his age, and he was looking for a career change. The military was a great fit for him."
Knowing that her husband died doing what he loved while making a difference in the lives of people around the world provides comfort for the young family. On the day he died, Jennifer started The Nick Rozanski Memorial Foundation.
"I wanted a way to continue his legacy and give back to the communities that mean so much to him," Jennifer says.
To date, the foundation has given out more than $100,000 in scholarships, including providing scholarships through the Office of Military and Veteran Services and for children of military families in Ohio. The foundation also has co-sponsored a yoga program for female veterans and holds an annual golf tournament as a fund-raiser.
"It has meant so much to the girls and me," Jennifer says. "It has been a way to keep telling Nick's story to keep his memory alive."