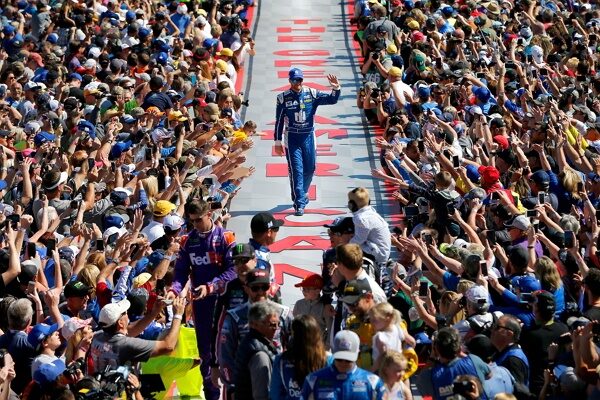 Watching a race on television is fun, but if you haven't seen a NASCAR race in person, you're not getting part the whole race experience. This is a good year to commit to experiencing NASCAR live – and here's our advice on how to make that happen.
1. Plan ahead
There are probably certain factors that prevented you from attending a race in the past, including money, time and location. Creating a race day fund is a great way to clear the first hurdle. Do some research to see what it will cost to attend the race(s) you are most interested in. Remember that races have different ticket prices, so you can expect to spend different amounts based on which race you choose. Then start setting aside cash for your NASCAR fund.
2. Pick a spot
With races at so many different locations, you have plenty of destinations to choose from. Once you have an idea of how much money you want to spend, you'll be able to decide which one is the best fit. If you're short on time, the closest race may be your best bet. But never underestimate the power of a road trip to add to the adventure.
If the race you want to see is going to take a day or two (or more) to reach by car, find some roadside attractions along your route that are worth spending an hour or two to enjoy.
3. Consider camping
If you truly want to get the whole race experience, rent an RV so you can tailgate at the race. Fans show up days in advance to enjoy the tailgating experience, and it can last long after the cars have left the track. It's a great way to immerse yourself in NASCAR culture, make a few new friends and, oh yeah, enjoy the race! (Check out our guide for first-time tailgaters.)
Arriving early gives you more time to enjoy the events at the track centered around the race weekend. Activities vary from one track to the next, but since you're there, make sure you take advantage of the extra fun!
4. Remember to pack the essentials
Just as you need a life jacket for a canoe trip and boots for a hiking adventure, NASCAR races come with their own set of essentials for fans. You'll enjoy the experience much more if you bring:
Comfortable shoes: You're going to do lots of walking and standing, so give your feet the tools they need to do their job. You might even bring an extra pair of shoes. Closed-toe shoes are more protective, which may be a necessity if you have the opportunity to visit the pits or other track areas where heavy, loose objects may be present.
Earplugs: NASCAR sounds loud on television, but that's nothing compared to the roar of the real thing. Pack some plugs and your ears will thank you.
Sunscreen and a good hat: You'll likely be spending long periods of time in the afternoon sun. Sunscreen and a brimmed hat can keep you from suffering a nasty burn.
Varied clothing: Weather can turn quickly even at the peak of summer. Bring rain gear for wet weather and layers of clothing if temperatures drop.
Hydration: The only way to keep your cool on a hot race day is with plenty of fluids. Carry a water bottle and drink frequently throughout the day.
Race Scanner: There is no better way to enjoy the race than to listen to everything occurring on the track.  Tracks provide multiple opportunities to rent a scanner to listen to the TV or radio broadcasts or better, listen to your favorite driver talk to their crew chief. This is the best way to get on the inside and be fully tuned into the race.
Boost your racing pleasure (and your bragging rights) this season by making sure you see a NASCAR race in person. But be warned, once you've experienced it live, you're going to want to do it again!