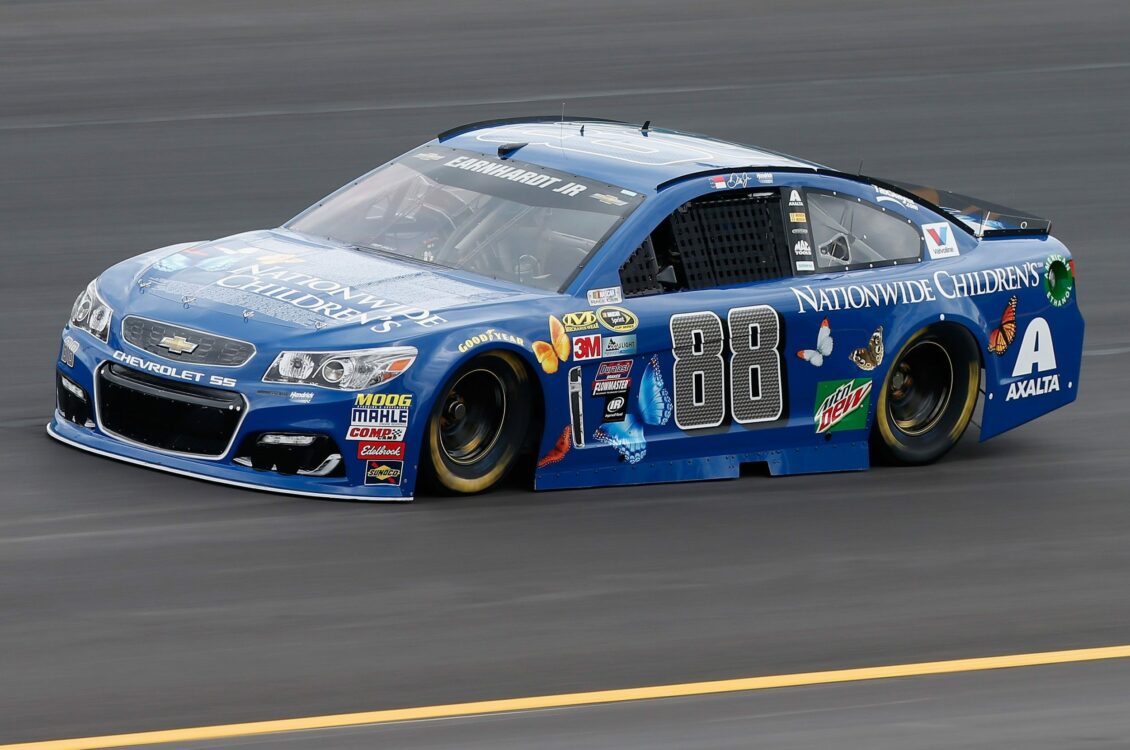 As a boy, Brendan Droppo loved watching NASCAR races with his dad. He was mesmerized by the many different colors and paint schemes; after the races, the young artist would spend hours drawing pictures of the winning cars.
"Then I'd draw a second version with my own paint scheme," he says. "I fell in love with the fact that it was more than just a sports jersey with a number and a color. I loved how [the paint schemes] changed every year. As a kid, I would dream of seeing my own designs on the track."
Today, he's achieved that dream. While you won't find his works of art in a museum, millions of fans during NASCAR races on cars driven by Dale Earnhardt Jr. and Jimmie Johnson.
But it wasn't sheer luck and constant dreaming that landed his work on such high-profile cars. Even while he was earning a degree in sports marketing and branding at the Algonquin College of Applied Arts and Technology in Ottawa, Droppo was working to find his place in the racing world.
"I would email and try to make contact with smaller racing teams and companies," he recalls.
His first break came during his freshman year of college, when he received the chance to do logo work for a startup racing team named Xxxtreme Motorsports. It was a turning point that would eventually open the door to the big leagues. After doing "some logo work and paint schemes here and there," he broke through to a national stage with the company, which now is known as Team Xtreme Racing.
"In 2009, I brought my dad to Daytona and we watched my first design run on the track. It was the NASCAR Nationwide Series, and [my design] was on Chase Austin's [No.] 07 car."
Rolling toward NASCAR success
After his Daytona art debut, Droppo continued his branding and design work with companies in his home territory of Ottawa but never gave up on the dream of designing paint schemes for racecars.
"I stayed in touch with [the people I'd met] and kept showing them designs," he says. "I tried making them as splashy as possible, because I knew that made them more prone to getting attention."
In 2013, he landed a contract to design the Xxxtreme Motorsports' No. 44 car, and that immediately put his designs on display. It caught the attention of fans and drivers alike, and soon he was asked to design a new paint scheme for Lowes Racing and Jimmie Johnson's No. 48 car for the 2015 season.
"That was such an emotional time, because just as all of this was happening my mom became ill," he says. "My parents saw me trying for so long to make this happen, and to see that opportunity coming was great, but it was a bittersweet time."
In 2015, he and his wife were at the Daytona 500 to see No. 48 take to the track, and he says the feeling of that memory is hard to put into words.
"Seeing your car, the one that you designed, battling for the lead in the race…It really is a feeling of your hard work paying off. It's not like anything else out there."
Turning a corner with NASCAR art
His distinctive work was so well received that he designed all but one of the No. 48 cars in 2016 and also picked up another highly coveted gig: designing some of the paint schemes for Dale Earnhardt Jr.'s Nationwide No. 88 Chevrolet SS.
"Working with Dale has been a lot of fun," Droppo says. "He's the sport's most popular driver, and the fact that I can work with a driver, a team and a sponsor that are so well known — it goes back to that childhood dream of one day having your work noticed by people."
Animated appeal in paint schemes
Droppo's portfolio has grown to include multiple designs for Earnhardt Jr.'s car, including the 2016 patriotic paint scheme and the Nationwide Children's Hospital cars for 2016 and 2017. But it was last year's Batman vs. Superman cars that garnered the most attention.
"I started working on that in 2015 and they raced in 2016," he says. "The idea behind that was to make the cars look like they were wearing the superhero costumes and battling it out."
The cars ran the track in Fontana, Calif., on March 20 last year as part of a promotion for the release of the Warner Bros. film, "Batman v. Superman: Dawn of Justice." The face-off pitted Earnhardt Jr. and Johnson against one another, complete with custom fire suits that sported the emblems of each driver's superhero persona.
Earnhardt Jr. piloted the Batman-themed car, while Johnson took the wheel of the Superman-style vehicle. Not only were the cars a big hit on the track, but they were two of NASCAR's best-selling die cast models for 2016.
"It was a lot of fun to work on that project, but I'm not going to lie — I like them all," Droppo says. "Any time I get a new project I'm grateful for it and appreciate it. I put a lot of passion into each one."
In some cases, he is given very specific direction on what is wanted for the car's design, such as with the superhero cars or the Nationwide Children's Hospital car. Other times, he is given more creative freedom and flexibility.
"The process is a little different every time, but the joy is in finding the right design," he says. "It's great to be working on other projects with Nationwide and Dale Jr. It's going to be exciting to see where we can take this."
If you love cars as much as Brendan Droppo, you know how important it is to keep yours protected. Let Nationwide help you learn more about safeguarding your vehicle with the right car insurance.