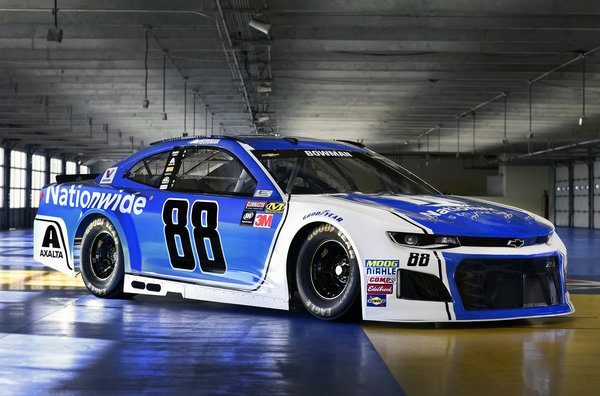 As a NASCAR fan, you already know there's a lot to love about this sport. You've experienced the thrill of watching your favorite drivers battling it out on the track. But you know that, like most things in life, NASCAR is better when shared with a friend.
But what if your No. 1 friend hasn't yet discovered the joy of racing?
Don't worry. All it takes is a little guidance from a good friend (that's you!) to get him or her in touch with that inner checkered-flag-waving fan. Follow our step-by-step guide, and you'll be sharing a cold one and cheering on your favorite drivers together in no time!
Step 1: Talk it up
The more fun it sounds; the more others want to be a part of it. When you talk about the season, tell your friends why you're excited – and what you can't wait to see, what races or tracks are coming up or how your favorite driver is doing in the standings. Remember, they're NASCAR novices, so don't get heavy on details and jargon. Just give them enough information to make them want to hear more.
Step 2: Listen to objections
If your friend claims not to like NASCAR, find out why. (After all, what's not to love, right?) Chances are, they haven't experienced it firsthand, so listen to what they think they wouldn't like about it. Then share your own experiences of enjoying races, and why you think they'd enjoy it.
Step 3: Change their mind
So they aren't ready to sit down and watch a race? They still think they won't like it? No problem. There are plenty of short videos you can find online that will likely change their mind. Thrilling video clips are a terrific gateway to the real deal.
Step 4: Make it a game
If they're still not committed, why not let them take the wheel and see what it's like to pilot their own racer? Grab the PlayStation or XBox, pull out your favorite NASCAR game and let them test their skills on the track.
Step 5: Go full throttle
By now they should be ready for a real race, and you have a couple of options:
The first, and usually easiest, is to have your new NASCAR friend over to watch a NASCAR race on TV. Set the stage with the appropriate spread of food and beverages, and be prepared to explain some of the finer points of the race (but don't over-analyze it). Watching a race with a true-blue fan like yourself can help give your friend a brand-new perspective on the sport.
Your second option, of course, is to let your friend experience the race live at a track. As you know, NASCAR hits all five of your senses and there is nothing like seeing, hearing and feeling that experience in person. A day at the track among thousands of NASCAR lovers could turn even the greatest skeptic into a full-on fan. Whether you make a day or an entire weekend out of it, make sure you leave time to stop at the on-site fan shop; your friend is probably going to want to stock up on some new NASCAR merchandise!