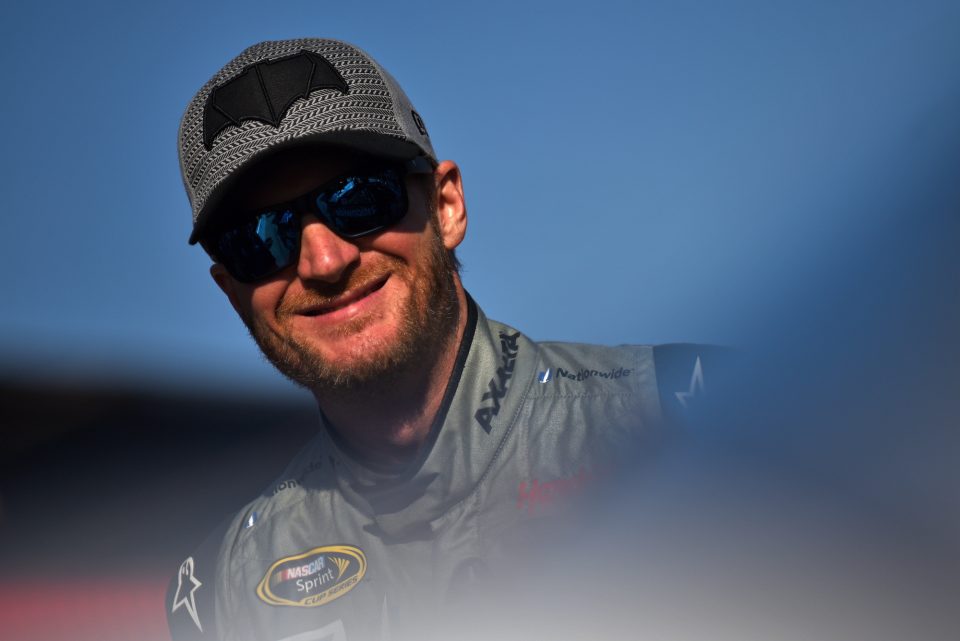 For NASCAR fans, merchandise from your favorite driver is a must-have. Nothing declares your devotion like a T-shirt or hat, and when it comes to devoted fans, nobody moves merchandise better than Dale Earnhardt Jr.
"Ten years ago, Dale Jr.'s merchandise sales accounted for 23 percent of the entire marketplace," says Joe Mattes, vice president of licensing and marketing for JR Motorsports. "Today, he retains a solid 30 percent of the marketplace. That really speaks to him standing the test of time."
He says Dale Jr.'s popularity in the marketplace began in the 1990s.
"Dale Jr. has always been at least in the top three in merchandise sales for the past 20 years," Mattes says. "And he has been No. 1 for a very long time. There's a lot of fan support, a lot of support for the history of the Earnhardt name. He's down to earth, but he has a reverence and respect for the sport. He's really the total package."
Beyond the go-to items, like T-shirts, koozies and hats, die-cast cars are huge sellers. Because it's always fun to wear the same clothes that's worn by the drivers, uniform jackets and official team hats also fly off the shelves. And thanks to the collaboration with DC Comics and Warner Bros., fans have a whole new selection of Dale Jr. merchandise to enjoy.
Holding out for a hero
Since January, fans have been flocking to the merchandise created for the March 25th release of the new Warner Bros. movie, "Batman v Superman: Dawn of Justice." For the March 20th race in Fontana, Calif., Dale Jr.'s No. 88 Nationwide Chevrolet SS– featured a Batman paint theme.  His Hendrick Motorsports teammate Jimmie Johnson's car sported a Superman theme, and both drivers wore firesuits bearing the emblem of their respective Super Heroes.
"We have a lot of different things for everyone – men, women and children," Mattes says. "It's not often that you get to combine Batman, Dale Earnhardt Jr. and the Nationwide car into one entity – but we have it and it's really cool. We have an all-over print on the T-shirts that looks really good."
Not surprisingly, Dale Jr. has his own favorites when it comes to the merchandise – the die-cast cars.  And the Batman-themed merchandise is no exception.
"He always pays attention to what a car looks like on the track. He really gets into that," says Mattes. "He pays a lot of attention to the paint scheme, and that shows on the die-cast models."
For the Batman makeover, Dale Jr.'s car was emblazoned with the instantly recognizable Batman logo and the finish of the paint emulates the textures of the Caped Crusader's suit. The die-cast version of the car boasts the same finish and attention to detail.
"We think this line will do well, because it lets us bring together two iconic figures – Dale and Batman," Mattes predicts. "I think it's going to keep being popular for the rest of the year and probably even show up in some Christmas stockings."