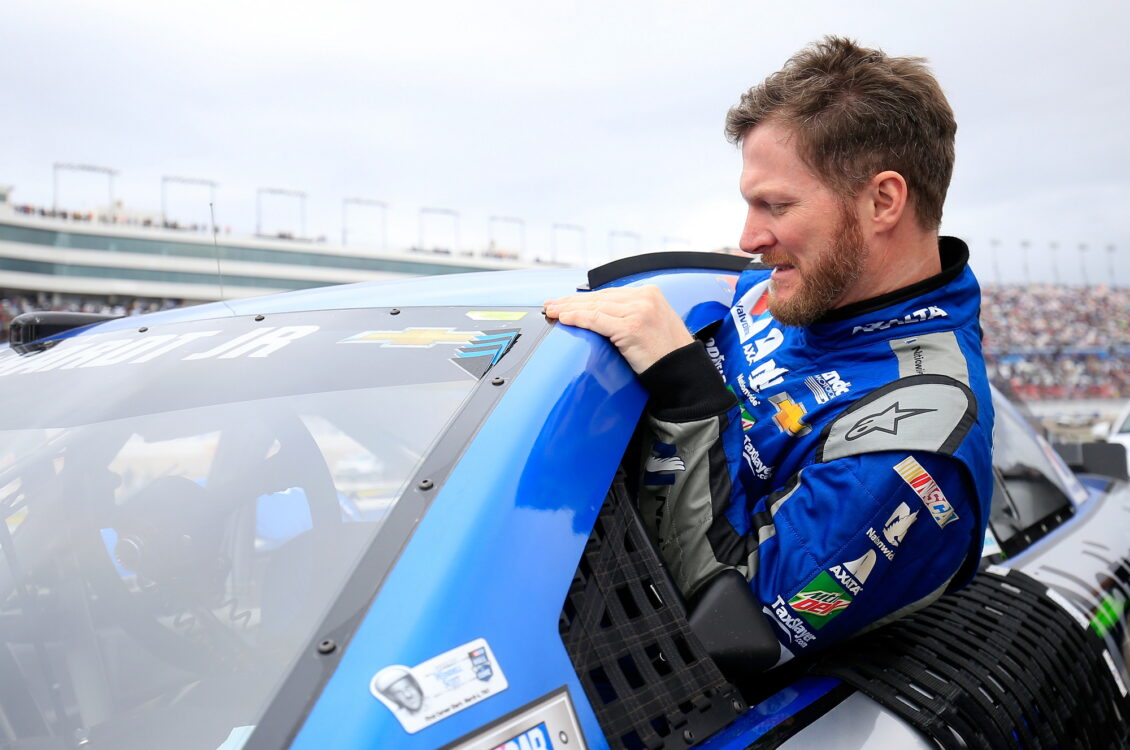 There's no question that Dale Earnhardt Jr. has a special relationship with the No. 88 Nationwide Chevrolet SS, but it is definitely not the only vehicle in his life. In fact, the life-long car enthusiast has nearly a half dozen cars in his personal collection that make the NASCAR driver's heart race.
"I don't like to collect too many cars that are too nice to drive," he says. "I like to be able to grab the keys and go."
And, when he grabs those keys, he'll be driving one of these:
1988 S-10 Chevrolet pickup. This truck has a special place in Dale Jr.'s heart because it replicates the very first vehicle he owned as a 16-year-old. "It's definitely a throwback for me," he says. In fact, before he bought this truck, he tried tracking down the one he had originally owned – but wasn't able to find its current owners.
1976 Chevrolet Laguna. Dale Jr. says this is the classic car he spends the most time in and has a special affinity for it because of its association to NASCAR. From 1973 to 1976, this body style was widely used in NASCAR competition, which helped make them hot sellers for consumers. Dale says they "put a lot of a NASCAR spin" on the car while restoring it, and it's easily recognized (and appreciated) when he takes it out for a drive.
1948 Chevrolet TK pickup. Not likely to win any beauty contests, this grungy pickup is "kind of unkempt and imperfect and shows a lot of flaws on the outside" – but that is a big part of its beauty. Although this mean, green machine has been lowered and has a new motor, the outer flaws are what Dale Jr. really loves about it. "The imperfections are a bit of a reflection of yourself," he says.
1965 Chevrolet Impala. Dale Jr. didn't have to look far to find this car; it's been part of the Earnhardt's since one of the family members became its very first owner. Over time, it became the "family loaner" car, the one they'd drive when they were waiting for their daily driver to be repaired. During the last couple of years, Dale has turned his attention to this 51-year-old car, giving it fresh paint, taking body panels apart and restoring or replacing damaged parts. "I feel an obligation to take care of the car and make sure it stays around a lot longer," he says.
1967 Chevrolet Camaro. Dale Jr. was driving a 1969 Camaro when he spied this beauty at Charlotte Motor Speedway during Auto Fair and made it his own. He loves the combination of grip and power that the car brings to the driving experience – not to mention those super-comfy 1980s-era Corvette seats that make driving a pleasure. "It's just a lot of fun to drive," he says. "This is probably one of my favorites."
To keep his coveted collection covered, Dale Jr. turns to Nationwide, which has partnered with Hagerty, the world's leader in classic car insurance to offer classic car insurance to drivers who appreciate the classics.