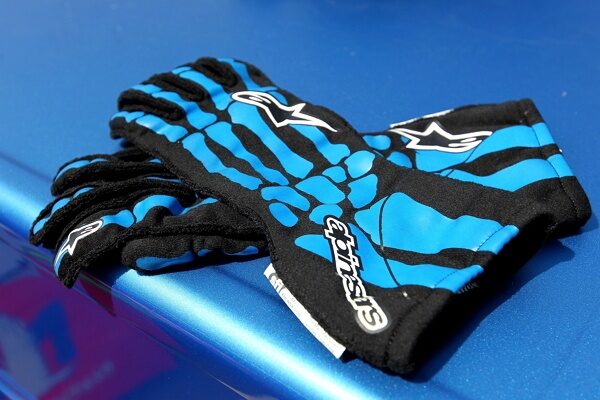 When it comes to others, Dale Earnhardt, Jr., doesn't just lend a helping hand, he throws in the gloves, too.
This season, the NASCAR star will again auction off four sets of his famous skeleton-themed Alpinestars gloves, with all of the proceeds going to the Columbus, Ohio-based Nationwide Children's Hospital. The Driven to Give Gloves campaign was launched in 2015 as a fundraising initiative for The Dale Jr. Foundation, which is dedicated to helping children in need.
"This glove program is just one of the many ways Dale Jr. helps shine a national spotlight on the life-saving work taking place at Nationwide Children's Hospital," says Mike Boyd, senior vice president of marketing for Nationwide. Nationwide Children's Hospital is the largest hospital and pediatric research center in the U.S., and provides care regardless of the family's ability to pay.
"There is no better way to honor our partnership with Nationwide than to help raise funds for Nationwide Children's Hospital," says Earnhardt Jr. "I am proud to be part of this."
Driven to Give Gloves Campaign
NASCAR's most popular driver will wear one set of gloves each month over a four-month period. The signed, race-worn gloves will be auctioned off at the end of that month at The Dale Jr. Foundation's eBay store. Each pair of gloves is a different color to represent one of the four Nationwide Children's Hospital clinical research programs.
The campaign begins in April with gloves accented in blue to represent autism. In June, Earnhardt Jr. will wear gloves with red accents to symbolize safety awareness, and July's gloves will be pink to represent therapeutic recreation. The final set of gloves, which will be worn during November, will feature gray accents for Diabetes Awareness Month.
In addition to showcasing a specific area of research, the campaign selects one "patient champion" to represent it.  This year's champions are:
Autism – Tristen Cooper, age 10
Safety awareness – Ailee Gilliland, age 5
Therapeutic recreation – Maddie Delaney, age 10
Diabetes – John Roger Curry, age 10
Since 2014, the Driven to Give Gloves campaign has raised more than $100,000. Find out more about the campaign here.