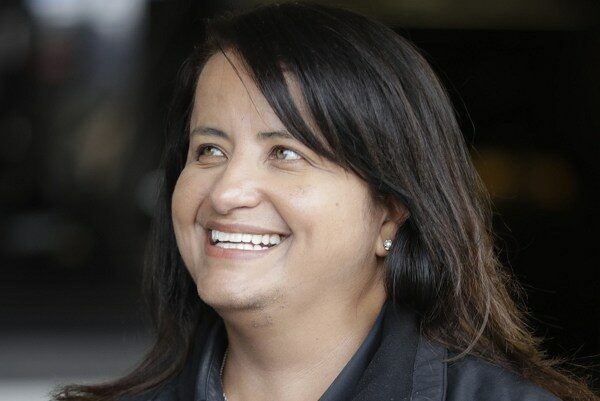 Terrance Williams
EVP & Chief Marketing Officer, Nationwide
Nationwide, a longtime sponsor of Latina Style and NASCAR, recently brought together two great organizations for one tremendous outcome. 
On October 19, Alba Colon, one of the most powerful women in sports and a top female NASCAR engineer for Chevy Racing, joined attendees of the Latina Style Business Series event in Atlanta to talk to entrepreneurs about her life, her career, and her steadfast determination to succeed.
I recently sat down with Alba to learn more about her and the collection of life experiences that led to her successful career.
Terrance Williams: You don't see many Hispanic females in this line of work. How did you get started?
Alba Colon: I went to school with one specific dream — I really wanted to be an astronaut. I wanted to get more information about their career paths – pilots, scientists and engineers. So, I decided to study engineering; mechanical engineering specifically. I went to the University of Puerto Rico, which is next to my parents' home. It was important that I stayed near my parents at that time. Everything worked out for me to go and study to be a mechanical engineer.
From there I discovered my love for vehicles through a project that I worked on with the SAE International Society (a global association for engineers and related technical experts in the aerospace, automotive and commercial-vehicle industries). The project was Formula SAE which is part of the Society's Collegiate Design Series. After being one of the founding members of the university team and working on the vehicle project for several years, I realized that I enjoyed the automotive industry, specifically the motorsports side. I met a couple of engineers from the General Motors racing group who were looking to hire some new engineers for their team and I got hired at General Motors. I never thought that I would be working for this organization, but that's how I got here. I've been in motorsports for my whole career and I love it.
TW: As you consider your journey, how difficult was it to reach your current level of success?
AC: In the beginning it was challenging. There were several things that I was faced with – being in a new country, speaking a new language, and trying to understand what the sport was about. I realized early in my career that there were pretty much no females in the sport and not too many female engineers at that time either. At first it took time for me to be accepted, but having a core group of people who you can really talk to and trust can help and guide you. But at the same time it was about realizing my dream. I needed to have the right attitude of patience, not giving up, and working hard. These principles helped me to get where I am today.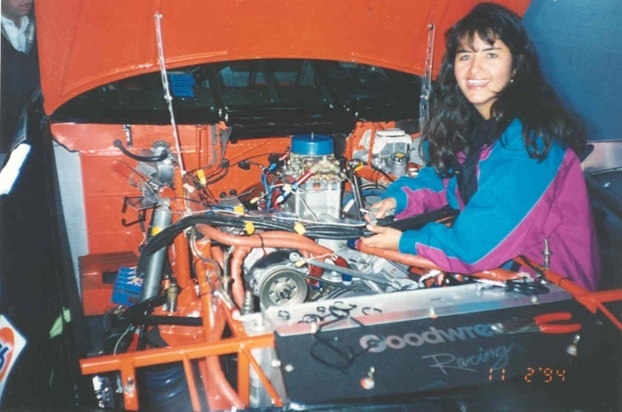 TW: As you know, I'm a diehard Chevy fan. What's your all-time favorite Chevy? 
AC: The 1963 split window Corvette.
TW: Is that your favorite generation of the Corvette?
AC: Yes. Since I first laid eyes on it I thought that vehicle was gorgeous – the lines of that car are just incredible. I have a friend who has one that is Sebring Silver, my favorite color. That car is just beautiful. Outside of that, the new Corvette generation, the C7, is just amazing. To work for a company that builds this car … with the innovation and still staying true to the Corvette brand … I love Corvettes. They just have so much horsepower and they're just sexy cars!
TW: I can relate to your answer here. I too have been a Corvette enthusiast for as long as I can remember. While I love the '63 split window, I'm probably partial to the '67. The curves, the lines … everything about the car is incredible.
I'd like to know more about what it was like working with Dale Earnhardt, Sr. What about Jimmie Johnson? Tony Stewart? 
AC: It's difficult to explain, but Dale was just a person who challenged people. I just tried to do my best not to mess it up. Trust me that I messed it up several times (laughs), but what an honor to have had the opportunity to work with him. He was the best at what he did and I didn't want to give less than what he gave to me. At the end, before his final days, we had grown to respect each other and had developed a great professional relationship over the years.
I met Jimmie when he was working with ASA (American Speed Association) vehicles during a test session. I think that we were in Iowa testing an ASA car – a new VORTEC V8 engine. I remember spending some time getting to know him, but we never even dreamed of working in the Sprint Cup Series. That wasn't even in the plans. Just to see how we have grown and to see him winning all those races and championships, it's unbelievable. I remember when he won his first and only race in the Xfinity Series. It was at Chicagoland. When he came to the Cup Series, I know that many people doubted him, but to see him win those six championships is surreal. It's one of the highlights of my career. I think that people don't realize how great of a driver, racer, champion, human being, and friend that he is. I hope that someday people realize they have witnessed history being made and they have watched a future Hall of Famer do what his does best on the race track.
Tony is Tony. Some people you click with and Tony and I have always clicked. At first it wasn't that easy, but I think it's just Tony's personality and the way that he is. I remember when I met him, a mutual friend of ours, Ray Smith, introduced us. Ray always talked about Tony being his driver. It's great to work with somebody like him who has so much passion for what he does. Everything that he touches he has an amazing passion for. You see his crew and they want to perform 100 percent for their driver because that is what he gives to them. He's an amazing driver, a true champion, a very driven individual, and an overall great human being. I'm really happy to call him my friend.
Read more about Alba Colon and her NASCAR journey in Part 2 of the interview.