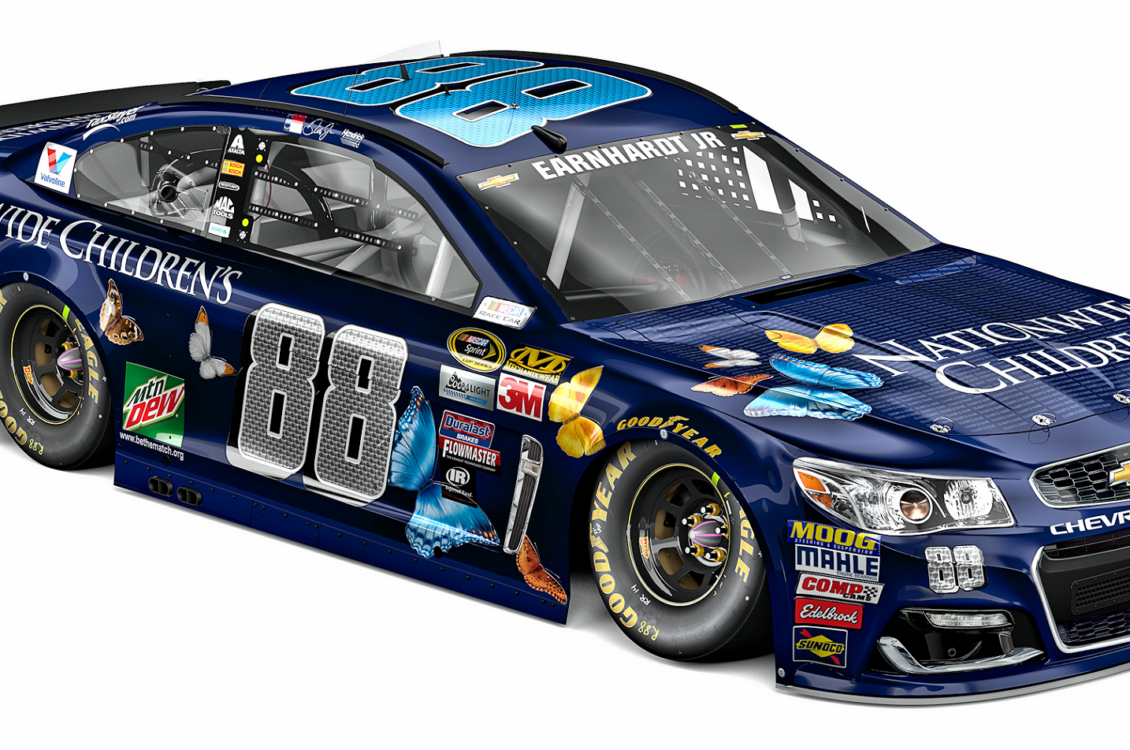 When Dale Earnhardt Jr.'s No. 88 Chevrolet SS hits the track at the Kentucky Speedway on July 9, fans will notice it has a distinctive look – and for a good reason. The popular car is getting a temporary facelift to help raise money and awareness for Nationwide Children's Hospital.
As America's largest pediatric hospital and research center, Nationwide Children's Hospital is dedicated to making sure that all patients are given the care they need, regardless of the family's ability to pay. Families travel from around the nation – and some even come from other countries – to gain access to the Ohio-based hospital's life-saving treatments. In many cases, NCH is the only hospital able to provide that care and is their last hope for treatment.
To pay tribute to what the hospital does for its young patients and their families, and to raise awareness about what they do, Dale Jr. recently revealed a paint scheme honoring NCH. Since butterflies are recognized as the hospital's ambassadors of hope and optimism, the blue car will be adorned with butterflies and bear the hospital's name. And, just for the race weekend, it will be the No. 88 Nationwide Children's Hospital Chevrolet SS.
Racing for hope
Although the car debuts at the track in July, the campaign to raise money and awareness began May 3, with the Ride With Dale Jr. To Help Kids Everywhere campaign. Fans can join the race by making a donation that will support the patients who receive care from NCH.
For $188, donors can get their name printed on the hood of the No. 88 Nationwide Children's Hospital Chevrolet SS, and will also receive an official team hat and an autographed photo of Dale Jr. and the car taken at the track. (This is limited to the first 100 donors and is on a first-come, first-serve basis.)
Donors who contribute $88 can have their name printed on the hood of the car, and for a $50 donation, they can have their name printed on the pit wall banner. The campaign, which kicked off May 3, continues through the end of the month and donations can be made online here. (Since spaces are limited, it's recommended that you make your donation as soon as possible to ensure your spot.)
"We were able to go to Nationwide Children's Hospital a couple of years ago and see what they were doing," said Dale Jr. "They have a lot of great things going on, so it's great to be able to support that. Nationwide has invested a lot into the hospital and with them being such a great long-term partner of ours, we were happy to share their passion and jump on board to support the hospital."
Model behavior
Putting your name on Dale Jr.'s car isn't the only way to help NCH, however. Lionel Racing is releasing a die-cast version of the car that has more than 180 parts and captures all the beauty of the original. Each collectible has a Diecast Identification Number (DIN) for registration and a silver sticker indicating the production run size. The cars will be available beginning May 3 and a portion of the proceeds from the sale of each die-cast will be donated to Nationwide Children's Hospital.
To learn more about Nationwide Children's Hospital and how you can help, visit http://helpkidseverywhere.com/.