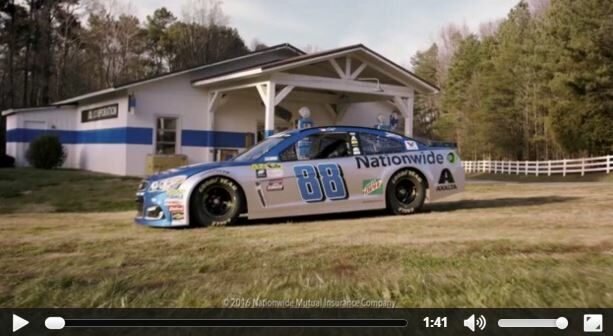 Racing fans know Dale Earnhardt Jr. as a natural-born race car driver with a persona that's larger than life. But as you're about to learn in a new series of commercials for Nationwide, there's much more to the man than his innate racing talent.
Dale Jr. isn't just sponsored by Nationwide; he has also been a customer with the company for more than 25 years.  And as the new NASCAR season kicks off, fans will learn more about his partnership with Nationwide and get a closer look at a much different side of Dale Jr.
"People know me as Dale Earnhardt Jr., race car driver," he says at the beginning of each commercial. "But there's more to me than that."
Throughout the series, we learn more about the "other sides" of Dale Jr. — Boss Man Dale, who runs his JR Motorsports with a firm hand shake; Water Cooler Dale, the break room buddy; and Animal Whisperer Dale, the animal lover.
In addition to showing these many aspects of Dale Jr., the commercials also showcase his quirky, accessible sense of humor.
"I thought the shoot was a lot of fun," Dale Jr. says. "It's always fun when we're working on our Nationwide commercials. This time, we were doing things that were a lot more humorous. We got a lot of funny stuff that I think fans are really going to enjoy."
The personal nature of the commercials even allowed him to include his fiancée, Amy, in one of the spots.
"I think it will be fun for people to see a more funny side and how we kind of jab each other a little bit," he says. "We got a good mix of material and I'm looking forward to seeing the results. It always turns out great and I'm very proud of the ones we've done."
Beyond the cockpit
While he may have been working from a script, all of the commercials are, in a sense, based on real life: Dale Jr. has been a Nationwide customer for more than two decades, so Nationwide is much more than just a sponsor to him. He recently added pet insurance to the list of products he relies on from Nationwide, adding it to his portfolio of auto, property and commercial insurance.
"I've been with Nationwide since I started driving cars – so, around 25 years or more," he says. "We're just happy customers for a very long time."
That business relationship grew into a sponsorship deal in 2015, when Dale Jr. signed a three-year partnership.
"Nationwide wanted to get more involved in our sport, and in racing, so they came to us about doing a full-time sponsorship," Dale Jr. explains.
Because Dale Jr. was an existing Nationwide customer, he was a natural fit for the sponsorship deal, and his warm, fan-focused personality makes him ideal for this year's light-hearted series of commercials.
"You see those commercials so often throughout the season," he says, "we want to make sure it's a good spot since it's going to be running so often."
Watch the full commercial now: